Productivity empowered!
Nozbe works with many apps you already use. Boost your productivity!
Together with your favorite apps we're building an amazing productivity suite. These synergies will keep you organized! Our API as well as API from our partners help us build great stuff for you!
"Cloud setup: My recommendation would be Gmail, Google Calendar (yes, multiple calendars are easy to set up and share), Google Docs (Document Sharing), Evernote (note taking/sharing), and Nozbe (task manager). All are easy to launch and use." - John Tiller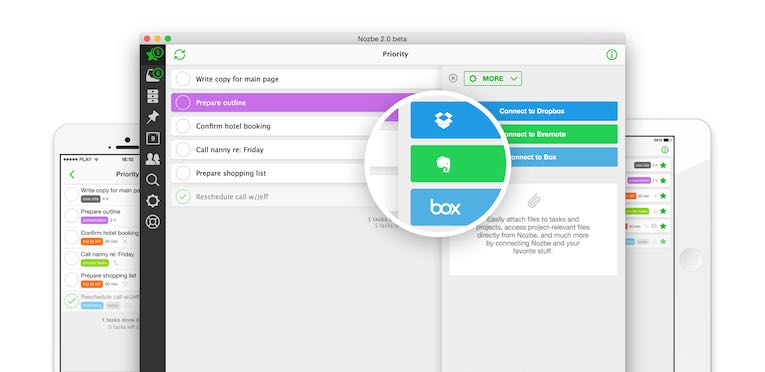 Nozbe syncs with many great apps!
Evernote Sync
Evernote is a great note-taking application for capturing data with native clients for desktops and mobile phones. Now you can view your project related Evernote notes right inside Nozbe! Watch the video
Google Calendar Sync
Nozbe's calendar integrates with Google Calendar so you can view your next actions in Google Calendar and sync with your Mobile devices!
Add tasks via Twitter
Send your direct messages (DM) to Nozbe straight from Twitter. Just set up your Twitter account in Nozbe's Settings and later type: "D nozbe My important task"
Nozbe syncs with cloud storage!
Dropbox sync
Have a Dropbox account? If not, get your free 2GB account today and sync your files with your computer, mobile phone... and Nozbe!
Box sync
Your company is using BOX as your enterprise cloud storage? We also support Box so that you can make the files stored in Box actionable! Watch the video
Apps that sync with Nozbe through our API
Do you want to have access to our API and build great things on top of Nozbe? Contact us today and we'll make sure to get back to you.