Take the "Productivity Tour"
We will help you and your busy team get lots of things done!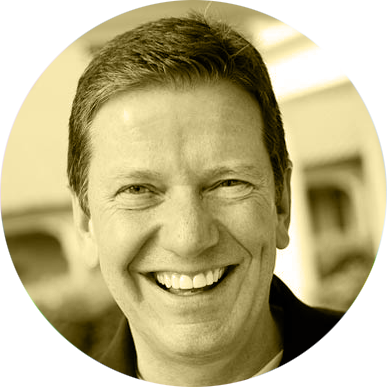 "Simple to use with advanced features: The product is at once simple to use and yet full of numerous, advanced features. It is the only task management system I feel comfortable recommending." - Michael Hyatt
Simply Get Everything Done!
Nozbe is a tool that helps busy professionals and teams organize time and projects.
Effortlessly manage your time
Using Nozbe to manage your time is easy. Inspired by world-famous GTD (Getting Things Done ®) methodology by David Allen, we've designed Nozbe in such a way that everyone can get organized quickly.
Communicate through tasks
Email wasn't designed for project collaboration. When you communicate through actionable tasks, you and your team get a lot more done and everyone is on the same page all of the time.
Keep all your projects in sync
Thanks to our desktop and mobile web applications as well as our native Android, iPhone and iPad apps everyone in your team can access Nozbe on their favorite devices. We are world-first to offer such flexibility!
Connect with your favorite apps
Using Evernote for note-taking? Syncing files in Dropbox or Box? Using Google Calendar to plan your time? Nozbe works seamlessly with all of these services, and more are coming every month!
Save time. Know what to do next.
Regain your time thanks to improved time management skills. Inspired by Getting Things Done ® concept.
Focus on your next actions
Busy people like yourself have lots of projects. Make sure to prioritize only the next steps with a star and focus on getting them done. With time-management and filtering you'll know exactly what to do next!
Never miss a deadline. Ever again.
View your scheduled tasks in a calendar. Never miss a deadline or appointment again. Tasks scheduled for today are being prioritized automatically to make sure you'll get them done.
Organize tasks in manageable Projects
Create as many Projects for your tasks as you'd like. Share them with people on your team. Get things done together. Organize Projects with Labels like "work" or "home". Feel free to design your productivity system to fit your personal and specific needs.
Work smart in appropriate Contexts
Think of Contexts as a place or tool - like your "computer", "phone", "home", "office" - to make sure you'll get tasks done in these places and with these tools. Organize in Projects but work in Contexts!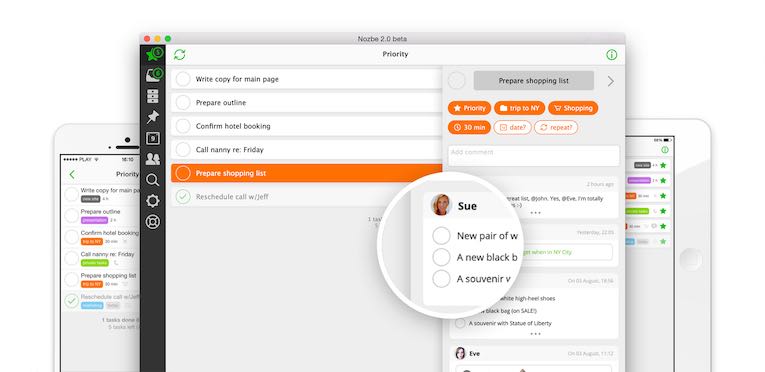 Communicate through tasks
Stop using email to collaborate with your friends and colleagues. There is a better way.
Share Projects with friends and team
Sharing has never been so easy. Share Projects with your team, delegate tasks to them (making these tasks their Next Actions) and hold folks accountable.
Comment on tasks - keep everyone on the same page
You can add a comment to each task. Use this as a note for a task or to start a discussion with your team. This will ensure everyone understands what really needs to be done.
Comment with pictures, documents and more...
Comments are not limited to text. You can comment with checklists, images, photos, sketches, documents, Evernote notes and so much more. This will help you get your point across clearly.
Receive email updates of your team's activity
Don't collaborate through email but stay in touch with your team thanks to regular email updates sent to you every hour... but only if something's happening in the projects you care about.
Your Team and your Projects in sync
Use Nozbe on any platform. With anyone you want. Always in sync.
Any web browser. Also on your mobile phone.
We support all the modern browsers like Internet Explorer 8 and 9, Google Chrome, Mozilla Firefox, Safari and Opera. On the mobile phones our mobile web app shines like no other. On any smartphone device.
Work without Internet connection.
All of our native apps work offline. Even our mobile web application works without an Internet connection thanks to the power of HTML5. Keep getting things done even when there's no Internet connection.
Install native apps for Mac and Windows
Our native applications for Mac and Windows have been specially designed to shine on these platforms. Manage your projects offline and drag and drop files to upload them to Nozbe.com cloud. Easy!
On the go with apps for Android, iPhone and iPad
Specially tailored mobile apps for the iPhone, iPad and Android (Blackberry and Windows phone coming soon!) help you take your tasks and projects with you. In your pocket.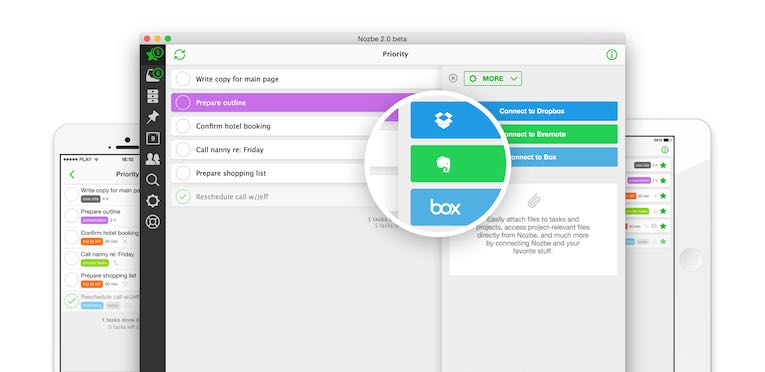 Empower your favorite apps
Connect the apps you love with Nozbe to create your Perfect Productivity System™
Browse your related Evernote notes. Convert them to tasks.
We love Evernote, it's our favorite note-taking application (and many of our users share this love). Browse your Evernote notes related to your projects directly in Nozbe and make them actionable!
Sync with Dropbox and Box - make your files actionable
Dropbox and Box have redefined cloud file storage. Now you can see your project-related tasks in Nozbe and make them actionable. Just get things done with your files in the cloud!
Hook up your Google Calendar to keep track of your deadlines
Google Calendar is great. And the way it syncs with Nozbe.com is simply amazing. See your tasks in your favorite calendar app and add tasks to Nozbe through your calendar.
Add tasks from Twitter, Email, Browser and other places
New idea while browsing a Twitter stream? Send Direct Message (DM) to Nozbe! Need to convert an email to a task? Just forward it to your Nozbe inbox. There are many ways to add tasks to Nozbe!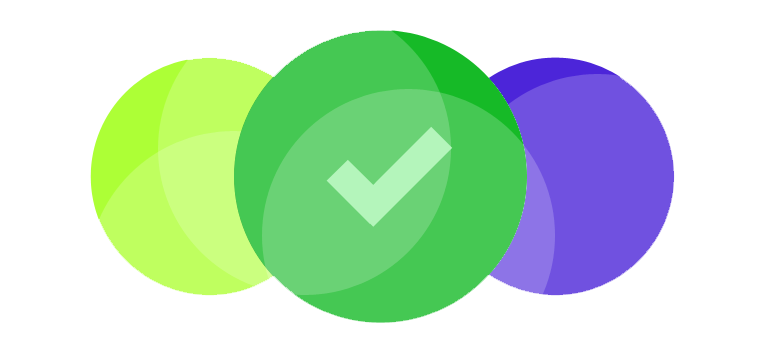 Like a chameleon, Nozbe fits to your needs.
For occasional to-do lists, big project management... up to managing your company
Simple and focused
Nozbe can be used by anyone - you'll see only the features you'll need. Nothing more. Simple, uncluttered to-do list if you need it to be. And free up to 5 projects!
Great for big projects
Organize your tasks into as many projects as you'd like, color them, label them, create your perfect project management system - just geek around and Nozbe will fit your needs like a glove!
Manage your company
Big universities, non-profits large and small, Fortune500 as well as small "mom and pop" shops. All use Nozbe to collaborate on tasks and get things done together!