Wow, it seems like it was only yesterday that we first started working on Nozbe to help me get more organized and here we are today, celebrating 10 years since Nozbe's public launch! To commemorate the moment we've got a special limited-time offer for you that we've never done before:
Join our 10th anniversary celebration and get 3 (or more) months of Nozbe!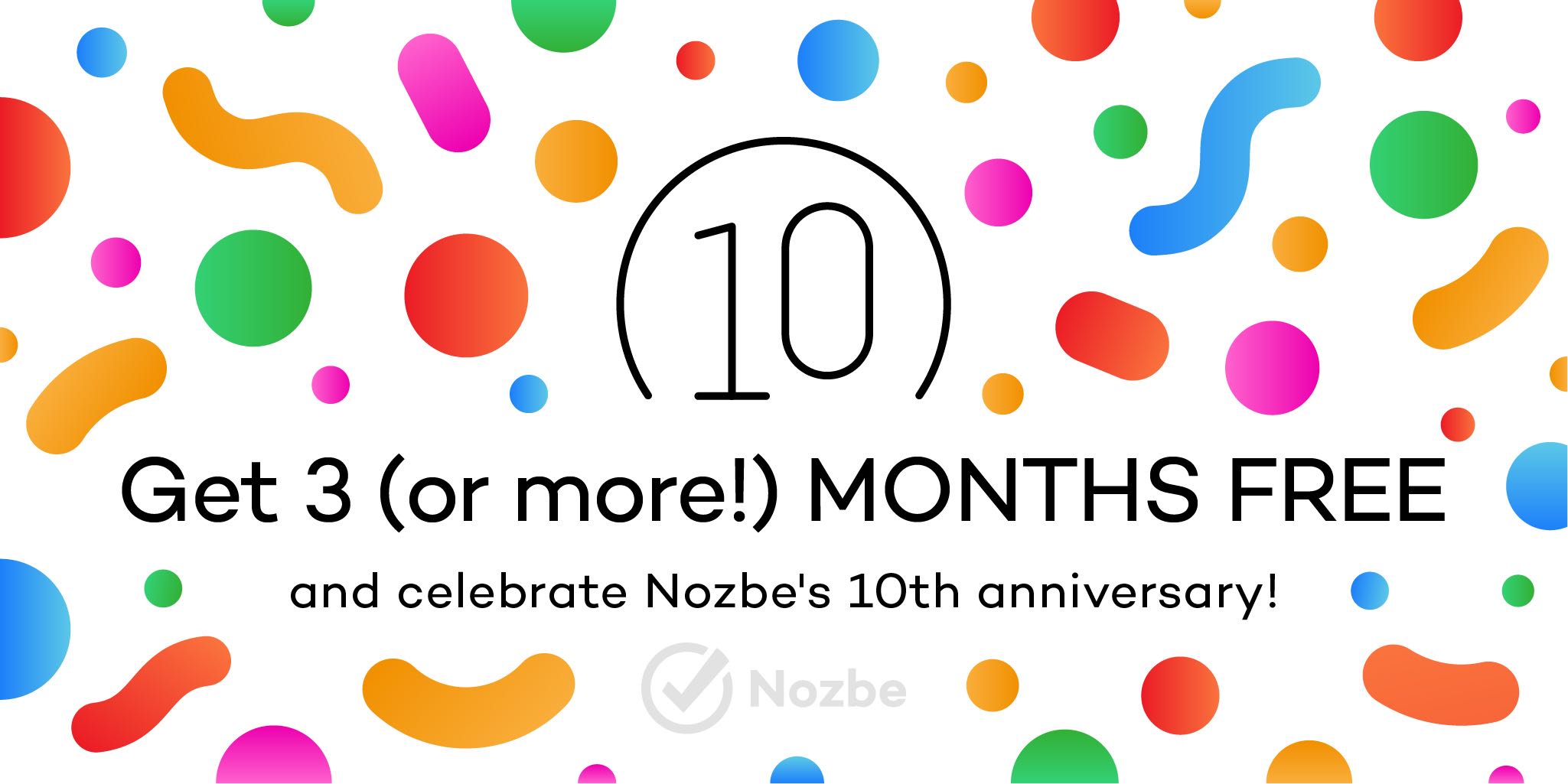 We know what you're thinking: Why 3 or more? Why do you want to give away more months for free?
We just want to reward our long-time users! Here's how it works:
Just upgrade or extend your Nozbe Pro or Business account for a full year, and we'll add 1 extra month for each year that you've used Nozbe. That's right! If you've been with us for all 10 years, you'll get 10 EXTRA MONTHS!
If you're new to Nozbe, don't despair :-) You will get a minimum of 3 months free added to your account if you take advantage of our offer!
Thank you for taking this journey with us. I can't believe that a tool built only for my personal use transformed into something that is being used everyday by so many users all over the world! We have more than 400,000 productive members of the community, and 102 of them have actively used Nozbe for the last 10 years straight!
With this special offer we want to reward both new users (3 months free) as well as our most loyal members with even more months free:
Check out how many years you've been using Nozbe and how many months you'll get
We're in it for the long haul. After 10 years we've still got great plans for Nozbe and we'll keep firing on all cylinders when developing future versions of our apps. After a decade, it feels like we're just getting started!
Join our happy customers like:
Konnie: "Nozbe trial ended and loving it: now a paying customer :) keep it up!"
Mike: "Some apps have nice web versions. Some have nice native clients. Some are mobile. Nozbe has all and each is elegant & powerful."
Posted on Wednesday, February 1