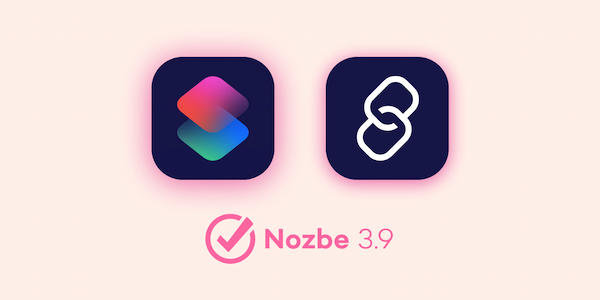 For this fall, we have prepared version 3.9 of Nozbe, designed to:
Improve communication via tasks thanks to adding links to tasks, and
Adjust our app to iOS 12's new possibilities.
Task links
Many teams communicate via task comments in Nozbe. Sometimes when you are adding a comment to Task A, you may want to refer to information in Task B. Now, you can easily copy the Task B link and add it as a comment in Task A. That way, you will be able to easily jump between related tasks and see in Task A whether Task B has been completed.
Let's say I have a task entitled "Publish the blogpost about Nozbe 3.9." Of course, before completing this task, we need to publish the Nozbe 3.9 app in Google Play, the App Store, etc. My colleague responsible for publishing the app in the marketplaces can copy a link to a task "Upload the app in marketplaces" and paste it in a comment in the task "Publish the blogpost…", delegated to me.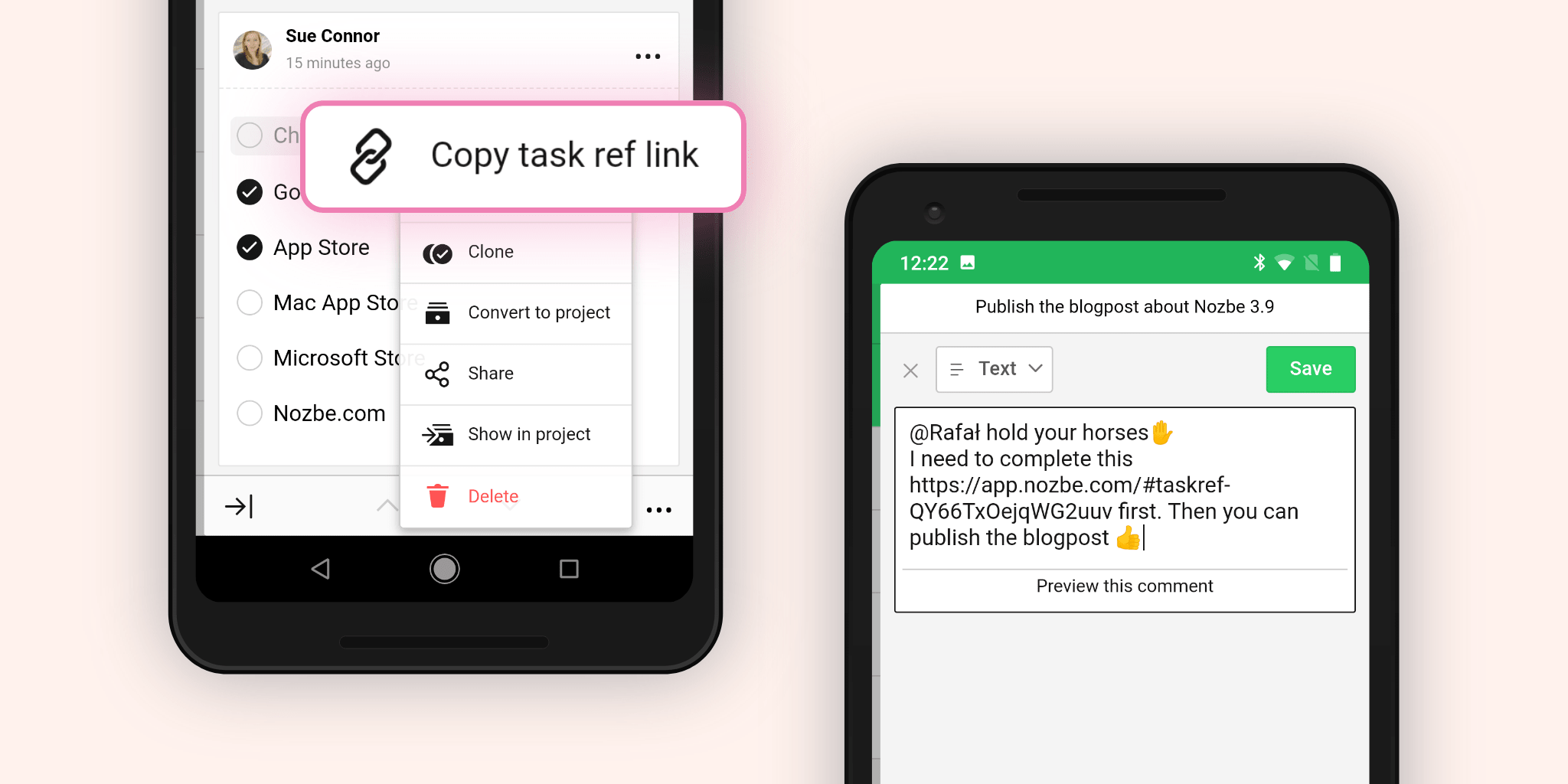 As soon as the first task is completed, I will be able to see it in my task.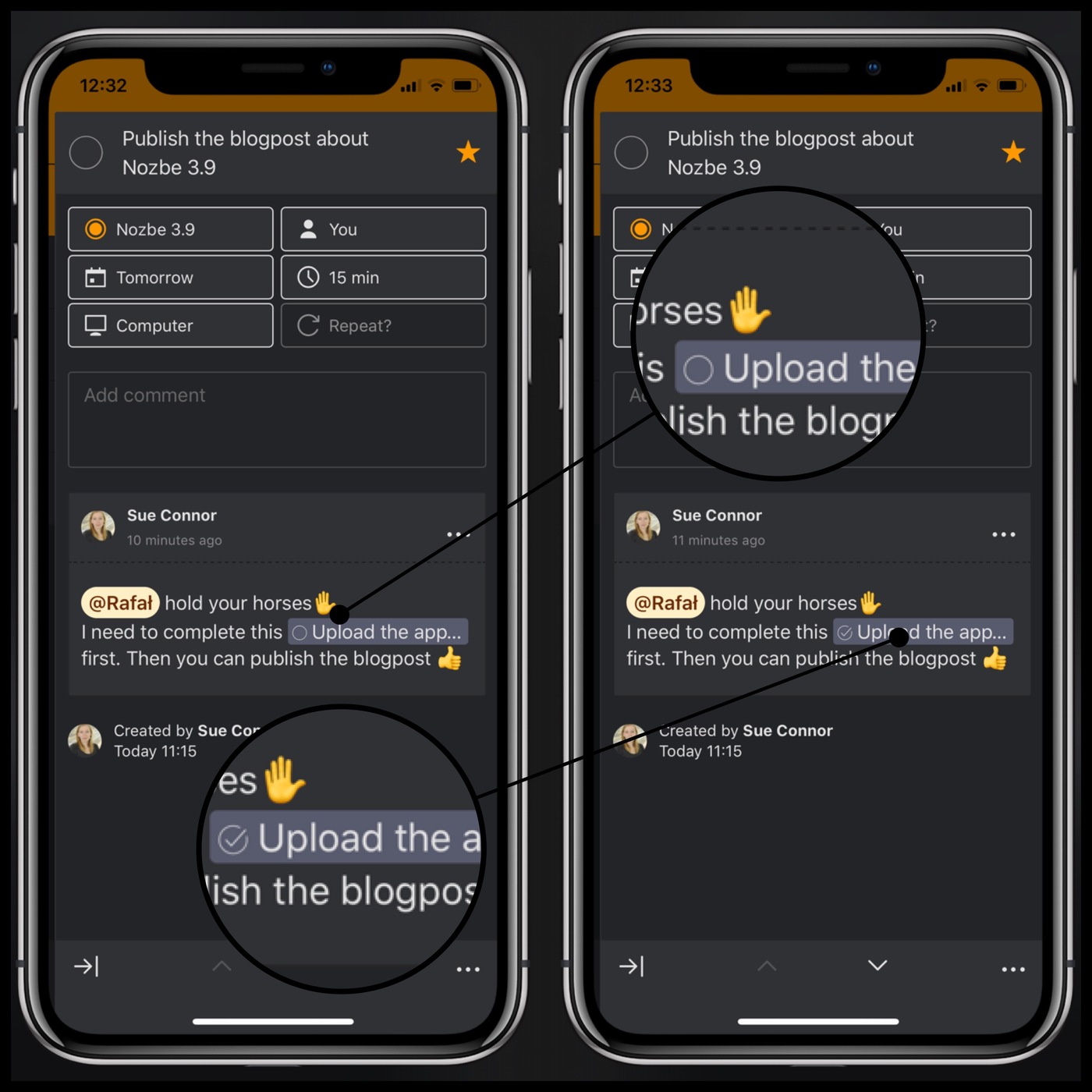 By the way—these links are structured app.nozbe.com/#taskref-taskID. This means that you can use them outside of Nozbe, too. This is a universal link, so it will open a task in a native app if you have an app installed or in your browser if not.
Siri Shortcuts integration
The greatest new feature in iOS 12 for us productivity freaks is without a doubt Siri Shortcuts. In Nozbe 3.9, you can easily create shortcuts to any task list. Just open the right panel (infobar, "i") and use the "Add to Siri" button to record your custom phrase.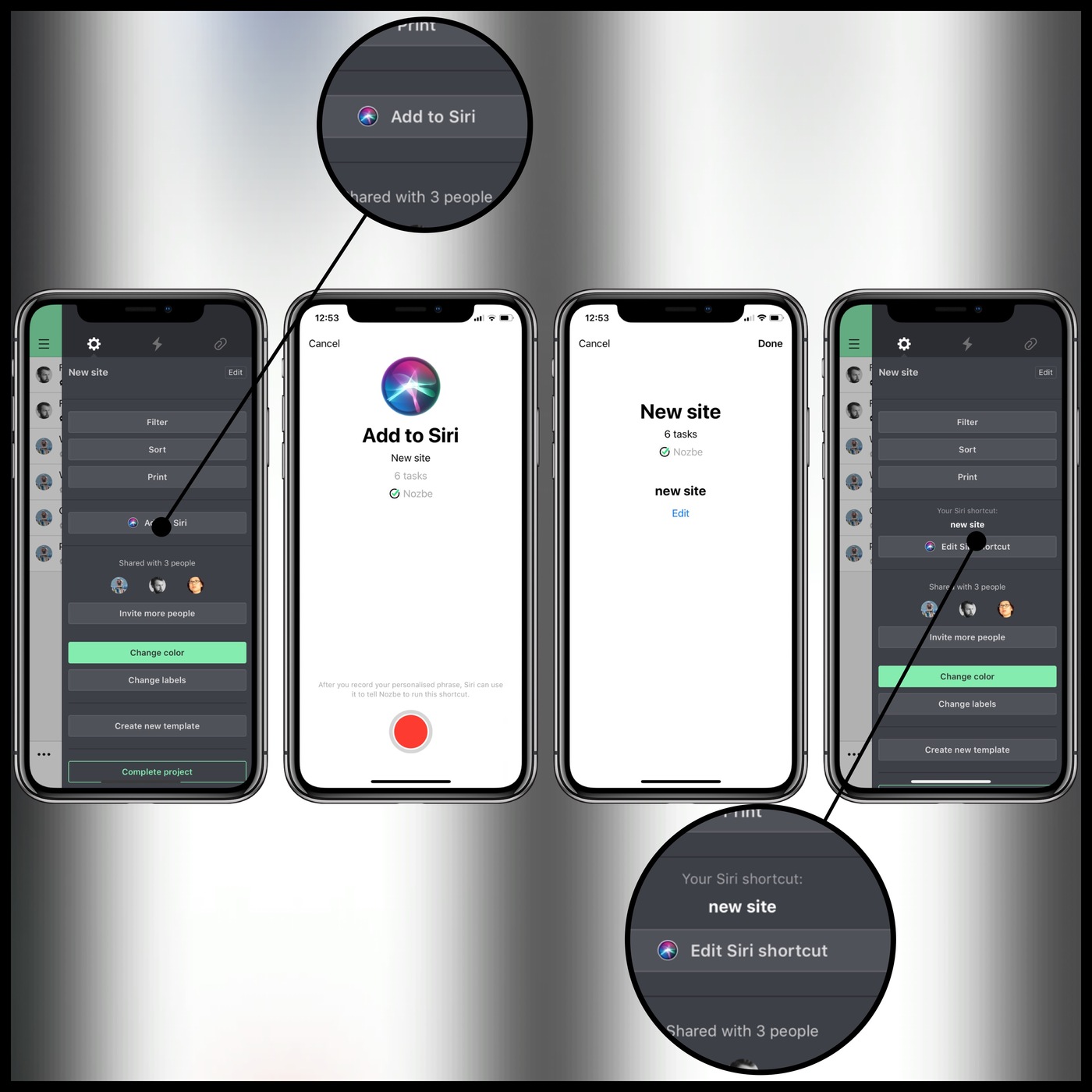 Moreover, thanks to the Shortcuts app and the x-callback-url-schemes support that we introduced in Nozbe 3.8, you can really create some cool new Shortcuts to Nozbe actions, such as adding new tasks, creating a project from a template or filtering task and project lists, etc.
Video about latest changes
Other improvements
Beyond that, there are many more small improvements in Nozbe 3.9:
New languages in the app: Italian🇮🇹, Portuguese🇵🇹 and Turkish🇹🇷
Improved back button behavior for Android ◀️
Improvements in the Affiliate panel 💸
Comment options in completed tasks – You can now easily copy/share comments from completed tasks ✔︎
Interactive notifications for today and tomorrow tasks. You can mark them as done and star/unstar tasks in the notification view on iOS ⭐️
Metadata for Projects and categories in Spotlight on iOS 🔍
Dark mode integrated with macOS Mojave 🌒
…and more!
You can find the full release notes with all the new features, enhancements and fixes on our test blog.