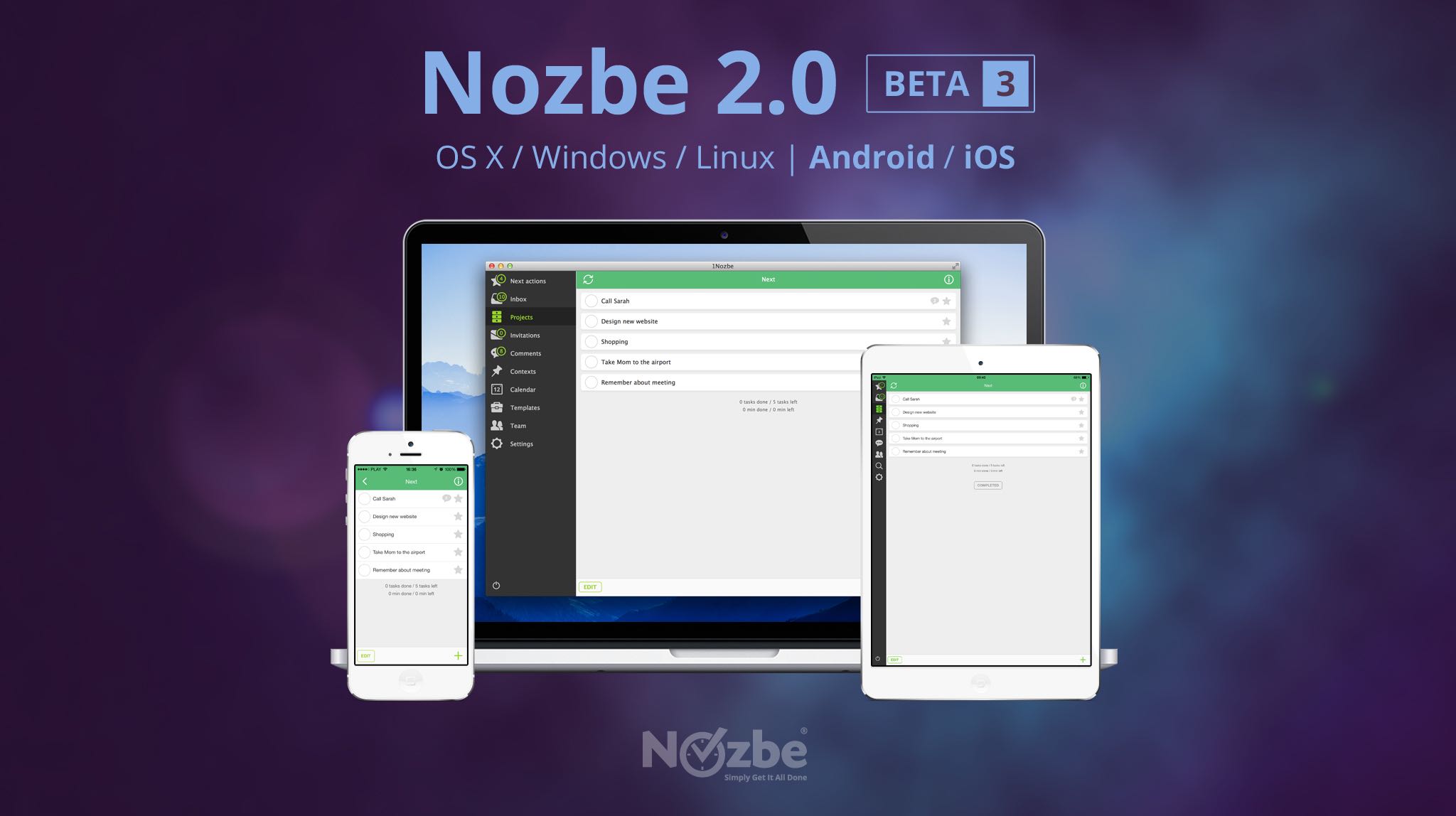 Nozbe 2.0 Beta has been available for 3 weeks. We received great feedback from you, our fantastic users and today we're shipping Beta 3 not only for the Mac, Windows and Linux… but also for iPhone, iPad and Android!
Thanks everyone for signing up for our mobile beta! Wow!
We were totally blown away! Close to 1000 of our most passionate Nozbe users signed up for our Nozbe iOS/Android beta. We were totally overwhelmed by the response. Thank you!
Now here's how we're going to roll out Nozbe beta:
iOS beta. Testflight and a project in Nozbe
The amount of you who registered is so much higher than we expected and we are very grateful for this. Unfortunately Apple has its own limits as it comes to the number of beta testers so we had to draw users for iOS beta testing. We would love to be able to invite everyone!
All chosen users will receive email and an invitation to Nozbe project where they will be able to report bugs and provide feedback. This way we want to communicate with our beta testers.
Android. Google Groups and Play Store
As on the Android platform there are no limitations as far as the number of beta testers is concerned, we've sent an email to all the registered beta testers with an invitation to a google group. All the users registered in this group will have access to beta. It will also be our main communication channel for providing feedback.
Desktop. Mac, Windows and Linux - get them now
With the new beta 3 out, we have new versions of our desktop apps for you to, as always, get them from our beta web page.
What's new in Beta3?
Glad you asked. Check out full Release notes on our test blog
Not chosen for beta? You can still test on iOS and Android in your browser!
Just point your mobile browser to beta.nozbe.com and you'll be able to test our new mobile experience on your mobile device. Our new Nozbe 2.0 app is completely responsive and should work perfectly on the desktop as well as on your mobile device. Check it out!
Thank you for great feedback and testimonials
Once again we want to emphasize how grateful we are for your feedback regarding Nozbe 2.0 BETA. And all the great testimonials you provided. Wow! We will try to use most of them on our new Nozbe page. Reading each and every one of them was so uplifting!
Thank you! Thank you! Thank you!
Again, thank you for testing our beta application and for helping us build the best suite of productivity apps in the world. Together with your amazing support we believe we can make it happen and get everyone in the world a little more organized.
New to our Nozbe beta program?
Check out Michael's video where he's introducing you to Nozbe 2.0, codenamed "One Nozbe" - at the end of the video he shows the iPhone and iPad experience, too:
Thank you!
- post written by Rafal, Nozbe Product Manager :-)