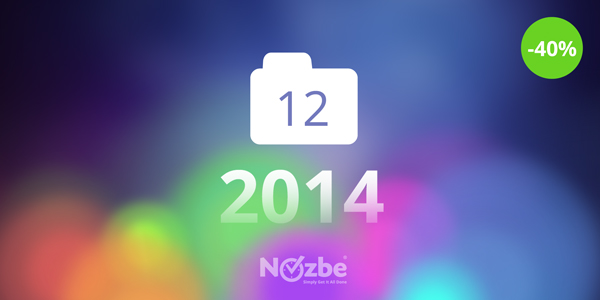 Welcome to 2014. This year with my entire Nozbe team we're setting out to make sure your New Year's Resolutions finally happen!
How to get your New Year's Resolutions done?
My advice: create 12 projects in Nozbe - one Resolution for each month of 2014 - and start putting tasks in each of these projects. Treat each resolution as a project that needs to be done by the end of the year. This is exactly what I did. And I want you to do the same:
Some of these 12 projects you may want to keep to yourself, others you'd want to share with someone to help you get there. Regardless of your goal, Nozbe will help you achieve your dreams and make your Resolutions actionable if you start setting up your account today.
Will Nozbe bring new features to help me get my New Year's Resolutions done?
Glad you asked. Yes, and soon! Nozbe 1.9 will launch next week with three amazing features:
improved project sharing
push notifications
amazing Evernote reminders support
These features will come to all the platforms we support (Web, Mac, PC, iPhone, iPad and Android phones and tablets) so get ready!
Later this spring we're launching a completely re-written and re-designed Nozbe 2.0 app, so I can personally assure you that in 2014 we'll do everything in our power to help you stay the course and achieve your big goals.
Happy New Productive 2014!