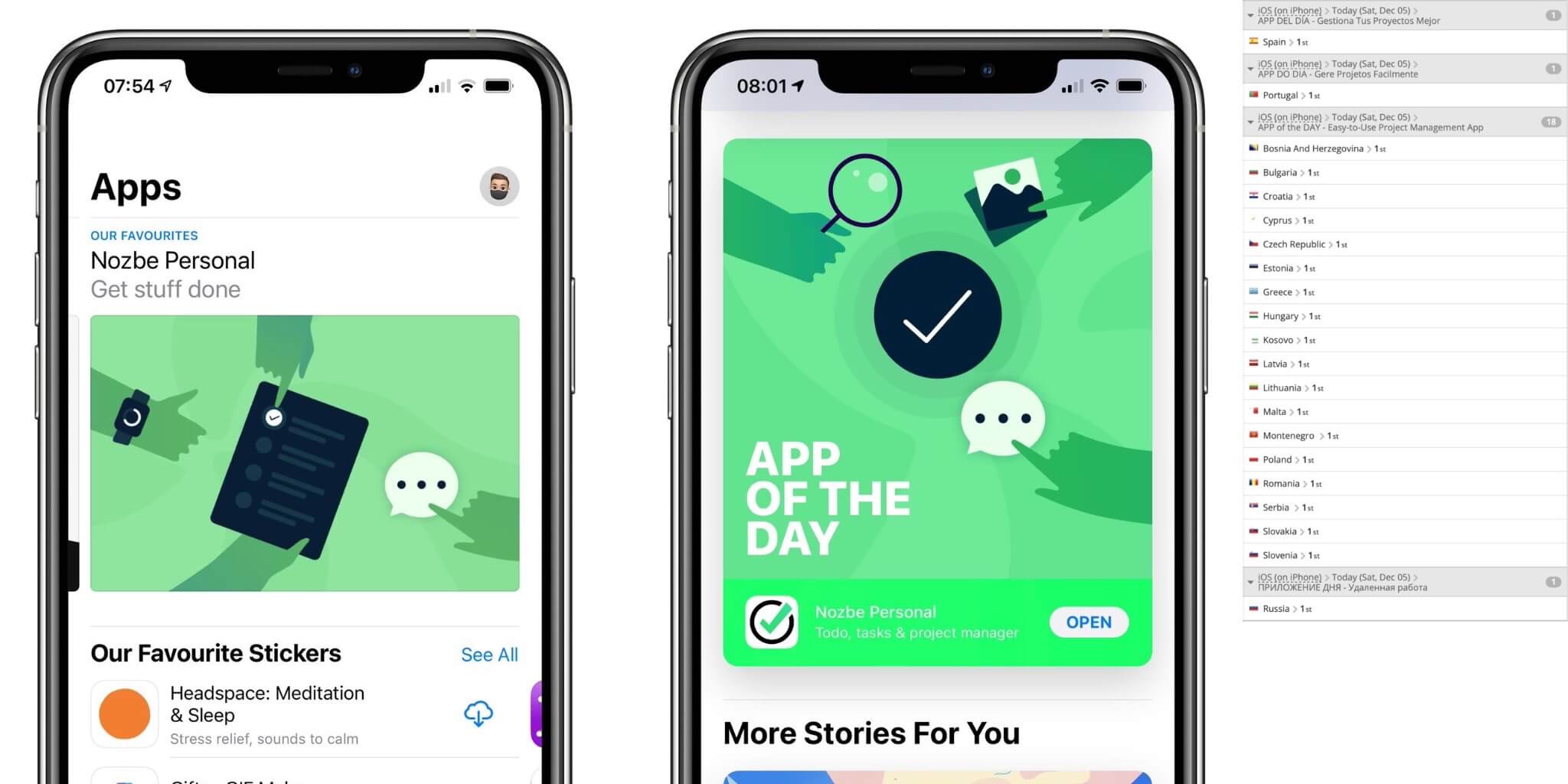 🔥 Nozbe Personal today was featured on the App Store in 21 countries as "App of the Day" and on many markets was added to the "Our favorites" collection for iPhone and iPad users. We're really excited! 🎉
It wasn't the first time we were featured by Apple, and hopefully not the last!
As I remember, almost two years ago, on January 4 Apple made us "App of the Day" in 127 countries and it was our first major feature!
Time has passed but they didn't forget about us. As our app is Made in Poland, Apple featured us in Polish App Store on November 11 when it was our country's Independence Day.
But we didn't think they'll go further and start promoting us today! Today we're being featured in almost entire Europe, including Spain, Portugal, Russia and all of the central-European countries as well as our home country of Poland again!
We never take being featured for granted, but it always makes us happy!
Being featured by Apple or anyone for that matter is not something you can expect or count on. You never know when it happens. But I like to believe that it's a testament to our hard work, perserverence and dedication to your customers and users.
We've been in business for almost 14 years now. We've got more than 700,000 users worldwide and now we have two apps now: Nozbe Personal and Nozbe Teams.
We are in this for the long haul!
And we're not going anywhere. We're in this for the long haul together with our customers, who by the way took great advantage of our last week's Black Friday promo and extended lots of Nozbe accounts for years to come. We have users with accounts paid for until 2024! Thanks so much for your confidence in us!
More news on the future of both of our products next week, but now let's just celebrate the "Nozbe Day" this weekend!
And as you're reading this, you're obviously a Nozbe user, so make sure to do your Weekly Review and go through your projects, priority tasks and get yourself organized for the next week and for this unusual Christmas Season of 2020. And please stay safe and healthy! 😷
Michael Sliwinski, CEO and founder of Nozbe.