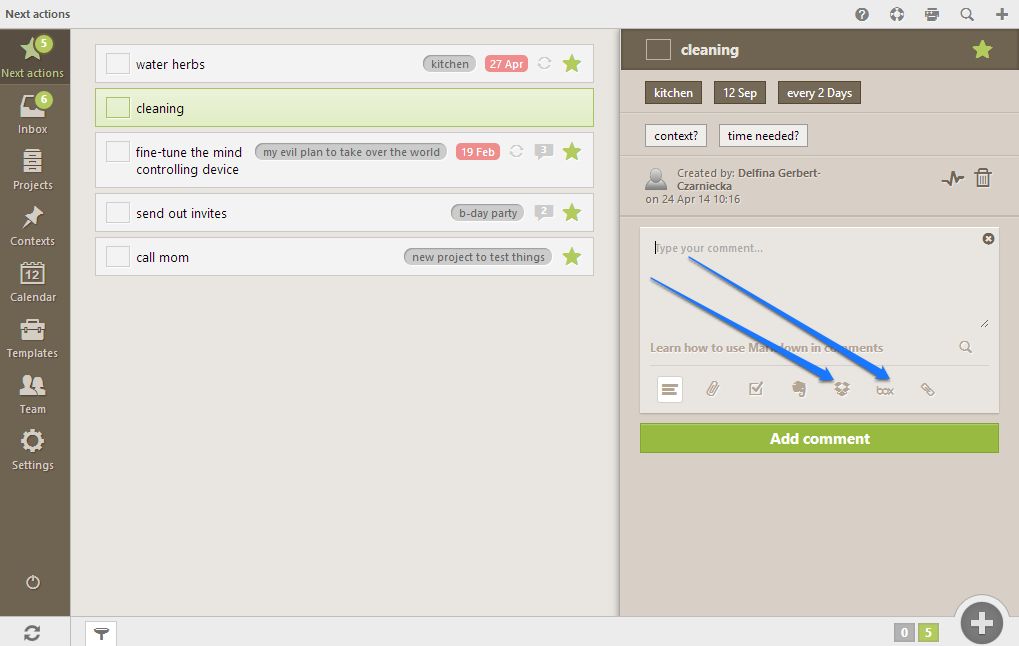 A recent change in integration allows for more dynamic approach to your files.
Background
One of the recent updates, as most of you have noticed, has introduced some changes to the integration offered with Dropbox and Box.net. Though the core has not changed and things work as before in the area of attaching files/archives to the project, a major shift has happened on the more frequently used end - the comments.
What's changed and how it works now
Before the amendments, this integration was quite static. If you wanted to make changes in a document and have its latest version available in Nozbe, you needed to replace the older version of this file with the new one. Many of you were unhappy with that, and there is neither secret nor surprise in that.
Changes in API on our end, as well as by the other apps, allowed us to make it more dynamic. Now, instead of downloading the file in question into Nozbe, as it was before, the integration in comments adds a direct link.
This in turn means that your Comments will not become outdated… As as soon as you update a file in your Dropbox or Box, the new material is instantly available via the link in your comment.
It changed - how is it now?
Once again, the integration on the project level remains unchanged. Amendments apply only to your comments area. It is a widget-based option.
Here is a step-by-step guide:
Choose either Dropbox or Box.net icon in the new comment window




Click on "Add file from box" (in case you chose Dropbox it will be "…from Dropbox")

![Adding Box file] (/box_add.jpg)


A widget asking for your access will appear




Nozbe will show you a picker window with all your Box files - simply pick one and use "Select" button


The link to selected file will appear in comment window and you will need to confirm it by clicking "Add comment"




And here you have the result


To wrap things up
We trust this change will be to your benefit. Please, remember that the old way still applies, but only to your files attached directly to projects.


Written by Delfina Gerbert-Czarniecka - (Nozbe Support Team - CHO - Chief Happiness Officer)