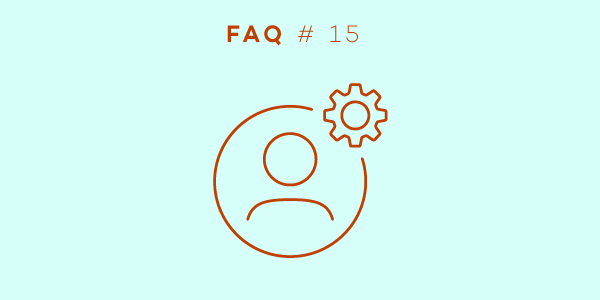 Welcome back to our FAQ series in which we answer questions that our users ask us in their e-mails. This month, we're going to take a closer look at the Account Settings and other administrative options in Nozbe Personal.
Settings is a powerful panel in our application. It contains all personal information and many options that may help you customize and administrate your account details. Today, however, we will concentrate only on the Account section, which is probably the most important one, especially from the owner's point of view.
How can I change my plan?
You can find all the details of your current Nozbe Personal subscription in the Account Settings, as well as the button to "upgrade" it. However, there are two ways of changing your plan; you can either upgrade it or downgrade it.
Here is a question sent in by one of our users regarding the first option:
I've been using Nozbe Personal for a few months now and I would like to share the account with some friends. How can I do this? I'm currently using the Solo version.
There are a few plans available for small teams; you can consult them on our pricing page. Once you decide which one you want to subscribe to, go to Settings > Account > Your Account and use the option "Upgrade." Now choose the offer that suits you and proceed with the payment.
You can also do this through the pricing page. Just log in on this page and follow the previous instructions. Remember to always make sure that the plan you are buying allows the number of team members you wish to add.
My subscription for two users is still valid, but I'd like to downgrade it to one user only; my friend almost never uses it. Can I do this?
Yes, you can, but first you have to remove the other user from your team. Once this is done, log into your account through the pricing page (1), choose the Solo option (2), and then select the payment frequency: monthly or annually (3). Finally, proceed with the payment.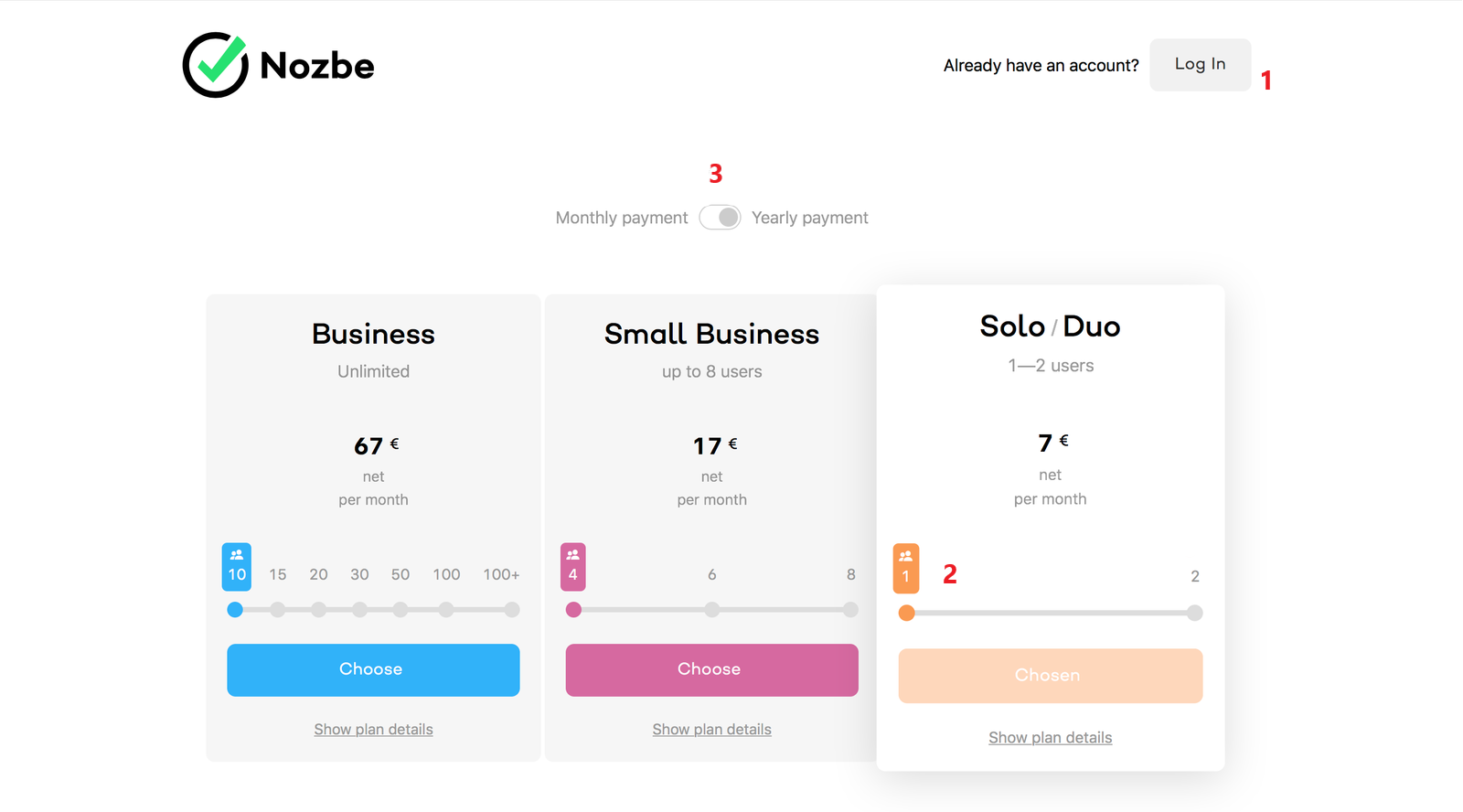 I have a trial account, and I want to downgrade to the free one, but the application won't let me. Can you help me with that? Thanks.
Most likely, you cannot downgrade because your account does not meet the requirements of the free version. There are two significant limitations on the free account. First of all, you can only have up to 3 active projects. This means that you will not be able to downgrade until you remove all the extra projects from your account.
Secondly, Nozbe free is an account for only one user; if you have any other team members through your account, you will have to remove them first to be able to downgrade.
Payment details - how can I change them?
There is a section titled Payments in your Account Settings. This is the area where you can not only see all the payment details but also change them.
How can I change my payment information? We moved our company to a different localization, and I need that to appear in our future invoices. Thanks.
You can change your payment details for your future invoices whenever you want. Just go to "Payments" section in your Account Settings and use the option "Update payment info." To make sure that the update goes through, we will charge you a symbolic $1.00. It will later serve to extend the validity of your account.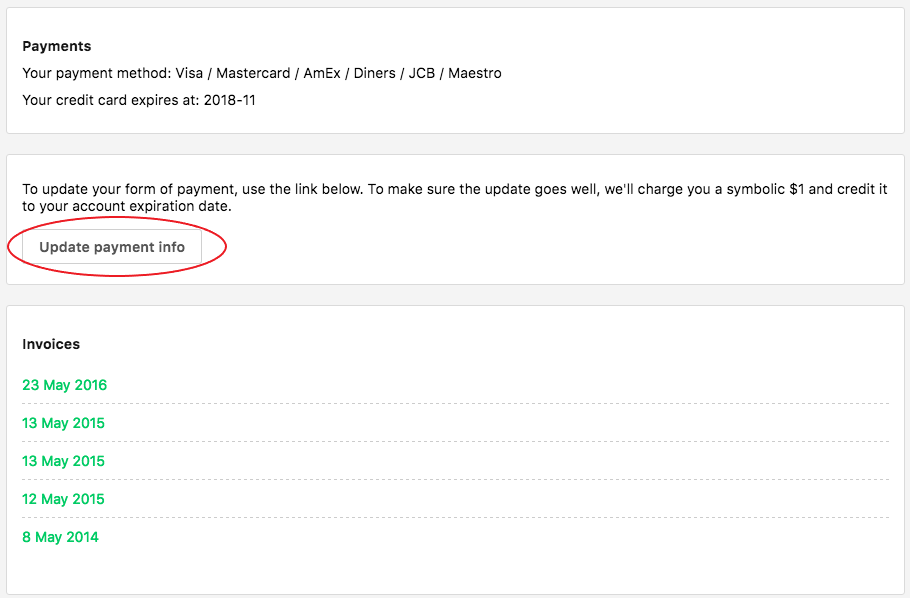 Could you send us the invoice of the last payment? Our accountant needs it.
Of course we can. However, you may also easily download it yourself, as our application offers you a direct access to printable invoices for each and every payment you have made. Just go to Account Settings > Payments > Invoices, click on the Invoice you are looking for and print it or save it as a .pdf file on your computer.
There is a mistake in my recent invoice. Is it still possible to change the name of the company for A instead of B? Thank you.
Yes, it is possible. However, it requires you to get in touch with our Customer Service at questions@nozbe.com.
In your message, make sure to send details such as the Invoice issue date and number, and explain what corrections you need. Our employees will send you back the updated invoice as soon as possible.
Important: To avoid the same situation in the future, once you receive your updated invoice, go to your Account Settings > Payments > Update payment info, and make sure to add all the necessary corrections in your payment details.
Backup your data
Since the new EU law on privacy policies came into force, there have been a lot of questions from our users about exporting data from Nozbe. Before I answer the most frequently asked question, let me explain how the backup works in Nozbe.
Our backup option serves to export all the data, active and completed projects, tasks and attachments from Nozbe to a different tool, or to download them and keep them safe on your computer.
In the Account Settings, there is an option to Backup (Export) your data to a .zip folder and download it. You just need to click on it and wait to receive an e-mail with a single-use-only link to download the file. The process may take from a few seconds to even tens of minutes, depending on the size of your data, so be patient. Also, do not forget that you can only use the link from that e-mail once. This means that if you lose or accidentally delete the downloaded file, you will have to generate a new one.
And now, let me answer a question sent by one of our users:
I have downloaded your backup and there are two types of files; what's the difference? Thanks.
The .zip folder contains four files: two of them are text documents and the other two are .json files. Both types of format serve to import your Nozbe data to a different tool; they are not documents to work on.
The only difference between .txt and .json files is the "quality of reading." The text documents are more "friendly" to read than the .json ones. Their aim and content, however, are exactly the same.
Need any assistance?
Visit our help page for more information on account management.
If you have any further questions, feel free to contact our Nozbe Customer Support. We will be happy to help.