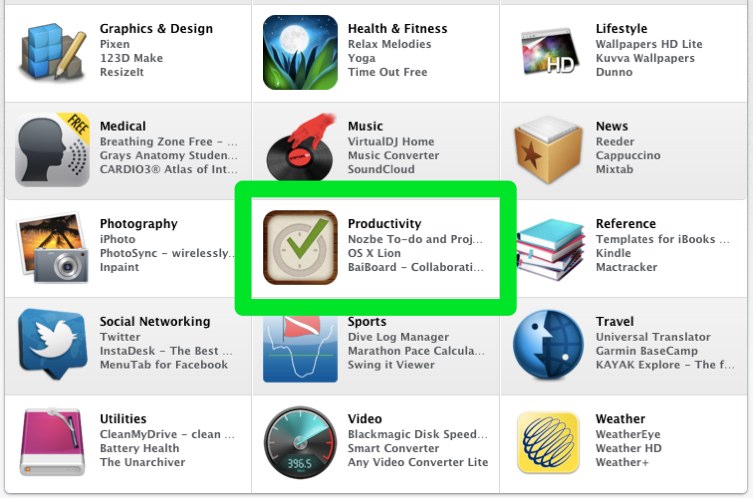 Last week we have celebrated launch of our desktop application in the Mac App Store. Your response was superb! Thanks to you all, we have climbed much in the charts of the Mac App Store and reached top 100 free application in the US App Store or even top 3 (yes, top three!) in others. In the productivity category we have been the first in some places, in others we have remained within top 10-20.
Here's the link to download our app from the Mac App Store
Thank you for your support!
You are amazing - you have posted many interesting stories of your Nozbe use at our Facebook Wall and we have enjoyed reading every single one of them.
Our Winners
As promised, we decied to celebrate this with some great prizes of annual Nozbe accounts - here is the list of lucky winners:
1 Business Account: Daniel from Poland
1 Team Account: Juan from the US
1 Team Account: Reinhardt
1 Team Account: Haruka from Japan
1 Family Account: Russell from New Zealand
1 Family Account: Alexander from the US
1 Family Account: Munechika from Japan
1 Family Account: James from the US
1 Family Account: Ataru from Japan/US
1 Personal Account: Kim from Australia
1 Personal Account: Mark
1 Personal Account: John from the US
1 Personal Account: Wolfgang from Switzerland
1 Personal Account: Satoshi from Japan
1 Personal Account: Katsuya from Japan
1 Personal Account: Karen from Canada
1 Personal Account: Cristina
1 Personal Account: Jan from Poland
1 Personal Account: Julia from the US
Some of our blogger friends have posted on Nozbe and the launch and we have decided to award them with additional prizes:
Arian from Holland, Jenny from the US, Christian from Austria, Chris from the US, Mike (the Daily Saint) from the US, Marcus from the UK and Rashita from Japan.
We'll contact winners directly by email or via messages on Facebook.
Thank you once again for supporting us by downloading our application. We are already preparing 1.2 version, which will be released shortly (it contains some new features, many bug fixes and improvements).