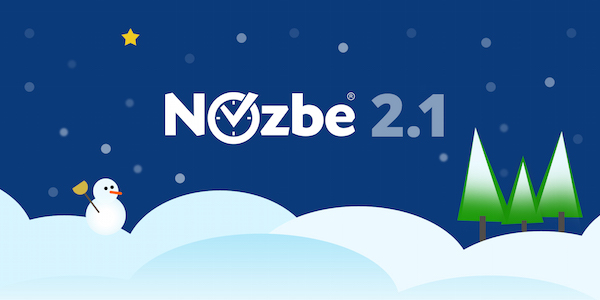 Christmas is coming and most of us think of giving and sharing (buying and spending, too… unfortunately). The end of the year is also the time of asking questions and evaluation. We approach the end of 2014 with satisfaction and joy. It was a fantastic year for us and we hope it was good for the Nozbe users too. We released the long-awaited new version of our app - Nozbe 2.0 for all the platforms and we introduced the new type of accounts - Nozbe PRO - which offers 2 accounts for the price of 1 as well as the full flexibility of adding and removing people from the team.
We even have the possibility to add a second person free to all the existing single-account users :-)
2 Christmas gifts for you:
1) Nozbe 2.1 with re-engineered printing
Now, we took up the next challenge - get you the new version of Nozbe for Christmas :) Our programmers worked really hard, we did a lot of testing and here it is - Nozbe 2.1 with new features and improvements.
2) Productive! Magazine - new issues in English, Polish and… Dutch!
Yes, we have new issues for our productivity-oriented community both in English and in Polish and we're welcoming a Dutch edition of our magazine:
What's new in Nozbe 2.1
Here is what new version of our app has to offer:
Redesigned printing feature - due to technological constraints printing feature in Nozbe 2.0 was not very efficient. Especially on Windows it didn't work well and on mobile you couldn't actually print at all. We were not proud of this, so we took our best effort to redesign the back-end mechanism from scratch: by using the "Print" button in Nozbe 2.1, you will generate a PDF. This is more flexible and works on every platform. You can print it now or share it with your co-workers using other tools (Evernote, Dropbox, Email, etc.)

New keyboard shortcuts for OS X - we listened to our Mac users feedback and added a native menu with keyboard shortcuts to our OS X App. You can see its specification on our Help Page. In the future releases we also plan to do the same for Windows platform, so stay tuned.

Small and not so small bug fixes and improvements (the full list can be found on our test blog.
Season greetings
Let us then wish you a beautiful holiday season, merry Christmas and a New Year of good health and productivity (meaning: peace, happiness and more time for your loved ones). Throughout the coming year, may your life be filled with good luck and prosperity. Don't be afraid to take time to slow down and enjoy the simple things in 2015. We hope that Nozbe will make it easier for you.