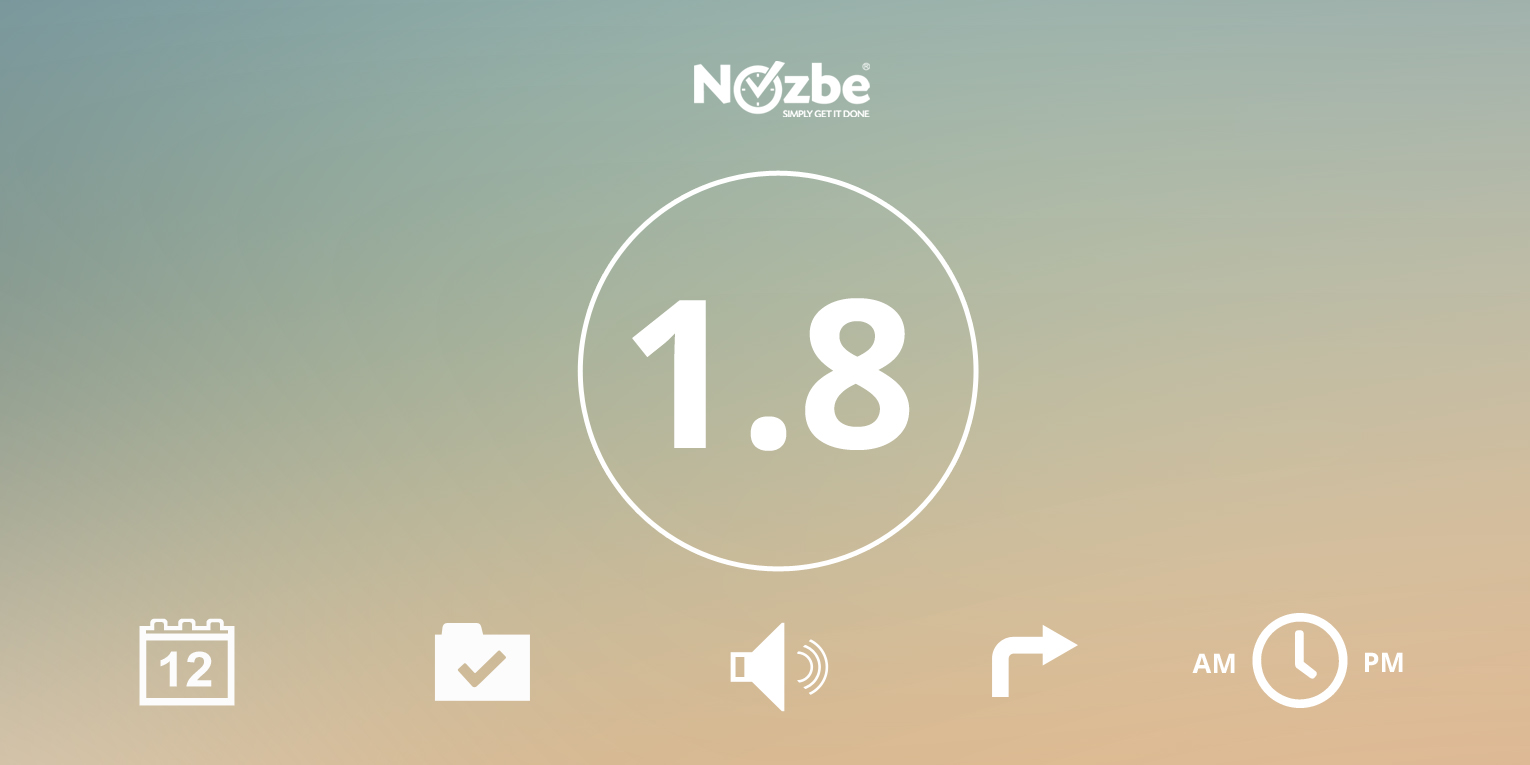 Important: If you're running Nozbe 1.7 on your Mac/iPhone/iPad or Android the app will auto-update upon your next sync. If you're running on Windows, you need to download a new version for Windows.
Get Nozbe 1.8 for your device:
Nozbe 1.8 has lots of great features that will help you get your every day things done and enjoy being even more productive.
We redesigned calendar view, improved adding and filtering tasks, and we added completely new functionality for users with sight issues.
Here's exactly what our engineers prepared this time:
New Calendar view - improved calendar view to help you get more organized and get more control over your schedule
Magic arrow - now you can add a new task at the top or bottom of your task list :-)
Completed projects view - see how many projects you've completed to be more in control and be able to complete tasks delegated to your team members.
Better Accessibility - Nozbe has been improved to help visually impaired users
Time - filter your tasks by the most suitable time for you
and, as always, lots of other fixes and improvements. Check it out!
Hello All,
If you have problems with our new features, please kindly contact us with the issue at questions@nozbe.com.
For some I have ready 'workarounds' and I will provide them below. Other are either still investigated or not yet known. We are sorry for all the issues which may have occured.
Calendar: overdue/blank pages:
a) on app.nozbe.com please clear you cache on the browser and re-log (power button in lower left corner)
b) all other versions - please relog
Calendar: duplicates:
Please report to support each case is looked at separately
Calendar: filters not working:
Please do re-log. We do have a fix for it already (of what I hear from the tech) but it may still take a few hours for it to be implemented directly. Re-log seems to resolve that issue if not once and for all then at least for some time.
Calendar: only my items showing:
Please make sure the filter is not on. If that is not the case and re-log does not help please report to us as soon as possible.
Completed projects not appearing in the apps:
This is fully solved with the re-log. It is not as much a bug as a technical limitations that the sync with the update did not include pulling of that data from server. Once you re-log they will all show as expected.
---
Those are known issues. If you have a different problem please do report to us immediately. I'm sorry for not being able to get back to you sooner here, but we are working as fast as possible and email reports do take a bit of priority as they usually contain way more information needed for the tech to solve a problem.
If these 'solutions' have not worked for you please also report to us as soon as possible. We are once again sorry for inconveniance and any frustration or trouble those may have caused you.
— Delfina, CHO
Posted on Wednesday, September 18, 2013