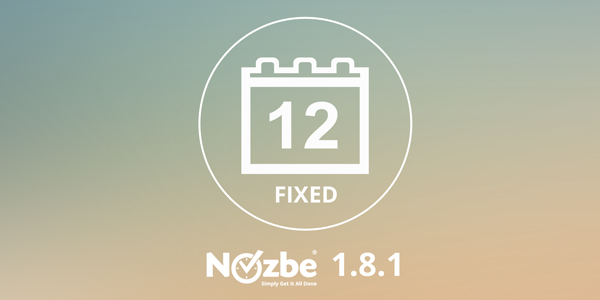 When we launched Nozbe 1.8 a couple of days ago with the new, completely-redesigned calendar, we rushed too much to show it to you. We're so sorry for this. As you can read in our last blog post there were a few problems with the new feature and it wasn't working perfectly for all of you.
We're truly sorry… but we fixed it now!
Our team has been working overtime to make it happen and last night we pushed Nozbe 1.8.1 to everyone as an auto-update (so chances are you're running it already). We updated our web app and most of our native apps. (Go to "Settings" to make sure you're running 1.8.1). If you use Windows, you need to download a new Nozbe 1.8.1 version for Windows.
Nozbe 1.8.1 with the recent bug fixes for your device:
Our goal is to deliver the best productivity tool for you that's why it hurts us so much that we failed you. We gave you Nozbe 1.8 which had promising features but wasn't up to our standards. That's why we've been investigating the issues, got through all the bugs, and hopefully fixed the calendar problems in Nozbe 1.8.1.
We just hired an additional person to our customer support and testing team and redesigned the processes to make sure a mistake like this won't happen again.
Thank you so much for your trust in Nozbe - every day we work hard to make sure you get a lot done with our software and we've got great things to show you in the coming months. And we'll make sure they're truly great and work better than advertised :-)
Thanks again,
Michael Sliwinski
CEO and founder, Nozbe.com