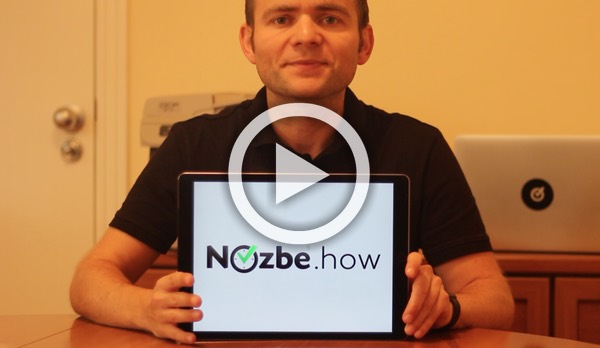 Next month, we want to revolutionize the world of productivity and we need your help!
Preview of Nozbe.how - public Nozbe project templates
Today, on our Nozbe test blog we published the Release Candidate of Nozbe 2.6 which lets you share your project templates with the world! And we want to invite you to create your best how-to lists and share them with others.
Why I'm so excited about this? Watch my short video explaining Nozbe.how!
You are using Nozbe. You are a very productive person. Why don't you share your best checklists, your top recipes for success (or food :-)) and your best ideas with other people?
Examples of Nozbe.how templates I've prepared for you just this week:
How to create your own Nozbe.how public templates?
*Before you start, please remember that Nozbe.how templates are still in "beta" and there are some known issues and bugs, so please continue only if you have experience with pre-release software:
Get Nozbe 2.6 "beta" for Mac or Windows from our test blog - this is "beta" software, use at your own risk!

Log in and go to your templates. If you don't have a template to share, create a project and save it as a template.

Choose a template to share. Edit it if needed. Tweak it. And just share it using a button in the info-panel of your template.
That's it. You can now copy this Nozbe.how template link and either share it with just one person… or post it on social media or send to friends via email.
Why are Nozbe.how templates so revolutionary?
A Nozbe.how template is like a fully-fledged Nozbe project - mark tasks as done, browse and add comments, modify tasks, add new ones or reorder them. In other words: we're brining the productivity power of Nozbe to everyone!

Everyone's invited! - anyone can use a Nozbe.how template as their project. They don't need a Nozbe account to open it in their mobile or desktop browser. And they can share it further!

Easy sign-up and import! - while people don't need a Nozbe account to use the Nozbe.how template, they can easily add it to their new or existing Nozbe account.
(Affiliate tip: When people sign up for a Nozbe account from a Nozbe.how template created by you, you'll get an affiliate commission when they later become a Nozbe PRO customer!)
Learn more about Nozbe.how project templates and start creating yours!
Post your templates on Twitter or Facebook with #NozbeHow hashtag - we'll include the best ones in our upcoming Nozbe.how template directory :-) The authors of the best ones will have their Nozbe PRO accounts extended by 1-6 months!