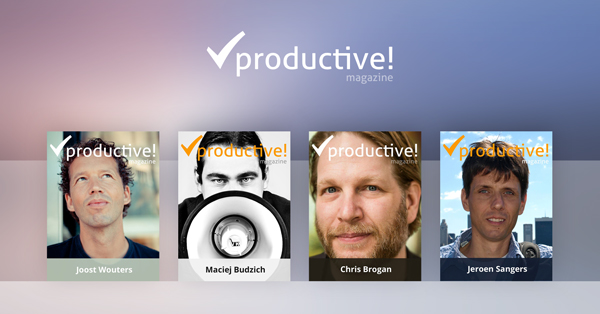 First off, thank you so much for an amazing reception of my new book "It's all about Passion!", I received lots of fantastic emails and more than 5000 people are already reading my book. Thank you so much for your passion!
More passion coming in with Chris Brogan and Joost Wouters
As you know from one of the last chapters in my book, I love sharing my life with passionate people and I also get to do it through Productive! Magazine which we're publishing for you, [[name]], our great Nozbe customer:
April: Issue #19 with Chris Brogan
I talked to Chris (best-selling author, editor and inspirational speaker) about us being "freaks" taking over the world and about his love for business, not for tools. He also reveals his professional plans:
"I am right on the verge of changing this a little bit. And this change I am about to make is dangerous. I don't say that to add excitement to our interview. :)"
He also explains his "freakiness":
"The stranger I became - the weirder I became - the more money I made. The more true I was to who I really was, the more I started making money."
May: Issue #20 with Joost Wouters
I also had a chance to sit down with Joost Wouters - the author of "The 15-minute inbox". In the interview he says how to easily harness your inbox and what to do in order not to be a fire fighter… :)
"People are spending so much time in their inbox. It is like they are leading their teams with e-mail. They write so many e-mails that they can hardly find time to think or to be with their team."
Each of these issues offers you a whole range of practical articles full of tips and information on how to get done more, quicker, better and with less stress. Read the articles and find out if you are doing absolutely everything you can to make your life happier :)
Read the magazine as you like.
Productive! Magazine is a free, monthly doze of optimism, inspiration and useful productivity tips. You can take advantage of all these in your preferred way.
Get our apps:
… or simply read it online
Apart of the interviews we've got great articles by Judith Glaser, Laura Stack, Gonçalo Gil Mata, Jill Celeste, James Tonn and other passionate productivity experts. Enjoy!
Productive! Magazine family of free inspirational magazines is growing worldwide:
Mówisz po polsku?
Read the latest edition of Productive! Magazine Polska. We've got 7 practical and motivating articles by productivity coaches and bloggers waiting for you as well as the interview with one of the top Polish social media experts - Maciek "Mediafun" Budzich.
¿Hablas Español?
There is Productive! Magazine in Spanish full of articles written by Spanish productivity aficionados.
日本語?
We also published Productive! Magazine in Japanese with amazing articles written by Japanese productivity experts.
Spread the word, please
Please, do let me know how do you like this issue of our monthly and share Productive! Magazine with your friends and colleagues
Thank you!