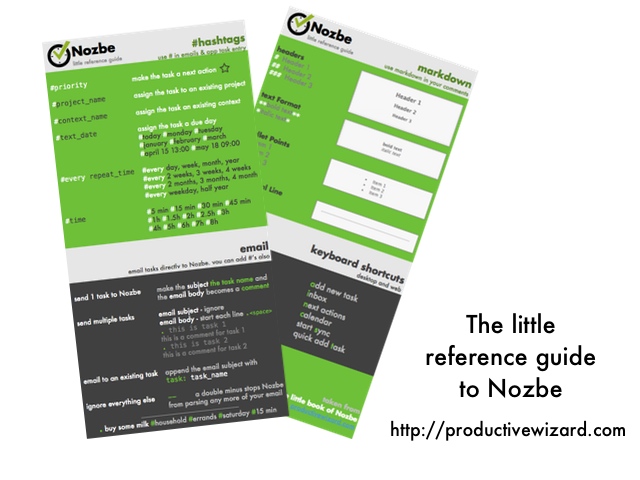 Our wonderful user community never ceases to amaze me. There are plenty of examples of feedback, ideas and features that come from our fantastic customers. Yet, I have not encountered such pro-active and creative approach in a long while. I'm referring to recent creation of Marcus Platt, one of our long-time users of Nozbe.
Free Nozbe Reference Guide by Marcus Platt
He has recently posted a quick reference guide to Nozbe. It is a short and concise compilation of guidelines that are fully described on our help pages and in numerous blog posts we wrote here. And that is what is so great about it. You can print it out and look at it for fast hints on e.g. how to format your actions. When you want a full description you surely will need to browse our help pages, but in all other cases his 'cheat sheet' provides you with at-glacé information and saves you time.
Moreover, Marcus has kindly given us his consent to translate the guide to all the languages we support and once we'll get it done, we'll post the guides on our Help Pages.
Once again I'm very thankful to Marcus for having this awesome idea and going thorough with it. It will benefit us all, and I hope there will be more users like him to contribute things like that over time. Thank you Marcus.
Visit Productive Wizard site to get the guide from Marcus
- Delfina (Chief Customer Happiness Officer, Nozbe)