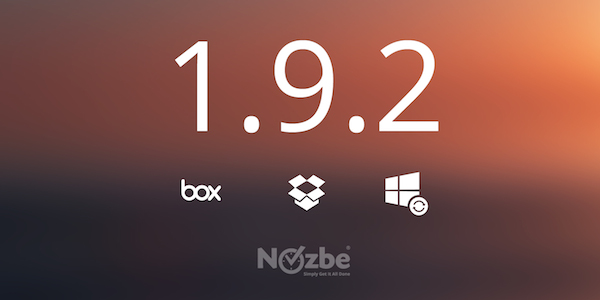 Written by Piotr (Nozbe Chief Marketing Officer)
Today we are very happy to introduce you to our newest update: Nozbe 1.9.2.
With lots of improvements, bug-fixes and some great additions for all your devices. The latest release takes your Nozbe experience one step further to help you get even more done with your favorite apps like Dropbox and Box.
Let's take a quick sneak peak into the most important additions to Nozbe in this update.
Attach files from Box in our desktop Nozbe apps
Now you can simply choose a file in your Box and attach it as comment to any task you'd like. Easy. That's available for Nozbe desktop and app.nozbe.com version for now. Enjoy!
Attach files directly from the native Dropbox app
We are adding widget support so that adding files from Dropbox to your projects in Nozbe has never been easier. For your comfort and better experience files are being linked directly to Nozbe from your Dropbox native app on your mobile device. How cool is that?
Automatic updates now also on Windows platform
Downloading the new release every time has now finished! From now on, your latest Windows app will update automatically to the newest Nozbe versions much like the rest of our platforms. All releases will be updated over the air for everyone, so just update Windows client to 1.9.2 and enjoy productivity even larger!
Lots of fixes and small, but important improvements
Nozbe 1.9.2 is not an automatic update, unless you have automatic updates from your App Store, you'll need to get your latest Nozbe for your platform here.
All fixes and improvements brought to you with the latest release are listed in the complete change log that you can find on our test blog.
Don't wait! Be more productive and download the newest version 1.9.2 for your platform.
Enjoy the newest 1.9.2 release and let us know how it works for you. Feel free to post comments below! Thanks for being the most amazing Nozbe users ever!