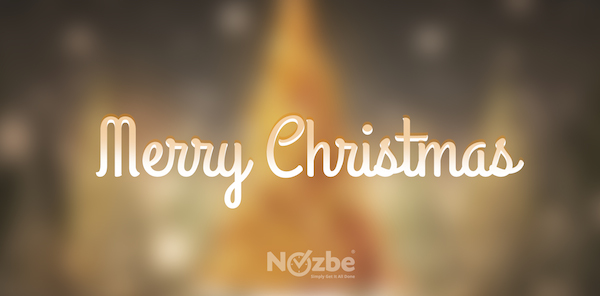 It's that time of the year again. As we survived yesterday's "end-of-the-world-day" and we seem to be just fine, let me wish you my dear Nozbe customer a Merry, Calm and Wonderful Christmas time. On behalf of the entire Nozbe team, we're so grateful to be able to serve you every single day!
Christmas time comes with presents and we have some great gifts for you this holiday season:
New apps for Mac and Windows featuring lots of fixes and improvements (you can download it from our web site - we are still waiting for the approval from Apple for the Mac App Store) - this is version 1.4.1
New Android app in Google Play featuring project templates and lots of enhancements to run smoothly on many Android devices - this is version 1.2
New Mobile web version - optimized for the Android and the iPhone.
But there's more!
We just submitted to the App Store our brand new "Nozbe for iOS"
It's a completely new universal application for both the iPhone and the iPad and it's been built by us completely in-house from the ground up.
We are waiting for the approval from Apple so the app should be live early in January on the App Store. And it'll not only work great on your iPhone but will also look beautifully on the iPad.
What's the difference between our current iPhone and iPad apps and this new, universal one for both iPhone and iPad?
Price: FREE - the app will work with your current Nozbe subscription and will not cost you a cent more…
iPhone - similar to our mobile apps - if you're used to working on our mobile app or Android app, you'll find the iPhone interface very similar to these apps with exactly the same feature-set.
iPad - similar to our Desktop apps - if you've been using our app for the Mac and Windows, the iPad app will feel at home. It's been designed specifically for the iPad's touch screen but with the familiar look-and-feel as the desktop apps.
PUSH-sync - just like our Android and Desktop apps, now also on the iPhone and iPad your app will be always up to date! Anytime someone from your team updates a comment or task… or you change something on other device or the web, the changes will be pushed to your iPhone and iPad app.
Newest features like project templates, advanced filters and more… are coming at the same time now to the iPhone and iPad apps as they do come to the desktop apps and Android app.
The Nozbe iOS app will be available in early January
We are entering 2013 with a suite of apps for you to get more done and we are very excited to be able to help you make the 2013 your best and most productive year ever!