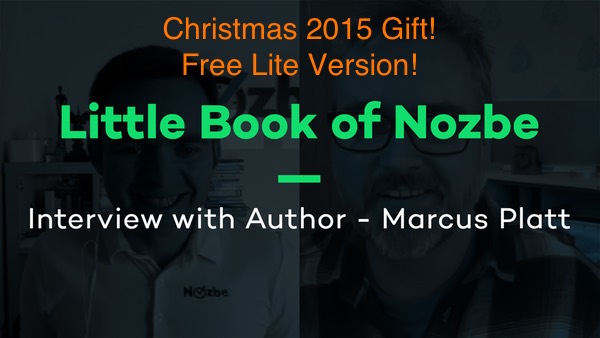 On behalf of the entire Nozbe team, I'd like to wish you a Merry Christmas and a Happy and a Productive 2016 - may your dreams and goals come true and may the new year be your best ever!
Free Gift - The "Lite" Book of Nozbe!
This year I'd like to extend these wishes with a gift from our Nozbe community contributor, customer and productivity expert: Marcus Platt, who wrote the ultimate Nozbe user's manual called "The Little Book of Nozbe" where he explains how to get most of Nozbe from a user's point of view.
His book was released a month ago and has already been praised by many Nozbe users. Many people contacted me and said they became "real Nozbe ninjas" thanks to this book!
That's why Marcus and I decided to not only give you a sneak peek to this book, but offer you some real value and a true Christmas gift. The "lite version" of his book is packed with productivity advice: it starts with Nozbe basics like Inbox and Projects and ends with workflows and advice from Marcus himself:
Download your own PDF copy of "The Lite Book of Nozbe" for free
This is a 60+ page PDF with best productivity tips and tricks. It's perfectly timed for you as I believe the time between Christmas and New Year's Eve should be used to revise your goals and objectives for the year to come.
Thanks to this book, you'll be able to plan your 2016 even better with Nozbe and you'll be guaranteed to get more done.
And if you like it, I strongly encourage you to get the full version at 30% discount where Marcus digs deeper into Nozbe and teaches you the most advanced Nozbe productivity tricks which will help you leverage power of our great tool to get even more done this coming year!
Thanks again for accepting this gift and for being an amazing part of our Nozbe user community!