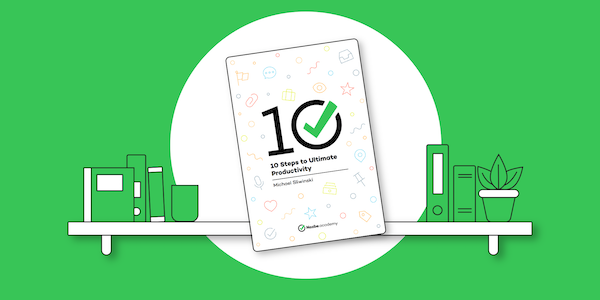 Everyone can be productive. Productivity is not a rocket science. Frankly, it's a matter of adopting a couple of habits, building a personal system and using some tricks or techniques on a daily basis.
You can struggle and learn the above from your own experience (after many years), you can read hundreds of blog posts and study productivity resources or… you can check out my latest book and become an efficient project manager in no time.
"10 Steps to Ultimate Productivity" on pre-sale!
I am so happy to announce that my new book: "10 Steps to Ultimate Productivity" is here!
You can get the paperback, ebook or a productivity pack including the Nozbe subscription.
(Audiobook will be available very soon on Audible and Amazon will start shipping the book on Jan 2).
…this book is nothing short of extraordinary, practical, and immediately helpful.
Productivity on a silver platter
As you might know I have been professionally engaged in productivity and time management for over 11 years. In the "10 Steps to Ultimate Productivity" book I pass everything I know on this subject onto readers.
And it is not a collection of theoretical principles! It's a record of many years of experience that I've been drawing on to constantly optimize my own productivity system.
It's also a collection of practical tips – simple enough to start applying immediately. Each step of the book includes exercises: instructions for immediate application in Nozbe – the app that I use on a daily basis and created over a decade ago.
Remember, however, that with my tips you'll also be able to create your own trusted productivity system with the use of other tools. The principles remain the same!
Everyone can be productive
The "10 Steps to Ultimate Productivity" book is universal. It wasn't conceived for any specific group of people. It's been made for you – regardless of who you are and what you do.
Because the only person who can change your life is YOU!
Order the book and start acting now!
Sliwinski & Co. - how I wrote the book with an amazing team of productivity experts
Did you know that the whole process of writing the book took several months? It was created as a joint effort between me and an editorial team including over 100 productivity aficionados from various backgrounds. They've shared many valuable tips and insights that I've incorporated into the book.
Together, we've created a compendium of knowledge and practical advice whose value can't be overstated. These tips have helped me and many others achieve our goals effectively while saving valuable time.
Now it's your turn! Get the book today!
… and make 2019 Your Best Year yet!