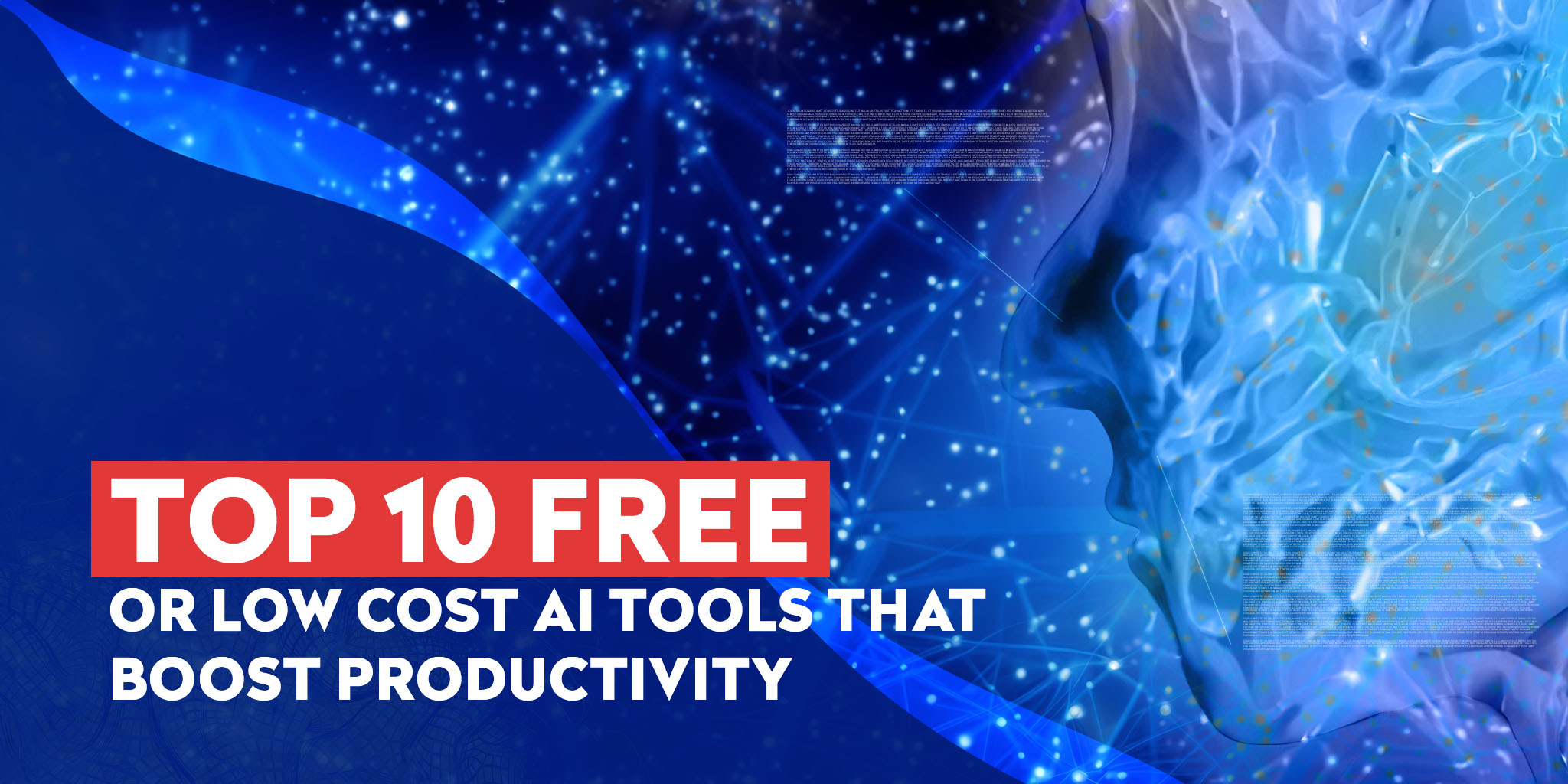 The rapid advancements in artificial intelligence (AI) technology have paved the way for solutions that can enhance your workflow and maximize productivity. We present top 10 free or low-cost AI-powered tools that will not only boost your efficiency but also empower you and your team to focus on working with clients and doing other things the AI can't do… YET.
Here are top 10 free or low-cost AI tools designed to do some work for you and free up your valuable time for more meaningful and strategic endeavors.
1. Looka AI - Graphic design by artificial intelligence
Helps you design a logo, a simple marketing material or a company swag. Enter your company's name, pick your industry, then choose some logos you like from what Looka shows you and you pick colors you like. In the final stage you can add your slogan or tag line and pick some symbol types and voila! Looka shows you a whole bunch of logos you can choose. This tool can help you save time and energy when in need to quickly generate something basic.
Pricing: Free
2. Copy.ai - Productivity improvement in content writing
Works like ChatGPT but better thanks to repurposing content, summarizing long texts, extracting insights from data, transforming any piece of text into a new type of asset and automated workflows. It can help you generate content and save time on other type of work like sales or working with customers.
Pricing: Free: 1 seat, 2K words in chat / Pro $36/mo: 5 seats, unlimited words in chat / and more.
3. ChatPDF - AI-powered PDFs searching
It's like ChatGPT, but for research papers. AI-powered app that makes reading journal articles easier and faster. Simply upload a PDF and ChatPDF will prepare a short summary of the article. It will also give you examples of how to phrase a questions that ChatPDF will answer for you. ChatPDF keeps a library of all your PDFs and chats. A tool that makes life easier for researches, students and journalists.
Pricing: Free
4. Quinvio AI - Video creation AI booster
AI-based tool for creating video presentations. It allows users to write text with AI assistance, rephrase the video script with a simple editor, and pick an AI spokesperson for a voice over. It can be used as a great help and time saver for microlearning, presentations, communications, and marketing purposes.
Pricing: Free: 30 seconds of video with watermark and 50 AI suggestion prompts / Pro $29.99 /month: 10 minutes of video credits / month, 1000 AI suggestion prompts, 100 video avatars, 200 voice styles, no watermark / and more
5. Quotify - Extracting quotes - save your time!
AI-powered tool to extract quotes about the topic of your interest from books and articles that you upload in .pdf. It can save up to several hours if you just need a quote on a certain topic.
Pricing: Free
6. Stockimg.ai - AI Image generation
To generate stock photos, book covers, wallpapers, posters and more designs. You describe what you want to get and the IA creates an image that you can then enhance or change. It can be not only a way to enhance your efficiency but also pretty good fun.
Pricing: Free: just 1 image / Starter: $34/month; unlimited images and 15+ AI models.
7. Murf.ai - Voiceover generator
AI voice generator that simplifies the process of turning scripts into voiceovers for presentations, videos, etc. It supports more than 120 natural-sounding voices and more than 20 languages and various accents. If you create presentations, online courses, product videos or tutorials it will improve your productivity and help you save time and money.
Pricing: Free trial availble, but all AI-related features and the possibility to download files come only with the PRO with $26 per user/month.
8. Heyday - Meeting recap notes generation
An AI powered memory assistant generates meeting recap notes from your calls and video calls, helps you draft content in your voice based on excerpts from your conversations, reading, and documents and curates your information into topics to improve your memory.
Pricing: Free 14 days trial, then: $40/month / $299/year
9. td;lv - Meeting recorder
The meeting recorder that records, transcribes and summarizes your calls with customers, prospects, and your team on Zoom, Google Meet and MS Teams. The free plan supports German, English, French, Spanish, Japanese, Korean, Portuguese, Polish and more. You can search every spoken word across a meeting with one click.
Pricing: Free: recording unlimited Google Meet & Zoom meetings, transcribe & summarize in 20+ languages, AI summarize meeting moments with one click. With PRO: you can also get fully automated AI meeting notes & tags, integrations with other tools, possibility to upload audio & video recordings + embed recordings & clips to Wordpress.
A Chrome extension that creates summaries of lengthy YouTube videos, automatically highlights key points in the summary and saves them to the library for reference.
Pricing: Free
Questions?
We hope that this short entry gave you some ideas and inspiration. If you have doubts or additional questions, write them in the comment below or in a message to the customer service team: support@nozbe.com.