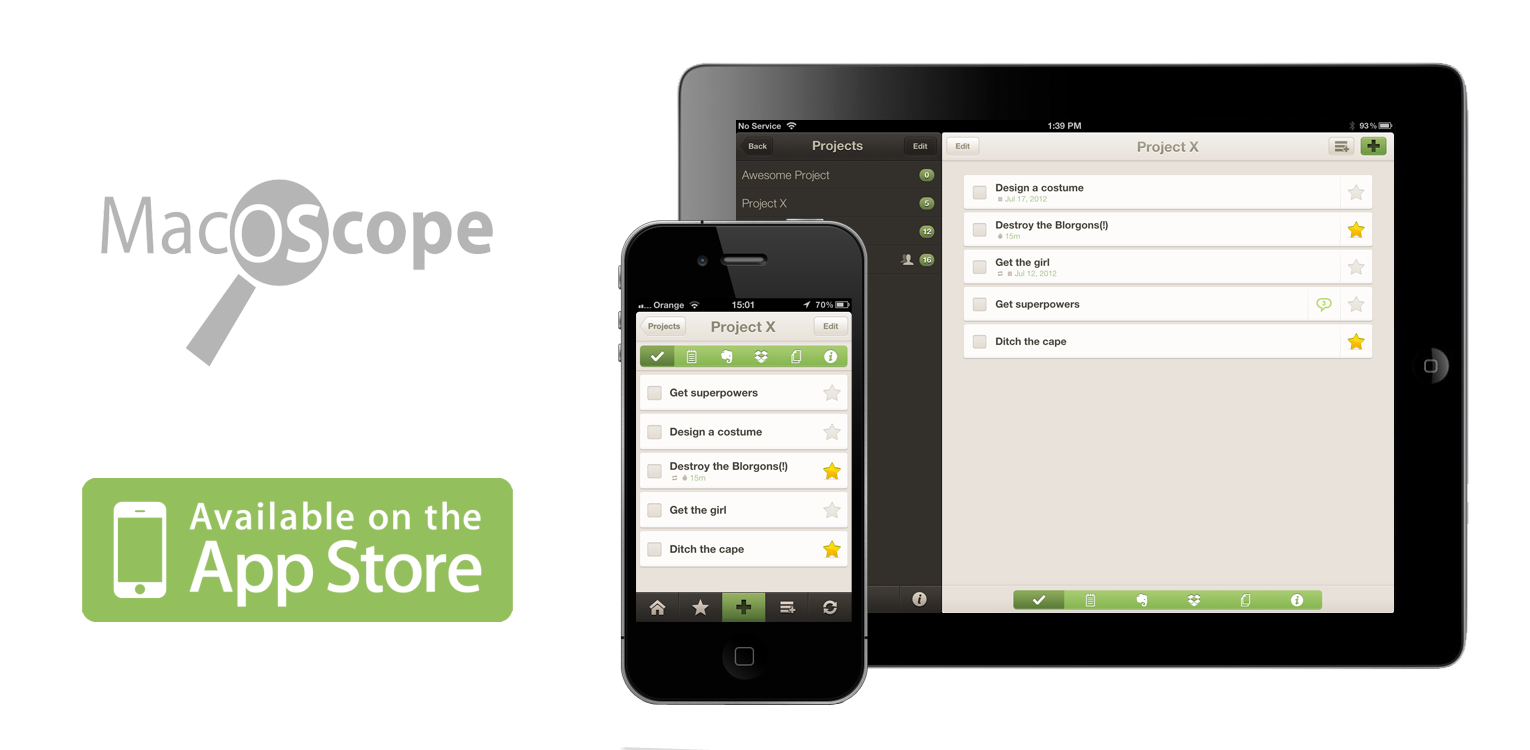 Getting things done on the move is increasingly becoming a top priority for busy professionals and their teams. Last month we launched a new mobile web app and today we're bringing you three totally redesigned and re-engineered apps for your iPhone, iPad and Android devices.
iPhone and iPad
Our partner, the guys from the company Macoscope, who are officially developing the iPhone and iPad apps, have been listening to your feedback and they've improved and redesigned their iOS apps from ground up:
New, gorgeous design (also for the retina-display iPad)
Speed, speed and speed improvements - this app flies!
Many bugs and fixes and "under the hood" improvements
But there's more. If Android is your device of choice, there is a…
New Android app
Based on the success of our mobile app we've adapted it to ensure it works beautifully and natively on your Android device:
New Android-style design
Voice task input (natively through Google!)
Push-sync - fully automatic syncing
Great "New comments" and delegation support for team-work
Horizontal view support with menu on the left
This is a completely new app and we won't be offering it as an update to the old Android app - we are starting from scratch and it's a version 1.0 - meaning we're going to release a few updates to it in the coming weeks - we just wanted to show it to you as soon as possible.
(please uninstall your old Android app and install the new one - it's a new app)
Note: Because it's a completely rewritten app, please do send us an email how you like it and how it works on your Android device and how it compares to the old one - your feedback is very important to us and we want to ensure we address the most important issues in the 1.1 update scheduled for the end of August. Your voice counts, hit reply and let us know!
Mobile is our new name
Nozbe's focus is helping busy professionals (like yourself) and teams get most done anywhere, anyhow, that's why our focus on mobile will be even more apparent in the coming months… and our main web app will be relaunched pretty soon. It's all coming a long very nicely thanks to your support and feedback. Thank you!
Get our new mobile apps for:
Yours productively,