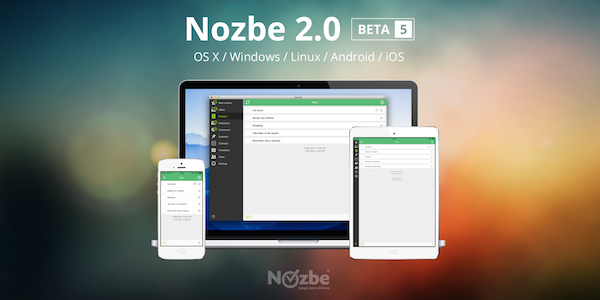 It's been now more than 2 weeks since we published last beta version of our upcoming Nozbe 2.0 app. Despite holiday season we have been working very hard to deliver the latest iteration of our apps to you - our amazing testers. Today we give you Nozbe 2.0 Beta 5 full with some cool new features and fixes:
What's new
This one is a big leap forward. Take a look:
Evernote integration - Quickly add Evernote notes to your projects and tasks. Nozbe will suggest you the most recent notes and the ones tagged with the name of the project. Another improvement here is that you will be able to search notes via Evernote API directly in Nozbe.

Dropbox integration - Now you can see all your Dropbox folders and file structure directly in Nozbe.

Nozbe notes with markdown support - Don't want use Evernote for notes? No problem! Add Nozbe notes to your project and create tasks with them.

Print (only desktop) - Want to print your tasks? Go to infobar and use Print option :)

Drag and Drop is fully back! (only desktop - web, Mac, Windows and Linux) - With first beta we introduced special edit mode where we also put drag and drop feature. It makes sense for touch interfaces to provide better experience. However, on classic desktop interface with mouse you should be able to drag and drop items just like in old Nozbe. With Nozbe 2.0 Beta 5 you can do it :)

much more improvements and fixes - For full release notes please go to our test blog.
Download Beta 5
Here you can find all the details, download Nozbe 2.0 Beta 5 for Windows, OS X and Linux and sign up for Android version.
As usual, we really count on your fantastic feedback! We are very grateful for every email, comment, tweet, etc. about Nozbe 2.0. It really helps us make the product better. So once again big THANK YOU for you - Nozbe 2.0 Beta Testers!