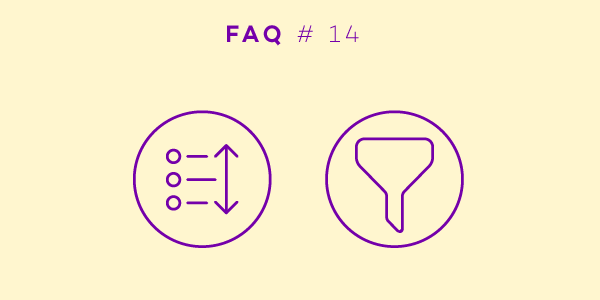 Welcome back to our FAQ series in which we answer popular questions that our users ask us in their e-mails. This month, we will take a look at the sorting and filtering options.
These are very powerful features that can be found in each and every Nozbe view in the info bar, eg. Priority, Projects, You + Team. They help manage long task lists; for example, you can find and display only the tasks due today, tasks delegated to YOU, tasks with a due date, etc. You may be surprised by how many different parameters you can filter your task list.
Please note that a given list of filtering options shows only the ones that are available at the moment on the list you want to filter. That's why the drop-down list with the filtering options changes depending on where you are in Nozbe.
Here are some of the questions our users ask us most frequently in regards to filtering and sorting items in Nozbe:
Hi, Is there a way to see only tasks that have no due dates? This would make my flow easier by checking out those tasks that are often left behind. Thanks.
Yes, it is possible. Just open the project or the You + Team view and go to its info bar ("i" icon in the top right corner of the app). There, choose "Filter," and the "Filter by" list will appear. Now, choose "Due Date" -> "No date" option from the list.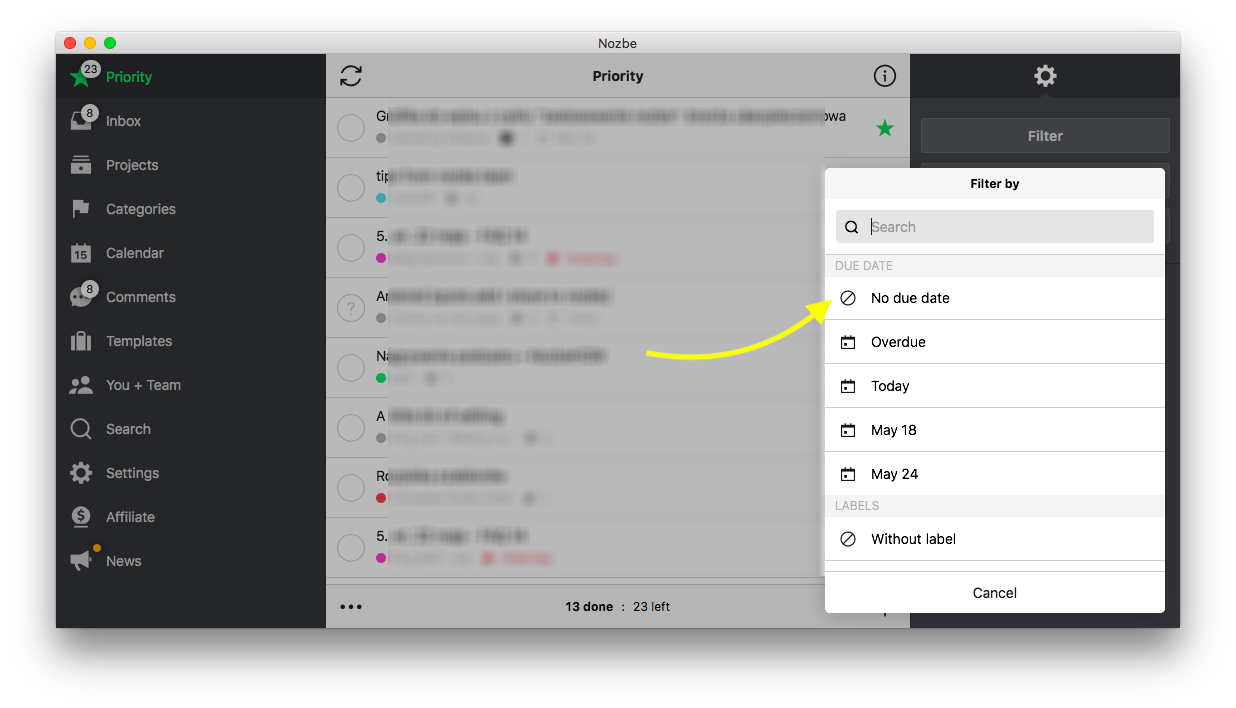 Hi guys, I use Nozbe for work and personal stuff. On the weekends, I want to have a list of "personal" tasks that are the priority - not to see my work priorities! Is there a way of doing that with the priority list (and not having to go through the individual categories)? Thanks!
This is possible, but only if you have your projects labeled. In case you have your private projects tagged with a specific label(s), e.g., "private" or "home," you will be able to use the filter option and narrow your priority list down to display only the tasks from projects considered private/home-related. You'll find this option in the Priorities' infobar ("i") > Filter > Labels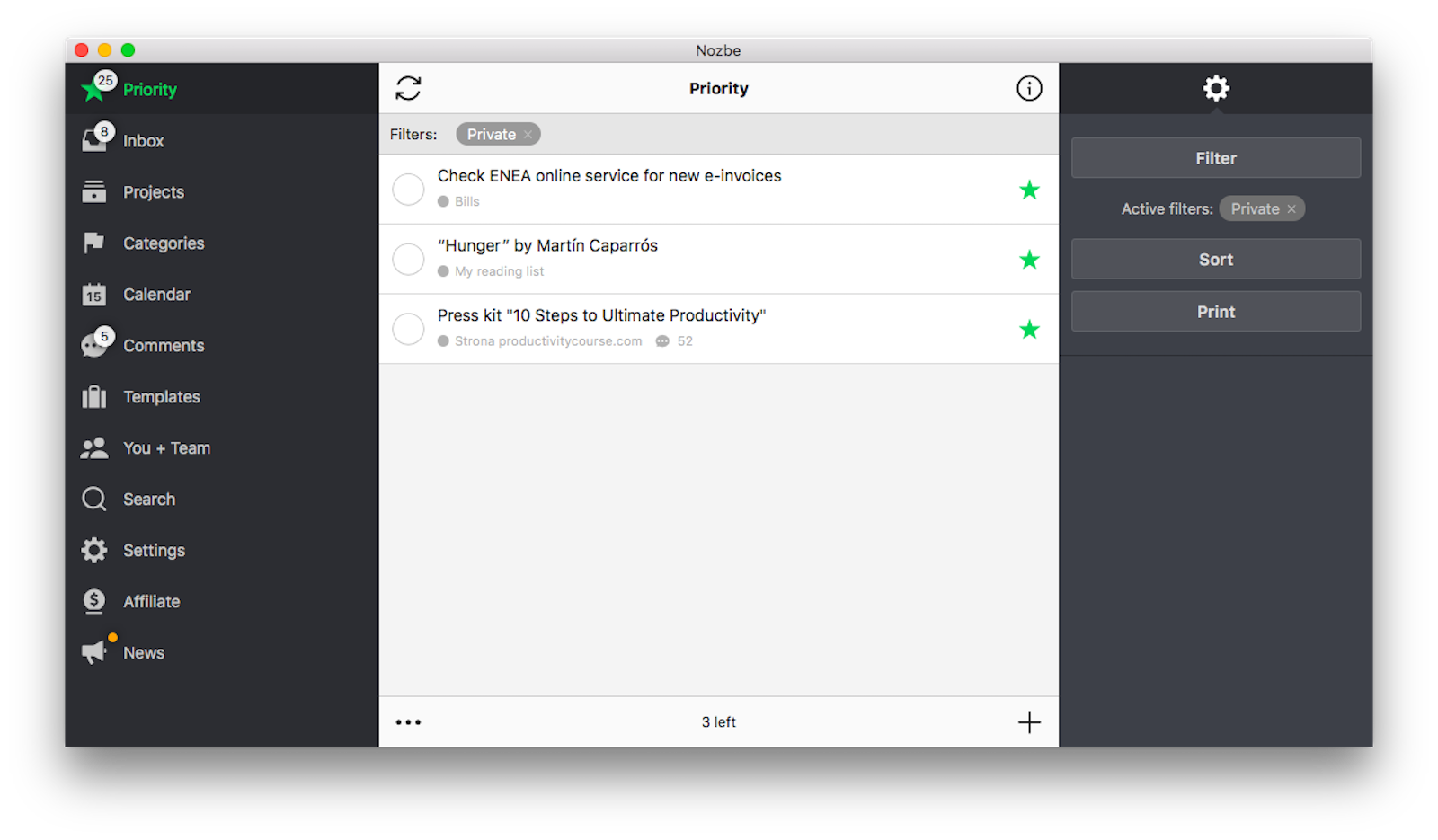 Is it possible to apply the opposite of a filter? Say, I want to see all of the tasks that do NOT have a given category. Can I do that? Thank you.
It would be very helpful if there would be a list of favorite combinations of a filter and sorting available.
Unfortunately, these two options are not available at the moment. We have these suggestions on our list of requested features.
What you can do in Nozbe though, is to filter your list by "No category" parameter. This way you will only see the tasks that don't have any category assigned.
Hi, Is it possible to filter by multiple categories with an "OR" logic instead of an "AND" logic? Say I want everything that is Category 1 or Category 2. Can I do that?
As of now, it is not possible to filter the list by two categories at once. We do have a trick to achieve a similar effect. Open a category. You will see the list of tasks with this category assigned. Use then the 'filter' function and choose a second category to filter by it. In the middle section you will see only the tasks with both categories assigned.
Nozbe remembers the filter and sorting option you set for the list. I love this feature!
Sorting by the number of comments
And what about me? Do I use the filter and sort options? Sure! I have two projects where I always use the filter option.
For example, in a huge project that I work on, I filter all tasks by the number of comments to be able to review the tasks with numerous comments in the first place. Thanks to the sorting option, I do not have to scroll through the entire task list every time I want to have a look at one of those tasks. It saves me a lot of time.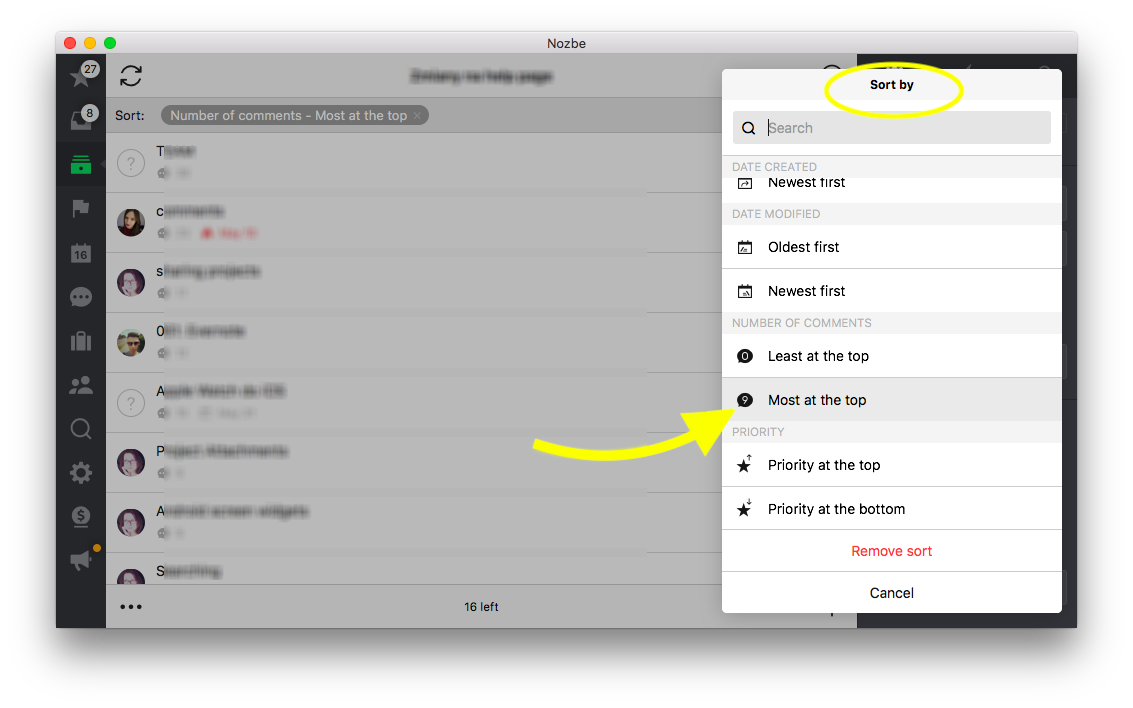 Sorting and filtering the Priority list
Another list, where I use sorting is my Priority list. I set the "due date - nearest first" option there. This way, I do not forget any overdue tasks, and I have an eye on all my tasks that have to be done within the next few days.
I can also set the filter here to see only the tasks from my private projects that I don't share with anyone. I go to the info bar ("i"), I choose the "Filter" button and on the list I go for the "Sharing" option. This way, I can see only my "private" tasks and focus on them completely. Sometimes it can be an alternative for assigning the "private" label to certain projects and filtering the list by it; however, not all of my private projects are home-related. Some of them are definitely work-related - I just work on them individually.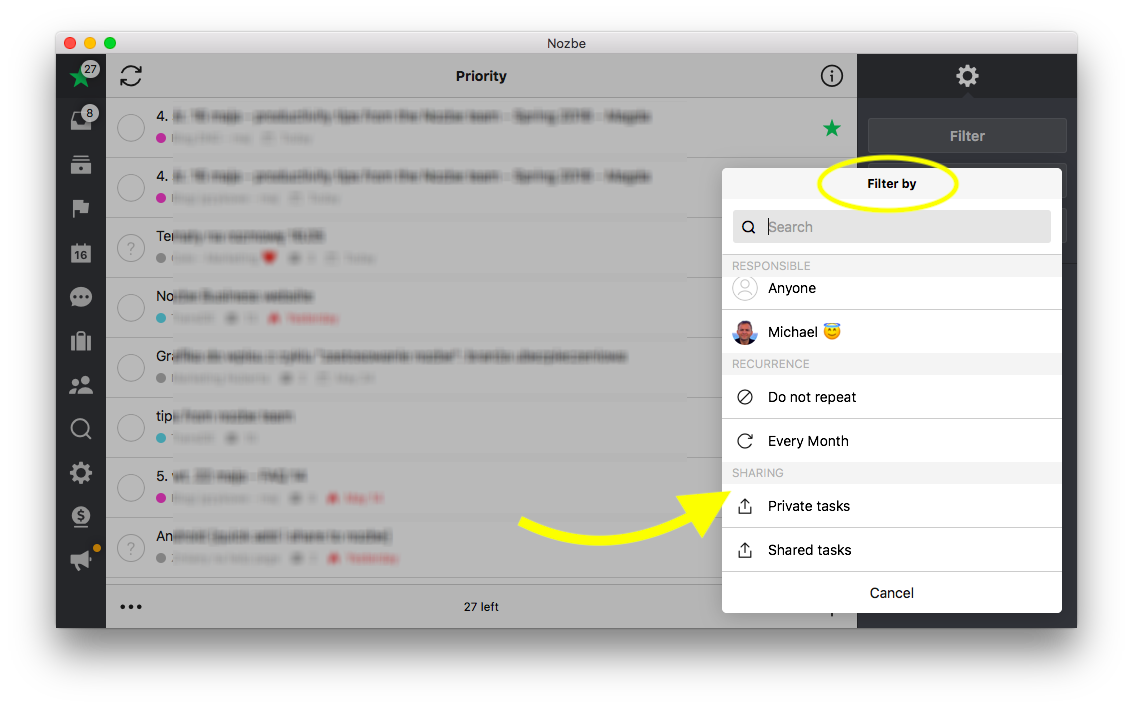 How about you? Do you filter or sort your task lists? What is your best trick to use these features effectively? How does it help you get more done? Please, share your experience with us in the comments below.
Need any assistance?
Where can you find more answers?
Visit our help page to learn more about Nozbe.

Or visit our blog to find interesting articles on applying Nozbe.

And if you have any other questions, don't hesitate to ask! You can always contact us - Nozbe Customer Support - with any questions or suggestions you might have. We're here to help :-)