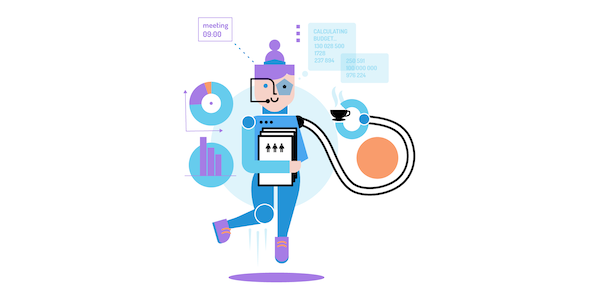 Can you believe that artificial intelligence and bots will soon revolutionize the world of project management? Any time now, we'll all have access to systems that can perform day-to-day management and administration tasks without any human input. A scary thought… or an exciting one? Read on to see how AI will change the way we all work.
AI can not only automate routine and redundant tasks, but also enable information processing at levels that are beyond our capabilities! It can then use this processed data to get valuable insight, make recommendations, perform more complex activities, expand creative horizons, and assist in decision making – sometimes even in ways that humans cannot do today.
As per the Project Management Institute, there are a few knowledge domains that cover almost all of the work carried on by project managers. The knowledge domains are: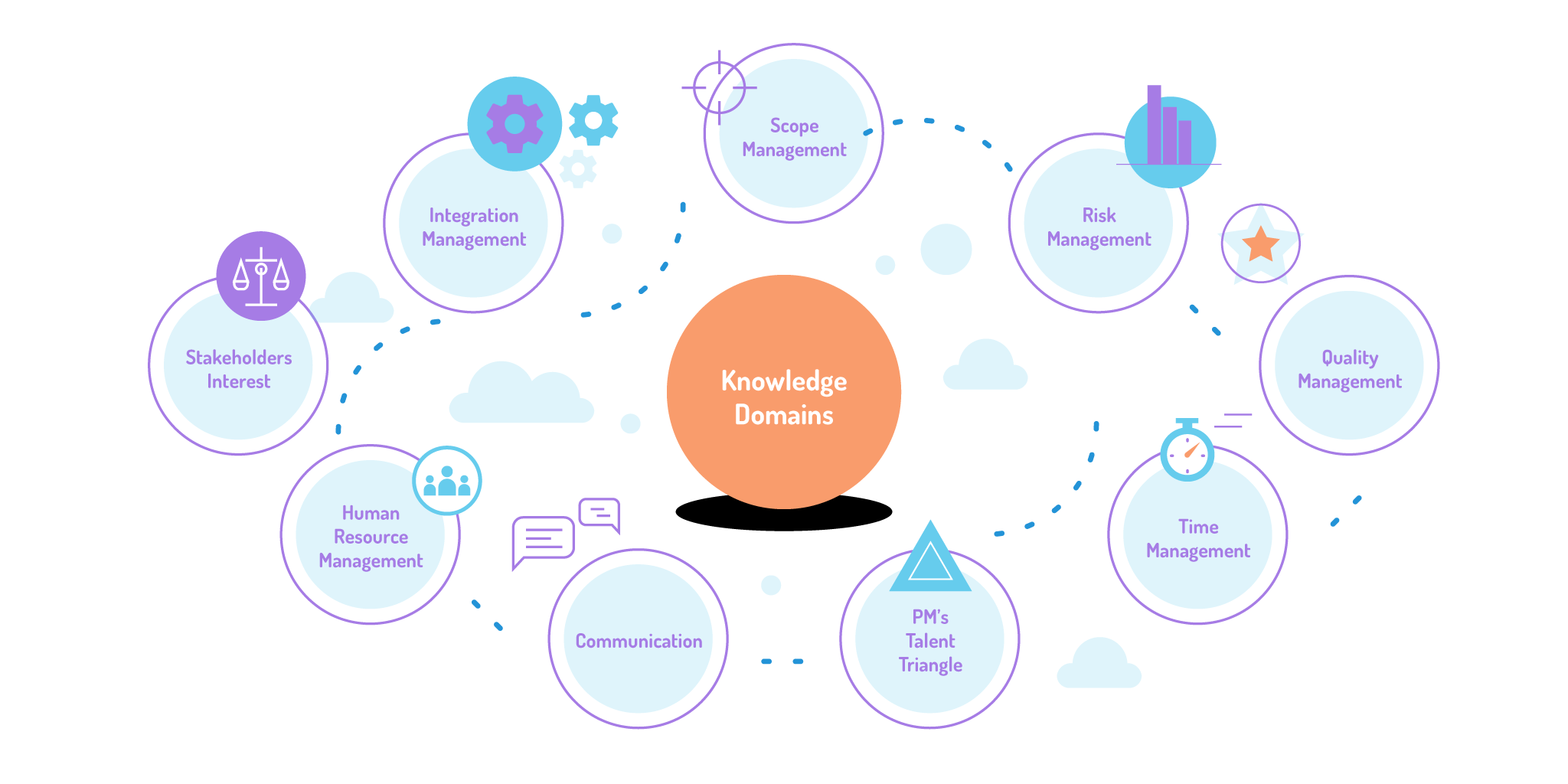 Let's take a look at how project managers could program AI bots using project management software of the future to assist them in each of these areas.
Integration Management
Intelligent bot assistants will be integrated with Siri or Google Assistant and instantly respond to a project manager's queries. Imagine getting quick answers to questions like: "By what time is the task XYZ expected to be completed?" or "What is the resource availability like today?" and other real-time information in natural language without going to multiple touch points!
AI will also help to integrate team efforts, thereby ensuring team collaboration and synergy. For example, a cognitive intelligence system installed in a lab sensor can detect a variance in temperature. It sends an automatic alert to the project manager. Instantly, the project manager's bot will create an issue entry in the system, and the manager will assign a person to fix the problem. The team member then takes up corrective and preventive measures that enable the AI to harness such information and improve its cognitive intelligence. This way, the problem won't happen ever again.
Scope Management
One of the primary tasks of the project manager is to plan and lay out the work breakdown structure (WBS) of the project. It's like the basis of scheduling, resource allocation, and controlling.
AI could be applied to develop a comprehensive WBS that includes entities, tasks, relationships, and constraints in a project context. Project management software that supports machine learning algorithms will automatically convert the WBS into mind maps and further extract WBS tasks and the relationship between them. Further, with the help of organization knowledge base, the AI system can schedule tasks and suggest key performance indicators for the team.
Time Management
AI systems can understand the WBS and suggest a number of alternative schedules to carry out the project. Smarter cognitive systems can even understand the functional relationship between tasks and plan the schedule accordingly. If required, it can alter the schedules based on project progress and team performance. This not only boosts team productivity, but also helps to improve team collaboration.
The AI system can also determine if the project is on track or if tasks are at risk or on a critical path. To make this happen, the team members would have to enter the necessary data into the system so that the AI can track problems effectively and provide meaningful solutions to the project manager.
Let's take the example of an AI system "Grok." Ever heard of it?
Well, Grok, first developed by Numenta, is an AI system that helps in anomaly detection in IT analytics. This helps teams gain valuable insights into different IT systems to pinpoint pain areas and unusual behaviour to ultimately reduce business downtime. Other applications of this AI system includes:
Rogue Behaviour Tracking
Stock Monitoring
Geospatial Tracking
Risk Management
Estimating and managing risk is one of the most important aspects of project management, and it involves more than just making a great plan and implanting it well. Interdependencies and external contingencies make the outcomes pretty much unpredictable.
Modern cognitive systems use machine learning to predict the outcomes of projects by combining probabilities of huge amounts of data stored in the system. It considers even those factors that may be overlooked by the project manager while calculating the risk involved. This aids the manager in taking corrective steps as and when needed and avoiding project failure completely.
Quality Management
The project manager can employ AI systems to gauge the quality of the project progress and get insights at the next level. With the use of sophisticated software, accessibility testing tools, the project manager's AI assistant can scrutinize complex contracts and understand key terms, interdependencies, and commitments. This way, project managers can use their valuable time to focus on leveraging the quality of the tasks and exercise their professional judgment rather than spending time on going through tons of documentation.
One such AI system is Microsoft Cognitive Toolkit. Previously known as CNTK, this toolkit is a deep-learning framework that uses AI to describe artificial neural networks in a team or process. The network is then displayed via a directed graph.
Let's say it is used for image recognition. Then, the system will itself learn to identify images according to previous tags defined on certain images. Isn't that neat?
Stakeholder's Interest
AI systems, with the help of sentimental analysis algorithms, can analyze customers' messages to understand their needs at any point of time. It can also provide employees with redressal of their grievances and solutions to their queries, instantly. This enables the project manager to keep the stakeholders aligned with the project goals.
Human Resource Management
An AI assistant can help the project manager match the skills required for the project with the available resources in the organization and recommend the appropriate resources.
For example, let's say you need to develop a web-based application for a gaming company, then what will you need?
A team of developers?
A management team?
A team of testers?
Yes. But, the most important thing is to choose these teams based on what skills you will require to complete the project. That's where AI systems come in.
It can also identify the skills that need to be learned or improved based on the resource and skill matrix and assign necessary training.
The bots can scan data sources like LinkedIn and shortlist the most suitable candidates, making the project manager's life easier. Similarly, for jobs requiring freelancers, AI assistants can interface with the planning bots and assign suitable freelancers.
Communication
Before introducing any product into the market, it is not only crucial to know who your target audience will be, but also understand their demands beforehand. AI systems can help the manager extract customer feedback and product perceptions by analyzing Twitter feeds, Facebook comments, web reviews, etc., and recommend changes. This enables the project manager to prioritize areas that need immediate attention.
PM's Talent Triangle
Technical project management, strategic and business management, and leadership are three sides of a project manager's talent triangle. AI systems will assist the project manager in all of these areas by providing data-driven insights and recommendations. The project manager will be able to invest more of his or her time in strategic planning rather than carrying out redundant tasks.
Similarly, leadership is one area that takes a back seat when it comes to managing many complex things together, thereby resulting in project failure. The AI can supplement many of the project manager's efforts and help them focus on more important areas.
AI and Bots + Project Management Software to Bring About Change!
As you can see, it is safe to say that with the advent of AI, project managers will be able to optimize their efforts in order to maximize their product success. As of now, the evolution of project management through AI and bots is in its initial stages, but it will soon genuinely change the way projects can be delivered.
However, there is something AI cannot do, that is be human. With project managers left to explore only the job aspects that require human effort, AI will open doors of infinite potential and creativity. As Elon Musk, the CEO of Tesla Motors, rightly says, "Humans must merge with machines or become irrelevant in the AI Age."
REFERENCES: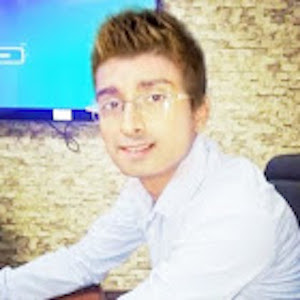 David Miller
David Miller is a technical writer and is regularly published in papers and top-notch portals. His rich experience in project management domain helps him offer the latest and fresh perspective on improved efficiency in workflows across organizations. His work can be accessed on
ProProfs Project
and you can connect with him on
Twitter
and
LinkedIn.