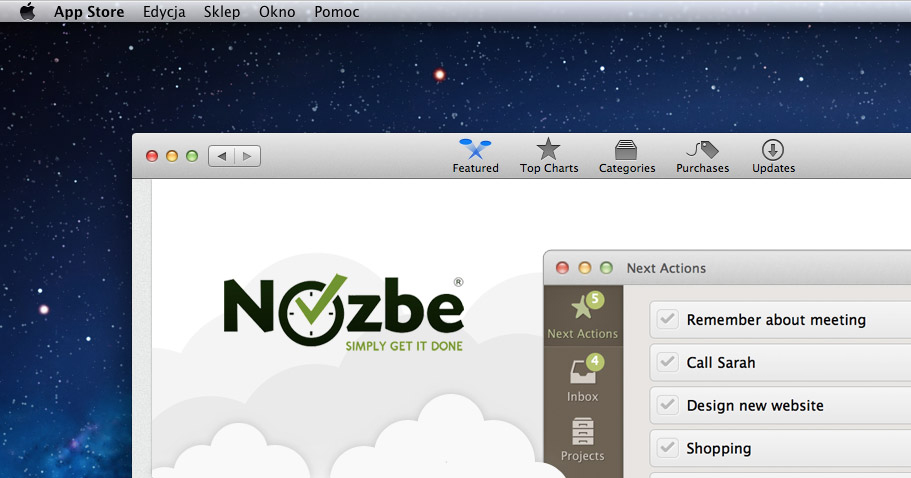 May 23rd Nozbe makes a real "Productivity Splash" on your Mac - finally our Desktop app got accepted by Apple in the App Store!
Celebrate with us and get a chance to win a free Nozbe account for one year!
If you download from the Mac App Store between May 23rd and May 29th and send us a screenshot confirming that, we'll add you to the list of lucky "Nozbe supporters" and from all of you we'll give away yearly Nozbe accounts - up for grabs are:
1 Yearly Nozbe Business Account
3 Yearly Nozbe Team Accounts
5 Yearly Nozbe Family Accounts
10 Yearly Nozbe Personal Accounts.
Plus all winners get Nozbe T-shirts :-)
Here's your checklist to get a free Nozbe account:
Step 1. Sign up for Nozbe if you haven't already
Step 2. Download Nozbe for Mac from the Mac App Store starting on Wednesday, May 23rd.
Step 3. Post on our Facebook Wall your screenshot from your Mac App Store that you downloaded the app, explain which account you'd like to get and why… and like our Facebook page
That's it! Do it all between Wednesday May 23rd and Tuesday May 29th!
This big launch will last only until Tuesday, May 29th so make sure to get our application from the Mac App Store and win a free Nozbe account for a year for yourself and your company!
If you blog, you'll get a chance to win more!
Note to affiliates and bloggers: If you blog about this special launch, direct your readers to this blog post (with your affiliate ID) so that you can get your commission… and get a chance to win 5 additional Nozbe accounts that we'll give away among all the bloggers who blogged about Nozbe Desktop Mac App Store launch! Thank you!