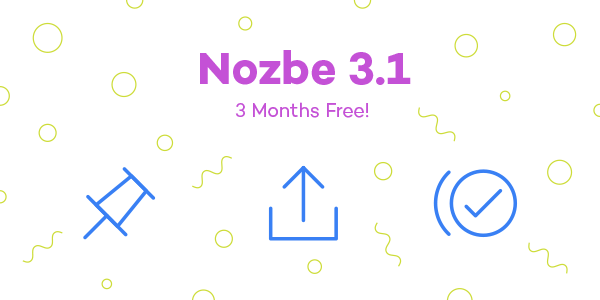 We just launched Nozbe 3.1 with lots of features and improvements, and today I'd like to focus on 3 changes that will help you move your 2016 goals forward and get them done!
Make this year count with Nozbe 3.1!
1. Pin your most important comment in a task
If you have two or more comments attached to the task, you can now pin the most important one to the top, which will make sure you're focused on what's really essential.
Pin a comment with a task description, your motivation for getting this task done or with crucial feedback from someone else. With this feature you'll be able to get your task done faster!
2. Clone your tasks
Another versatile feature. With one click or tap you'll be able to duplicate a whole task with its comments and attachments. It's a great way to save info for later, share responsibility among more people or just plan and organize your work.
3. Share on social media
You need peer support to achieve your goals. It's hard to do it alone, so this feature lets you share just the name of the task you're working on. This gives your friends a chance to help you, support you or give you additional feedback.
Nozbe 3.1 is available everywhere!
You can log in to your Nozbe account from any device. Use our web-based application, download apps for Windows, Linux and Mac, or get one for your Android phone, tablet, iPad or iPhone (and even Apple Watch if you're wearing it like I am!).
---
I've been using Nozbe for the last 4 years. Over that four-year period, I've tried a lot of task management apps but keep coming back to Nozbe. With every update, the app keeps getting better. Without a doubt, it's one of the best productivity tools which combines the power of Evernote, Dropbox and project/task management. - Sony333