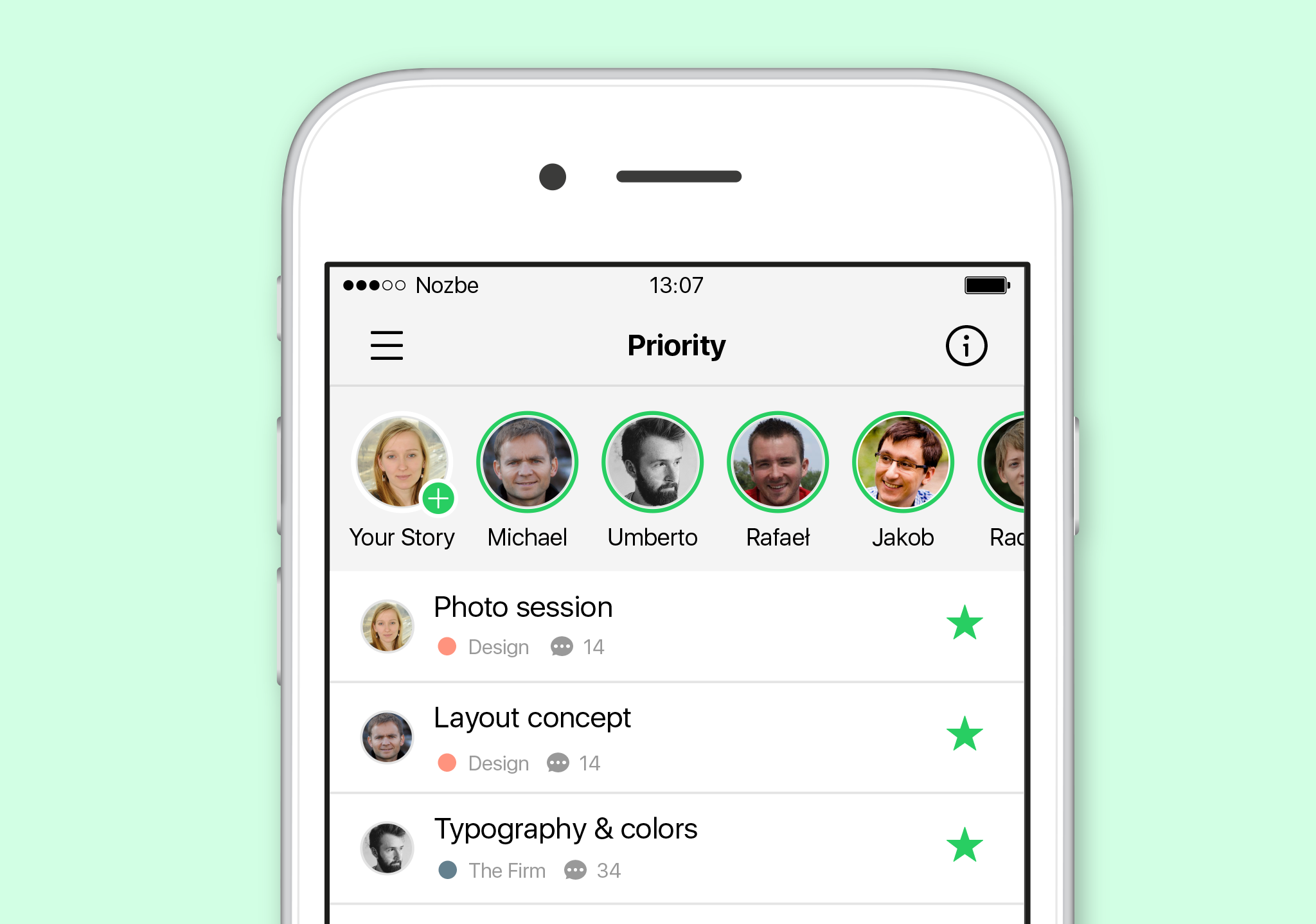 Today is the last day of our semi-annual Nozbe Reunion - where our "No Office" team meets to hang out, socialize, discuss, brainstorm and work together in one physical space. This reunion was very fruitful as we've discovered a next step in productivity evolution: Nozbe Stories.
Nozbe is a very mature product that helps more than 400,000 people all around the world to get things done. More than 10 years in business, we want to keep the product simple, effective and dependable so instead of bloating it with all the features possible, we're searching for the next step of innovation and productivity. What's the one feature that would take our product to the next level? We believe we found it: it's Nozbe Stories! Here's why:
Inspired by the new generation of millennials…
When Snapchat launched, I personally had no clue why anyone would use this thing. As I'm approaching 38 years of age this year, I'm not the target customer for this app… but luckily, we have a few young members on the team who helped me figure this out. However, only when Mark Zuckenberg didn't get to buy Snapchat and decided to launch a similar feature in the Facebook-owned Instagram I finally got it.
You can follow me and follow Nozbe on Instagram to see that we post stories very frequently there.
A truly disruptive feature…
Anyway, I got it, but I didn't get how groundbreaking this feature is! Only when Mark Zuckenberg decided to double down on stories and launched them in all of the other Facebook-owned apps: Whatsapp, Facebook Messenger and Facebook.
Now, all of these apps have stories and you can connect with different people in your various social circles on a truly deep level.
That's why when we were brainstorming future features of Nozbe the team didn't have any doubts - Nozbe Stories was the way to go!
Why Nozbe Stories makes perfect sense and makes you more productive!
Productivity is hard. Staying on top of your task list is hard. You need social support. Especially if you're working remotely "No Office style" like we do at Nozbe.
With Nozbe Stories you can:
share your productivity journey with the rest of your team and with other Nozbe users
share your task struggles
post your tasks below your photos to inspire others
ask for support and encouragement
connect with other people getting stuff done, on a deeper level, by knowing what kind of things they're dealing with
better share Nozbe.how templates you've been working on
The benefits are amazing and the sky is the limit. We can't wait to see what you'll start sharing on your Nozbe Stories.
Connect with your team better in Nozbe Business
Last year we launched Nozbe Business accounts where we've enabled additional settings for Nozbe Stories to help create better working teams:
you can post a Nozbe Story to either the entire Nozbe user base or only to your team
team admins can delegate tasks to team members using Nozbe Stories
project admins can post project-related updates as Stories for the entire team
team admins can post member rankings based on people's productivity and their Nozbe Ratio, creating a friendly competition for the most effective person on a team
We believe these features will make your team even more productive and make it easier to really connect with your fellow colleagues.
Built on a Nozbe Reunion Hackathon
We're so proud of this new feature, especially that we built it in only two days on our Nozbe Reunion Hackathon - it was a real team effort and I'm really proud of it. Our developers worked hand in hand with designers and our customer support and marketing teams to create this amazing, productivity-boosting feature. We can't wait to see what you're going to do with it!
Nozbe Stories will ship in the next update to Nozbe - enjoy this and share your productivity journey and get more done!
Happy April Fool's day! :-)
written by Michael Sliwinski, founder and CEO of Nozbe