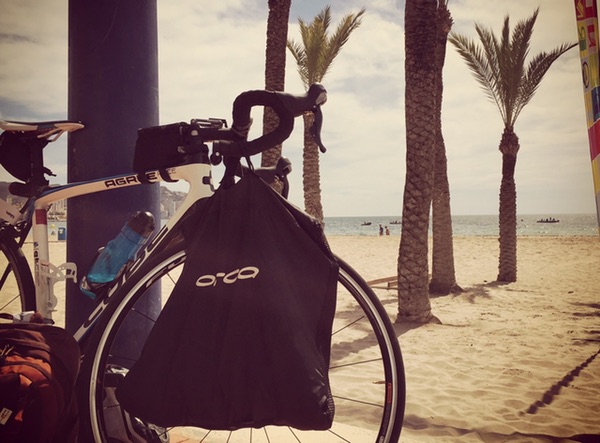 Continuing last week's tradition of sending you fitness advice, here's mine. A little over 2 years ago I decided to really get back in shape. I was already running 10-15km per week but after a knee injury I decided to lose weight and start doing other sports than just jogging. Thanks to the "Slow carb diet" I lost 8kg / 16lbs and thanks to a friend who convinced me to give it a shot, in 2014 I completed 2 sprint-distance triathlons and 1 Olympic-distance triathlon. The last one became my perfect distance: 1,5km swim, 40km (24.9 miles) bike ride and 10km (6.2 miles) run. A little under 3 hours of fun. Last year I did two of those and this year I already did one in April, I'll do next one this coming Sunday and the third one in September. Now, the key to getting it right, besides being in shape, is a great packing list, because these are three different sports you have to do with only a minute to change between them, so you better have everything in place. That's why while preparing to my last triathlon I decided to create this handy packing list for both me and you:
Thanks to our cool Nozbe.how shared template system I created this checklist as a project template in Nozbe so you can either open it and use right away or import to your Nozbe account.
If you're curious about some of the details about why I structured this template the way I did, here goes:
I pack only the minimum…
I'm an amateur triathlete. I don't belong to any club, I do it for fun and just for myself. I actually don't care about the result so much. To me the fact that I don't have to be worried if I finish the race and can just focus on having a great time is the best reward ever.
I don't travel a long way to get to a race, I just choose 2-3 races a year which I can reach by car (up to 2 hours of drive). I usually go with my friend Nick, but last time he couldn't make it there so I went alone. So I pack light. Only the necessary stuff.
I go through the checklist thoroughly
Really, I make sure I tick every item in each task. Thinking about something doesn't make it so. I need to make sure I pack the thing before I check it off. I can't afford to forget anything or otherwise the race won't be fun anymore.
I even go through the morning routine checklist item by item. I wake up, tick, I eat light breakfast, tick… and when I leave the house I tick an item again. This is so important!
(If you don't believe me, check out the Checklist Manifesto book)
Have you ever tried doing a triathlon?
I know my fellow productivity coach, Jason Womack is a regular triathlete. Have you ever tried one? For the September event I managed to convince a friend to give the shorter sprint-distance a try and he's really pumped. I hope this blog post motivates you to at least consider this sport. Or sports, because thanks to the triathlon I don't just torture my knees by running all the time, I alternate between running, swimming and biking… and all of these sports are really fun! (although my swimming is still the slowest…)
Anyway, looking forward to next Sunday and my second triathlon this year. This time my buddy Nick is joining me and we'll have lots of fun!
Again, here's my complete triathlon packing list :-)
written by Michael Sliwinski, Nozbe CEO