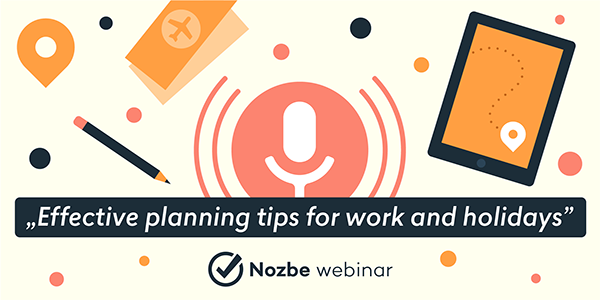 Do you want to plan your summer holidays but just don't know where to start? Join us for our webinar next week when we'll focus on optimal planning, organizing, and applying project templates.
What you'll learn:
how to create effective checklists that make sure you won't forget anything
how to plan your holidays using our brand new Nozbe.how templates
how to organize your work to make sure you deliver all your projects before you go on vacation
When? Thursday, June 22, 2017
10am PDT - Los Angeles, San Francisco
11am MDT - Denver
12pm CDT - Chicago, Nashville
1pm EDT - New York, Washington
6pm (18:00) London
7pm (19:00) Continental Europe (Madrid, Paris, Berlin, Warsaw)
8pm (20:00) Moscow
Only 500 seats are available so make sure to book yours!
John di Stefano: "I've been using Nozbe for the last year and I've fallen in love with it. I tried so many other apps before but Nozbe has introduced me to a complete new way of task management."
Want to join John and other Nozbe users and discuss our latest productivity tips and tricks?