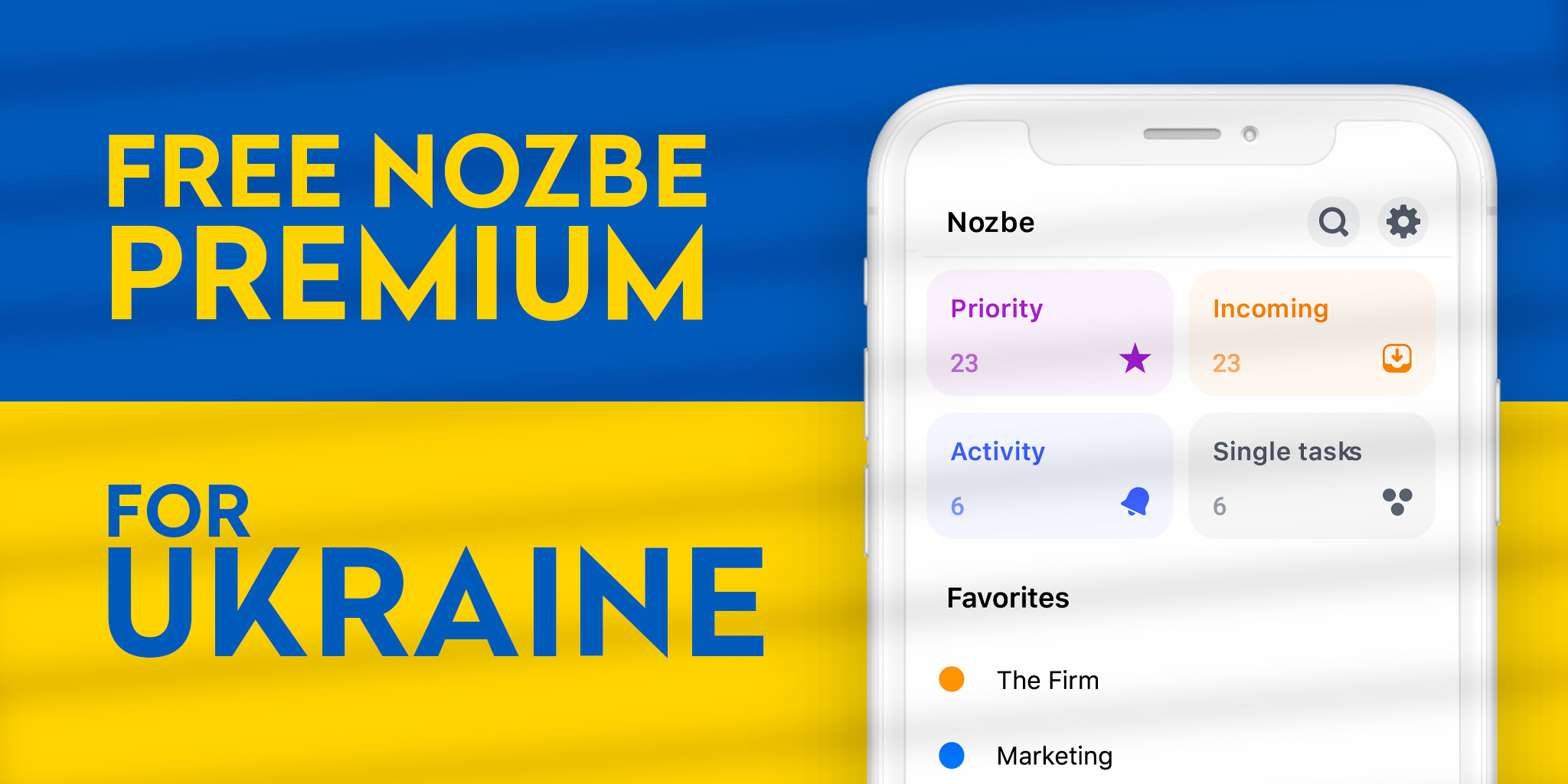 We want to do what we can as a company to help Ukraine. We offer Nozbe Premium to all the Ukrainians for free. For single users, companies & organizations. 🇺🇦 Українська – нижче ⬇️
If you are Ukrainian, we know your priority now is your safety and defending your country. We do what we can to support Ukraine but still we feel so helpless.
What we can do as the Nozbe company
It is important to keep things in order especially if you coordinate help initiatives and actions. Cooperation and good organization are key.
And hopefully, you'll need to have things organized soon when this war ends.
That's why, now - through 2022 and beyond, all Ukrainians and people who are helping Ukraine (Single users, companies & organizations) in these tragic times can use Nozbe for free.
How to get Nozbe Premium free of charge
Simply drop us an email at support@nozbe.com and indicate which kind od Nozbe Premium team you want to have upgraded and it is done! Don't hesitate to contact us.
---
Як компанія, ми робимо все можливе, щоб допомогти Україні та її громадянам. Між іншим, ми пропонуємо доступ до Nozbe Premium безкоштовно для всіх українців (індивідуальним користувачам, компаніям та неурядовим організаціям), а також організаціям, які надають допомогу Україні.
Ми знаємо, якщо ви українець або українка, на даний момент найважливіше для вас – власна безпека та безпека ваших близьких, а також захист своєї країни. Ми відчуваємо своє безсилля від того, що не можемо надати більше допомоги, проте робимо все, що в наших силах.
Що ми можемо зробити як компанія Nozbe?
Ми знаємо, як важливо тримати під контролем справи та комунікацію, особливо, якщо ви координуєте оборонну діяльність або заходи з надання допомоги. Співпраця та хороша організація мають вирішальне значення.
Ми також сподіваємось, що незабаром, коли закінчиться війна, ви знову будете планувати та реалізовувати проєкти.
Тому до кінця 2022 року, а в разі потреби й довше, всі українці, а також люди та організації, які підтримують Україну в цих трагічних обставинах, можуть безкоштовно користуватися Nozbe Premium.
Як це зробити?
Достатньо надіслати нам електронний лист на адресу: pomoc@nozbe.com, обрати команду, з якою ви хочете безкоштовно перейти на Nozbe Premium, і готово! Ми чекаємо на вас.