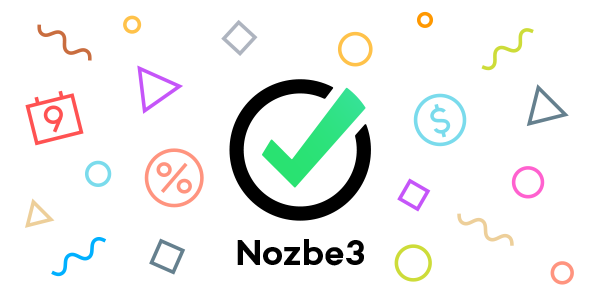 Happy birthday Nozbe! Today marks 9 years of helping more than 300,000 busy professionals and their teams from all over the world get everything done! Nozbe 3.0 is here with better design, business accounts and a completely new logo!
To learn more about Nozbe 3.0, check out our short video:
Now that you've watched the video, let me tell you (1) how can you get Nozbe 3.0, (2) what's new in 3.0, (3) some more details about new Nozbe for Business and finally (4) our newest NOZBE3 special offer. Here goes:
1. Nozbe 3.0 is available today on most of the 9 major platforms we support:
2. What's new in Nozbe 3.0?
1. New logo! New design! - we started refreshing our design in Nozbe 2.6 but now based on your feedback we've taken it to a whole new level. Lots of details, big and small, completely redesigned.
2. Better collaboration with project and team roles - Nozbe is all about communicating through tasks - now you'll be able to assign roles to people in a project: Admin is a person who created the project, can invite others and complete it; User is a person who can fully participate in the project by adding tasks, modifying them, adding comments, etc; Guest is a person who can only see tasks, but cannot modify them or add new ones… but they can comment on and complete the tasks which are assigned to them. Isn't that great!?
3. Lots of new features - we took your feedback to our heart: we've completely redesigned "task details view", improved navigation, adding tasks, filtering tasks and creating project templates. Getting your tasks done in Nozbe got a whole lot easier with this 3.0 release!
3. Introducing Nozbe for Business!
Back in 2007, Nozbe started as a personal productivity tool and over the years we added project sharing and introduced multi-personal accounts ("Team" section in Nozbe). Now, we're taking Nozbe to a whole new level! Starting today Nozbe will have 3 different plans:
Nozbe Free - up to 5 active projects, our free plan is still very popular among not-so-busy people who want to be well organized :-)
Nozbe Pro - unlimited projects, starting with 1-2 accounts (for a busy professional and their partner + add more people as the team grows). In Nozbe 3.0 with additional features: 2 admins per project and 2 admins per team.
Nozbe Business (New!) - starting from 10 accounts (+ add more to match your team size) with all the features of Nozbe Pro plus unlimited admins per project and per team, people groups (coming soon!), reporting and team analytics (coming soon) and a dedicated account manager and uber-priority support (coming today! :-)
4. Use code NOZBE3 and get additional 3 months of Nozbe free!
To celebrate Nozbe 3.0 we have a new birthday gift for you! If you choose to extend or upgrade your Nozbe account for a year, you'll not only save 20% but we'll also add 3 months to your Nozbe plan! You get 15 months of Nozbe for the price of 10!
It's February and you can still make your New Year's Resolutions happen:
if you're serious about your productivity upgrade or extend your Nozbe Pro and get 3 more months
if you want your company start communicating through tasks effectively, upgrade to Nozbe Business, get 3 more months and your dedicated account manager will help you integrate Nozbe and take your business productivity to a whole new level
Thanks for being with us for all these 9 years! Here's to many more with Nozbe as your "Ultimate Productivity System" :-)
P.S. As always, you have a full money-back guarantee both for your Pro and Business upgrades. All we want you is to achieve your personal and business goals in 2016, so start today and get additional months to make it all happen!