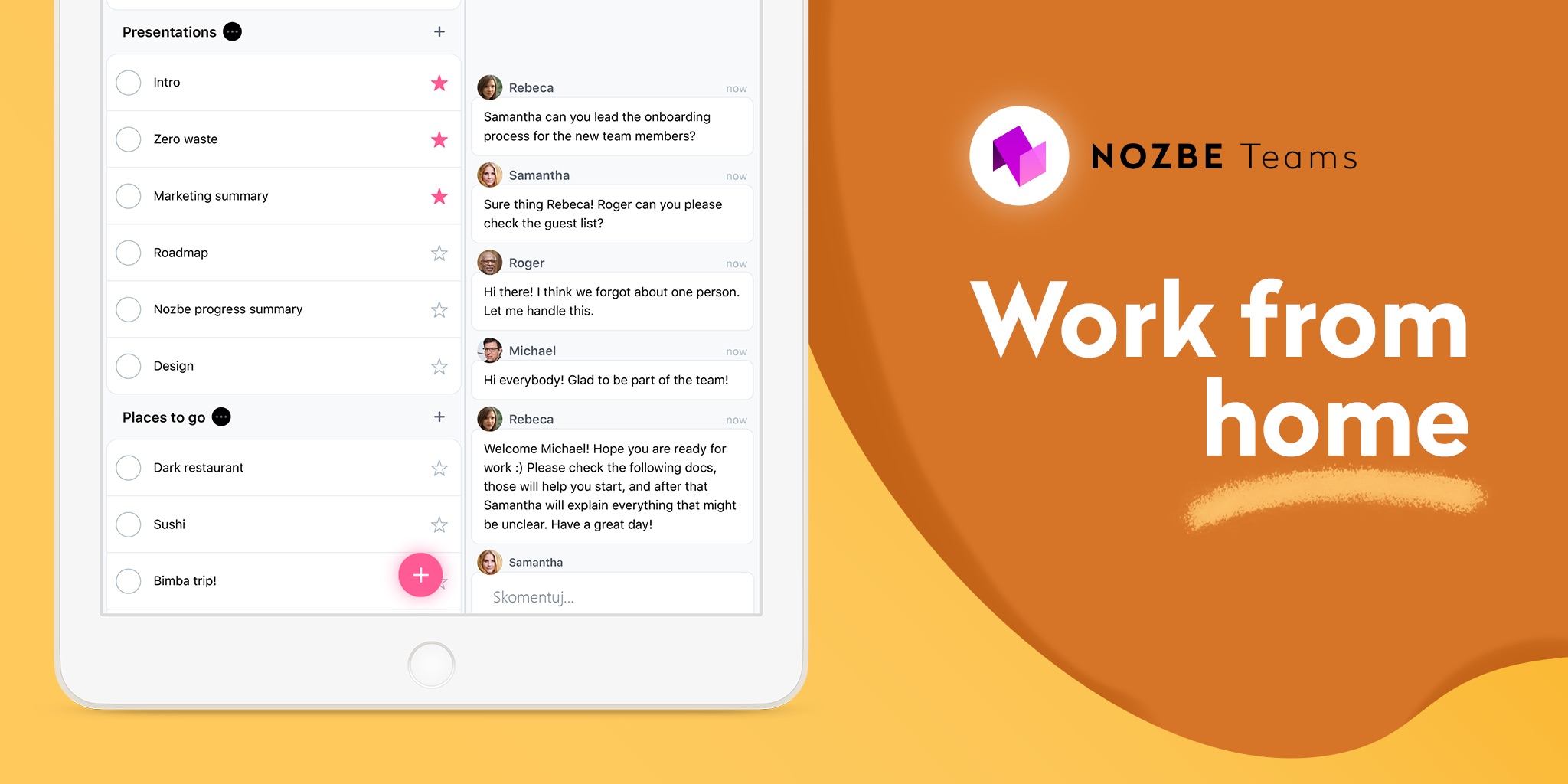 I want to show you a tool that will let your team stay productive under any circumstances.
Nozbe is free and works for both office-based and remote teams enabling easy yet effective communication and collaboration. Our remote team has been using the app for a year now, and we see the results… and we want to share it with other organizations. Read on to learn how Nozbe can help your team get projects done when working from home.
Your tool for remote team collaboration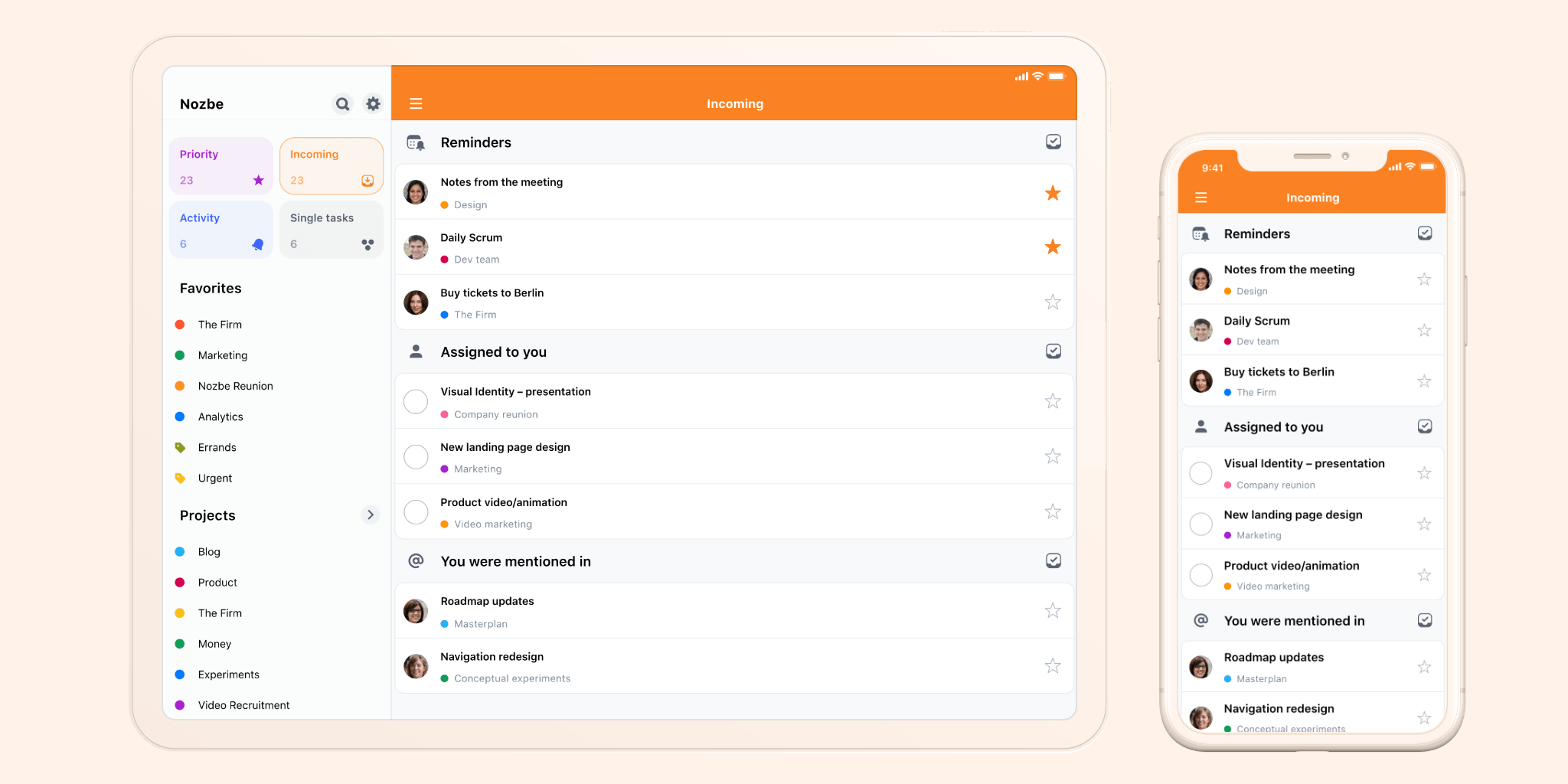 Today, as many teams had to switch to working from home, the processes and workflows you've elaborated so far might seem simply worthless. This change can be stressful for both managers and employees. Video calls. Chats. Email. Files. Attachments. Where's everything - you might ask! What's going on? What do I have to do first? It's chaos. Nozbe solves all that and gives you a sense of control over your work back.
From a team that's been working from home since 2007!
At Nozbe, we have no central office. We are a team of 25, and over the last 13 years, we've been doing our job from our homes, yet we've been successfully building and selling our apps.
We know what a team needs to communicate and get projects done remotely. We've been using Nozbe to manage our marketing endeavors, app development, company management, recruitment, and any other aspect of the business. This is possible and fun once you get used to it and introduce some communication rules and workflows.
Why your team needs an excellent collaboration tool
To collaborate in tasks effectively - You will keep clear information flow in your team thanks to task-based communication. You can forget confusing emails and chaotic group chats.
To never miss a thing - Your teammates will stay in control and have everything in one place and neatly categorized. You can focus on planning and getting your work done easily.
To keep track of a team activity - As a leader, you can manage, give feedback and be up to date with your team's progress. And your teammates can get notified about new projects, tasks, comments, etc.
To be able to use any devices you want - Work from anywhere without any feature compromises. Nozbe works and looks the same on all platforms.
To quickly implement it in your team and start getting projects done - simple installation and intuitive interface let your team learn the app and use it to deliver results. In a playful way.
Nozbe is free
Nozbe will be free forever for teams up to 3 people with up to 3 active projects.
Nozbe Premium with unlimited projects starts from a cost of a big cup of coffee and is designed for a teams, which you can scale up to 100 people or more.
For a limited time - Nozbe Premium is free!
Until the end of April 2020, we want to help teams who had to switch to work from home, and we'll let you use all the Nozbe Premium features (with unlimited projects and for organizations of any size) completely free. It's on us. We want to help.
How to start
Nozbe is an all-in-one hub for team communication and effective work. Set it up in 3 easy steps.
Step 1. Set up your team and create projects for each major thing you need to get done.
Step 2. In each project, add tasks and assign people to these tasks.
Step 3. Add comments or attachments to tasks to clarify what needs to be done.
Start using free
Questions about working from home? We're here to help!
Under the current circumstances, where so many teams had to switch to work-from-home mode, we would like to share our knowledge and tips on remote work. Very few companies are all-remote just like Nozbe, and even fewer have so many years of "work-from-home" experience just like us.
Please, don't hesitate to reply to this email and send us your questions about remote work.
Also, view the materials on working from home that we publish on our blog and learn from us.
Changes on our website and in the company structure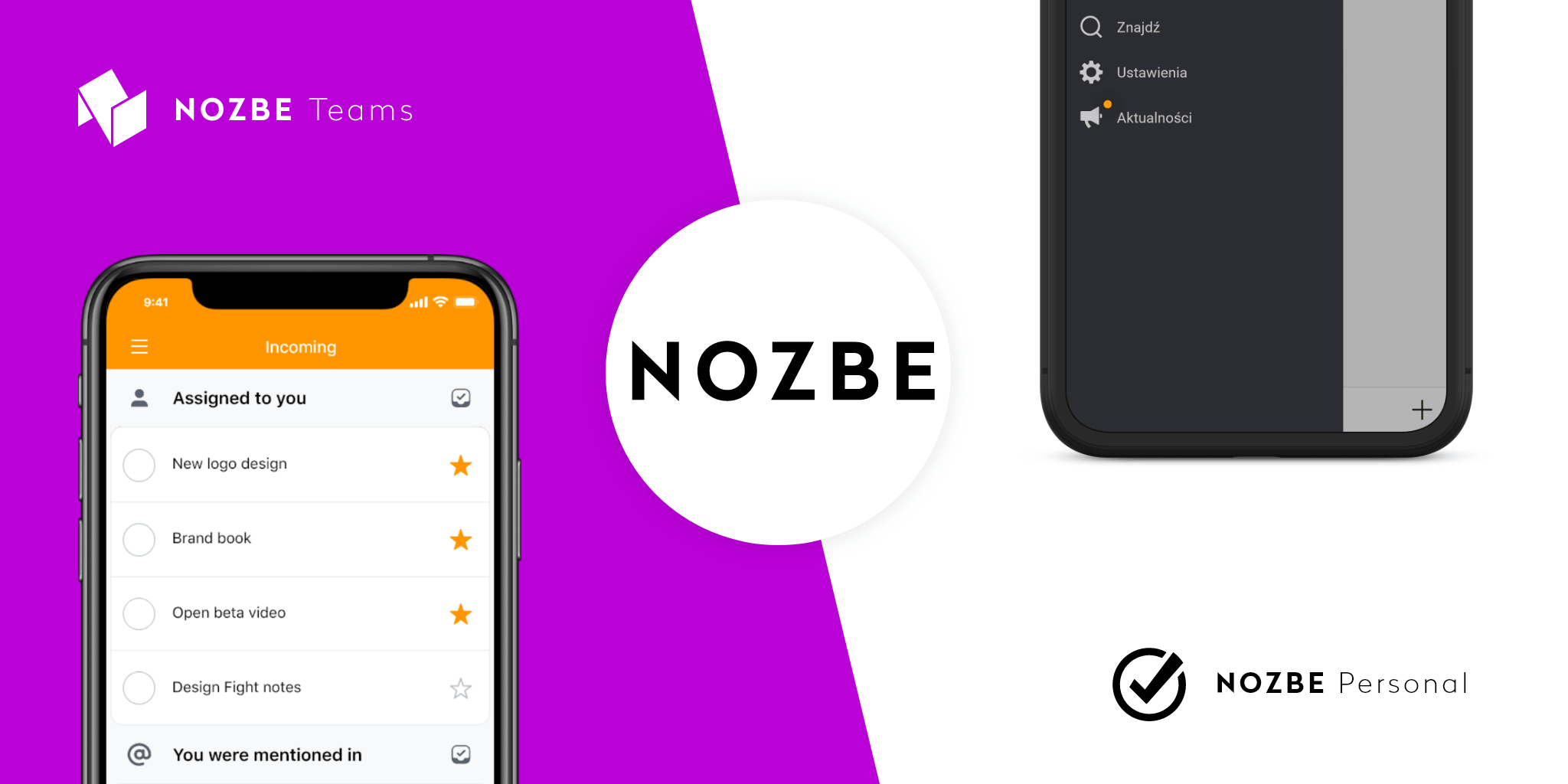 When you visit nozbe.com, you will see there are now two separate sections: for individual clients and teams. That's because we've become a two-product company.
We have Nozbe that you might know and that we now call Nozbe Personal - a GTD-based app for project, task and to-do management. It's recommended primarily for the individual use.
Starting from now, we also offer Nozbe - our new application created to help small- and medium-sized companies communicate and get team projects done.
Note: Nozbe is available in English, Spanish, French, Chinese, German and Polish. We will gradually translate it into more languages, so stay tuned.