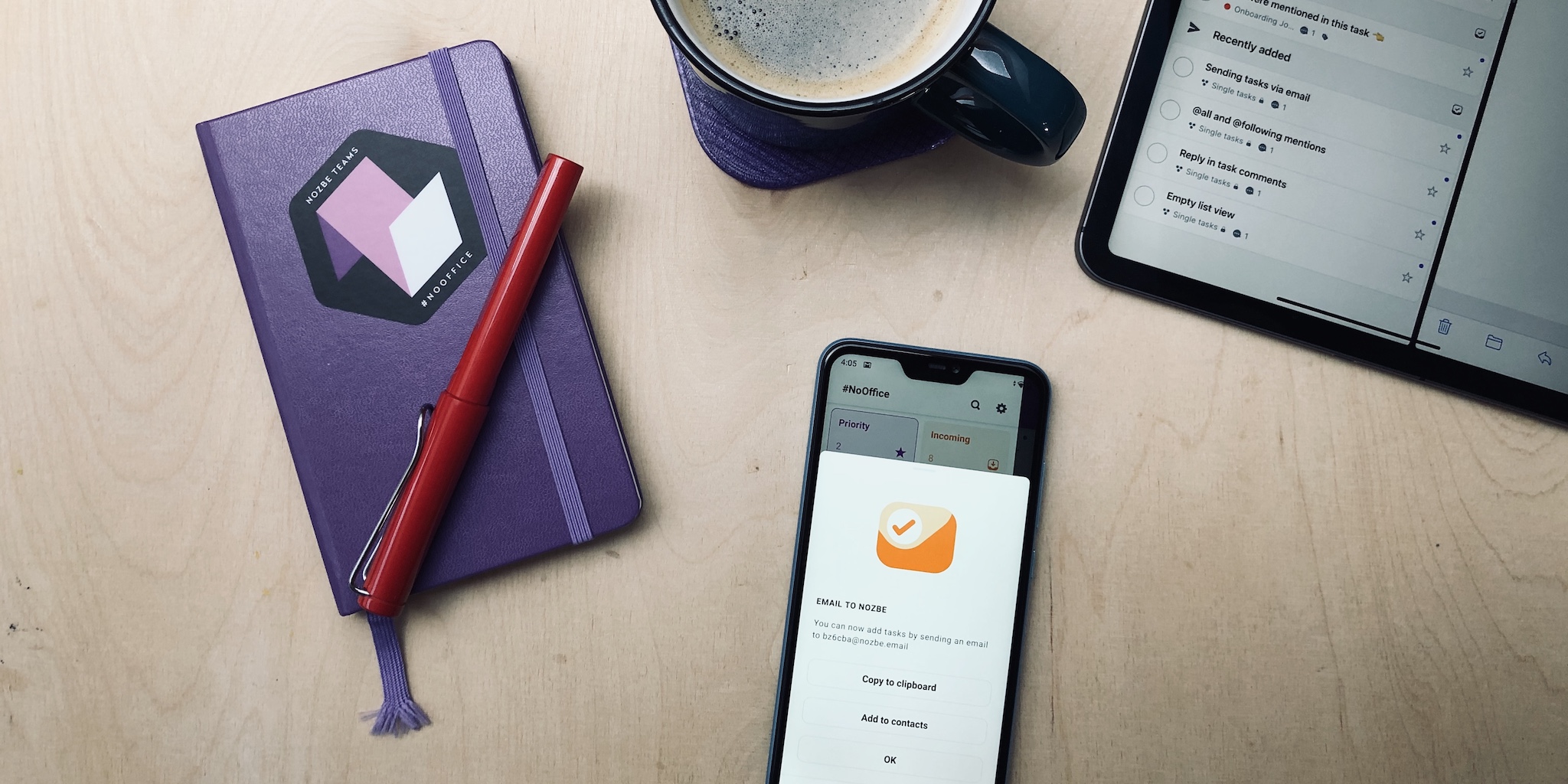 It's been 4 months since we released Nozbe Teams, our collaboration app for small businesses. It was at the beginning of the COVID-19 pandemic, and we offered the app absolutely free of charge to help companies around the world switch to the new work-from-home mode. In May, we introduced Premium accounts and received great feedback from our first customers. We've recently developed a process that allows us to deliver new features and improvements every 1-2 weeks – see here the new features that are being introduced in Nozbe Teams.
Sending tasks by email
Nozbe Teams is all about task-based communication, which is much more effective than communicating via email. But even if your team is onboard already, you will always receive emails from the outside world. Luckily, they are often relevant to a project or task within your team. Now you can send those emails directly to Nozbe Teams and they will become tasks.
In the app settings, you can find the "Add tasks via email" option to generate your personal email address in order to send tasks. Make sure to add this address to your contacts so you can easily send emails as tasks to Nozbe Teams.
Once you send a message to this unique address, a new task will be created in your Single Tasks view and the following steps will occur automatically:
The task will be visible in the Incoming view in the Recently Added section.
The subject of your email will become the task's name.
If you forward an email to Nozbe Teams, the FWD: will be automatically removed from the task name and a mailto:// link will be generated so you can easily reply to the original message with your default email client.
The email body will become the task's comments.
All attachments will be added to the comments.
If your email is in HTML format or it has over 4000 characters, a PDF version will be attached.
Emailing tasks to a specific project or section
You can also send tasks directly to specific projects and sections. Simply generate a dedicated email address for emailing tasks in each project/section menu (using the 3-dots icon), add it to your contacts, and easily send tasks.
Learn more about emailing tasks to Nozbe Teams
@all and @following mentions
Mentioning in a task comment is a great way to call someone's attention, get their feedback or make sure that a specific person is informed about something. But sometimes you need to inform the whole team about something or the people who are directly involved in a project. Now, instead of mentioning them one by one, you can use @all to mention all the people who have access to the project, whether or not they are following it, or @following to mention all the people who decided to follow the project. Once you use these mentions, you will have to confirm the action, as it will result in sending a push notification to many people.
At Nozbe, we use it when we announce a new feature in our internal version of the app, for example. It easily allows us to gather feedback from the whole team, hear their thoughts and perspective, and resolve potential problems before we make it available for you.
Task comments are designed to deliver high-quality feedback. Sometimes you need to refer to a specific comment in a discussion. Now, you can use the Reply option in a task comment to easily quote someone else's comment.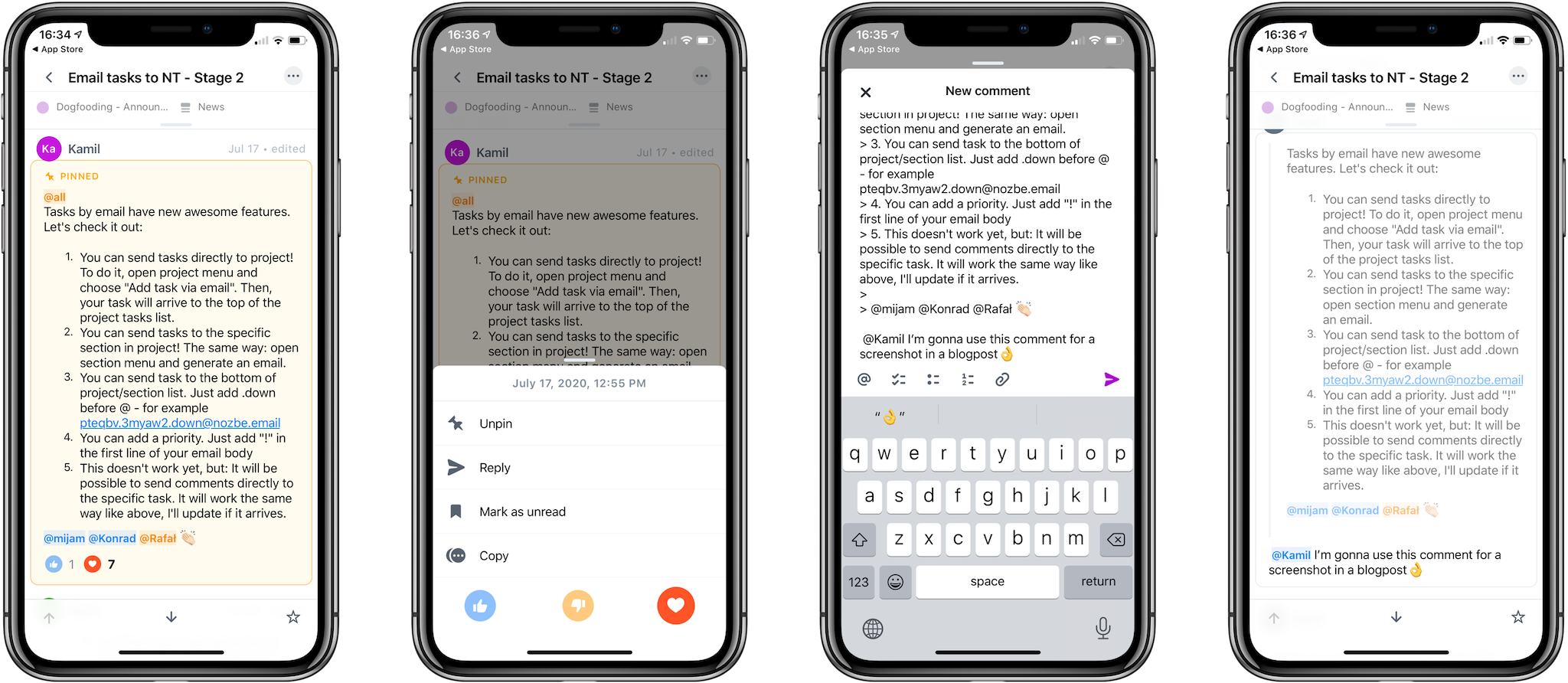 Empty list
Once you are done with all your tasks in a particular task list, you will see a button that will bring you to the next relevant task list. This will help your new team members get a sense of where they can find other tasks for them to focus on.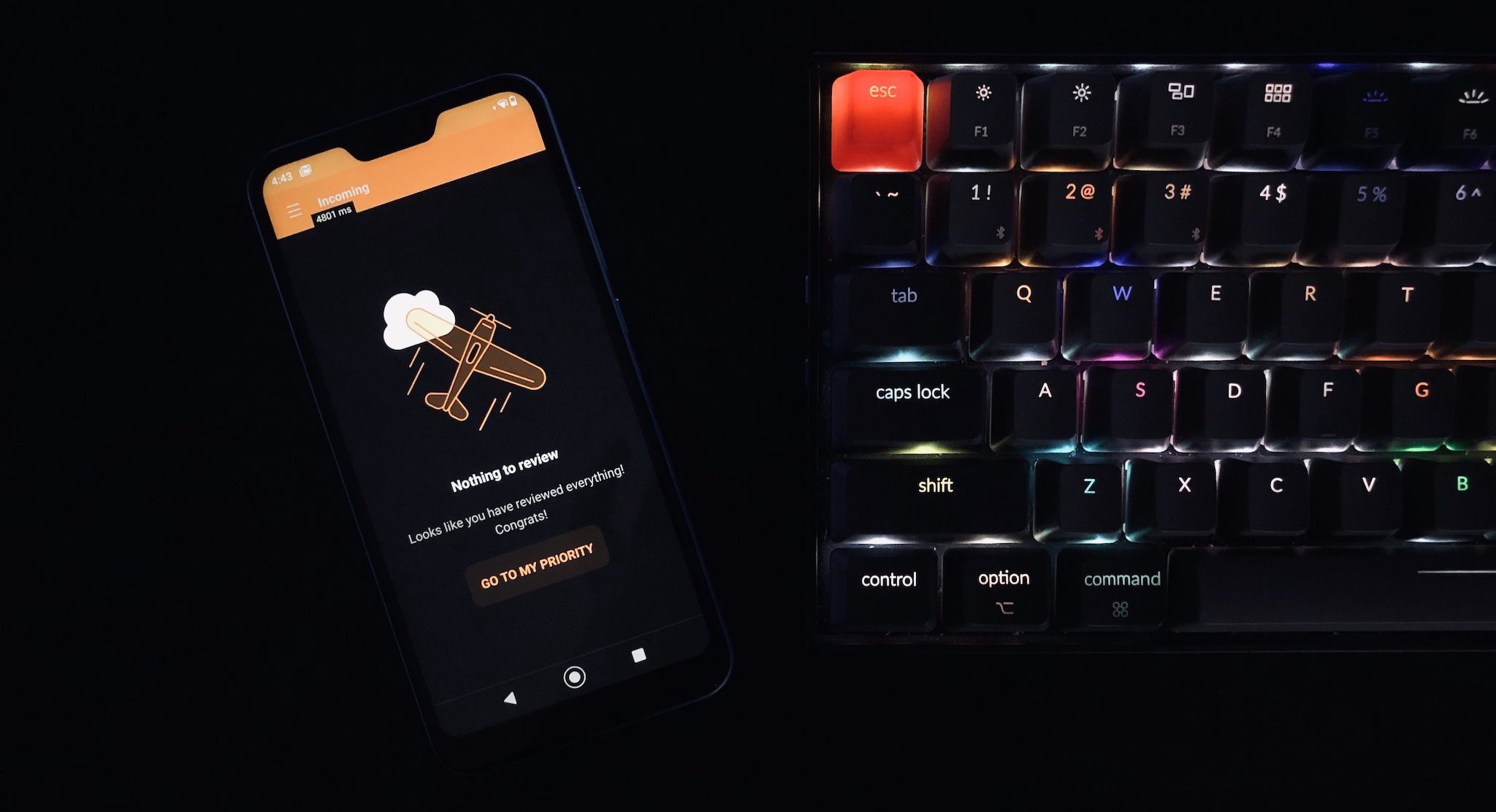 What's next?
First, we would love to hear your feedback on these new additions. How do these new features help you improve your team's workflow? What other problems we can help resolve to improve your team collaboration in Nozbe Teams?
We are continuing to improve our processes to maintain the cadence of delivering new features every 1-2 weeks to boost your team's productivity.
You might even have found some Easter eggs related to our next features in this blogpost. 😉
P.S.: Love Nozbe Teams? Please rate our app on Google Play Store or App Store.