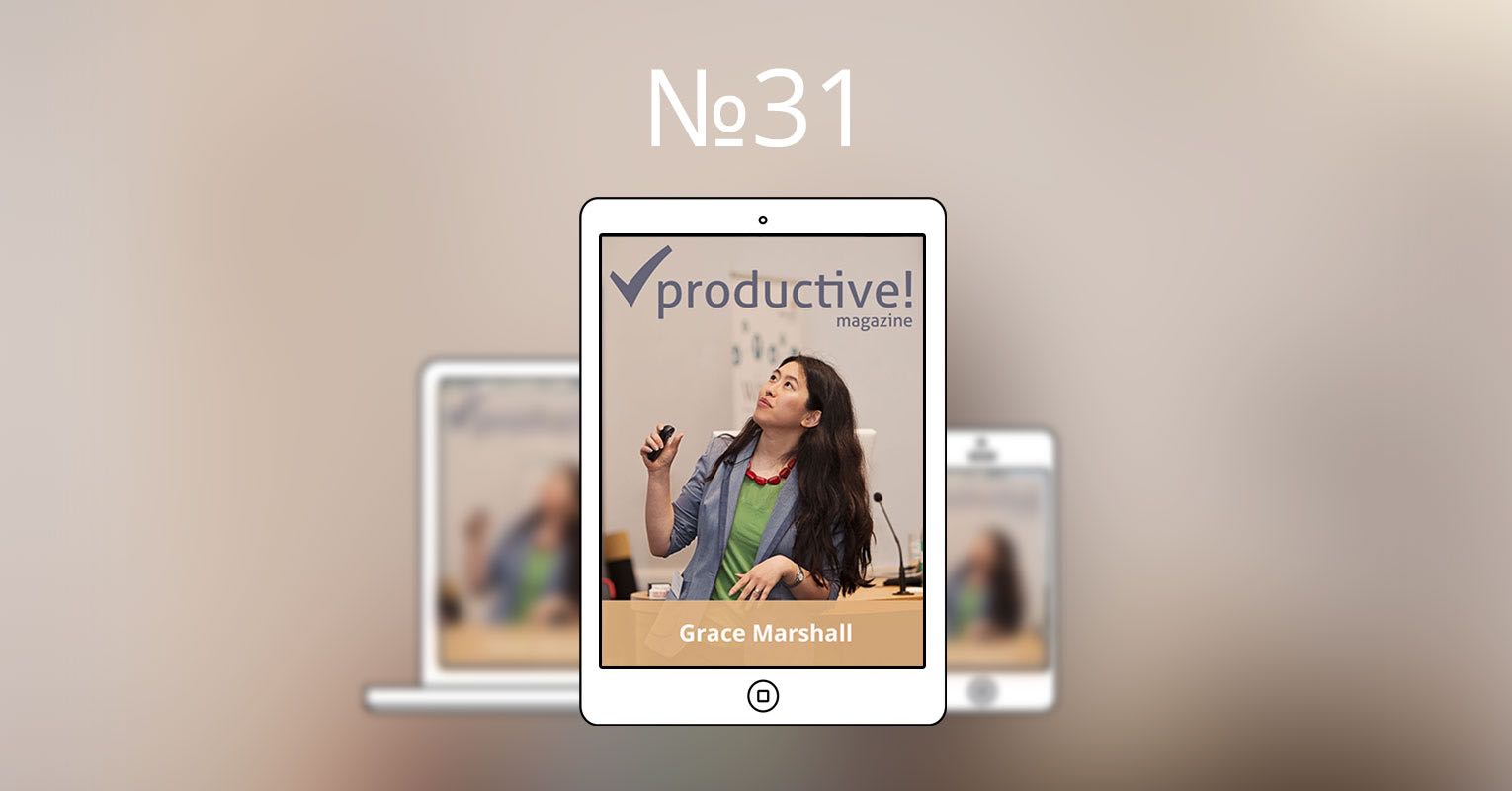 After a longish break resulting from changing our publishing schedule from monthly to quarterly, here is the latest issue of Productive! Magazine :-)
Inside No.31: interview with Grace Marshall on work-life rhythm-not-balance and being really productive and articles on workflow optimization, making working as a team, work as well as transparency and exercises as a productivity booster.
This interview can't be missed
No.31 comes with a great interview with Grace Marshall - a naturally disorganised productivity coach, chief encourager at grace-marshall.com and a productivity ninja with the team at Think Productive :-)
She speaks with Michael about the work-life rhythm that should replace the work-life balance. She also gives some tips on how to be really productive not just busy and how to deal with the guilt that distracts and holds you back.
Grace and Michael also talk about Grace's new book called "How to Be Really Productive."
"Guilt has you thinking that every time you move forward, you're moving backwards somewhere else. And so, when you're dealing with guilt (…) one of the first things to do is to actually take a step back and go, "Okay, let's start with… Let's start with enough."
Evergreen tips to be implemented today
This edition also offers you some practical articles full of motivating advice and actionable steps that you can begin as soon as you finish reading.
In the Editor's note you will see how workflow optimization rules employed in plants and factories can be used in personal and small teams productivity.
"Equipment that you have should be used to its fullest advantage. It's good to discover those things that annoy you or impede your productivity, and to try to get rid of any bottlenecks."
Katy Betson from Think Productive presents a few practical hints and tips to make teamwork and your colleagues more bearable :-)
"As a team you need to celebrate achievements, both team successes and individual successes. It's easy to let the successes pass by and to get annoyed by the things Barry didn't do, while completely forgetting the things he did do!"
In his article, Stuart Hearn of OneTouchTeam covers the new performance management trends and discusses how they are boosting productivity at work.
"How are new trends in performance management boosting employee productivity and creating a positive work environment? Here are three of the key strategies that are being used…"
Laura Stack wrote about the importance of transparency in team-work.
"I've always believed it's more important to be genuine, warts and all, rather than to hide your flaws under a veneer of perfection. Efficiency experts have been preaching this principle for decades, but somehow the results are similar to the open plan office—too much of a good thing. Somehow, we've fostered isolation with dozens of people literally sitting within shouting distance of each other."
Peter Banerjea, co-founder of SuccessIsWhat, asks: can you do 10% more work in a day by working 10% less? THe answer: 3 reasons why exercising will boost your time management skills :-)
"The interesting thing about discipline is that if you build it in one area of life, the benefits spill over to other areas too. One of the easiest ways to build discipline is to develop an exercise habit."
Last but not least, Michael shares his favorite time management and productivity trick: he explains, step-by-step, how to implement Pomodoro Technique and Unschedule Calendar to get more done!
"This technique is really powerful. I've used it for many months now and you practically can't have a bad, non-productive day if you implement this, so be warned – this will make you more productive :-)"
Please, help us grow
Which article do you like most? Surely one of them has made you think, analyze, revise your attitude or habits. Why don't you share it with your friends and colleagues — it might help them get more productive, less stressed and simply happier! You can also follow us on Twitter and like Productive! on Facebook.
Thank you!
P.S. The proud sponsor of the Productive! Magazine is Nozbe.