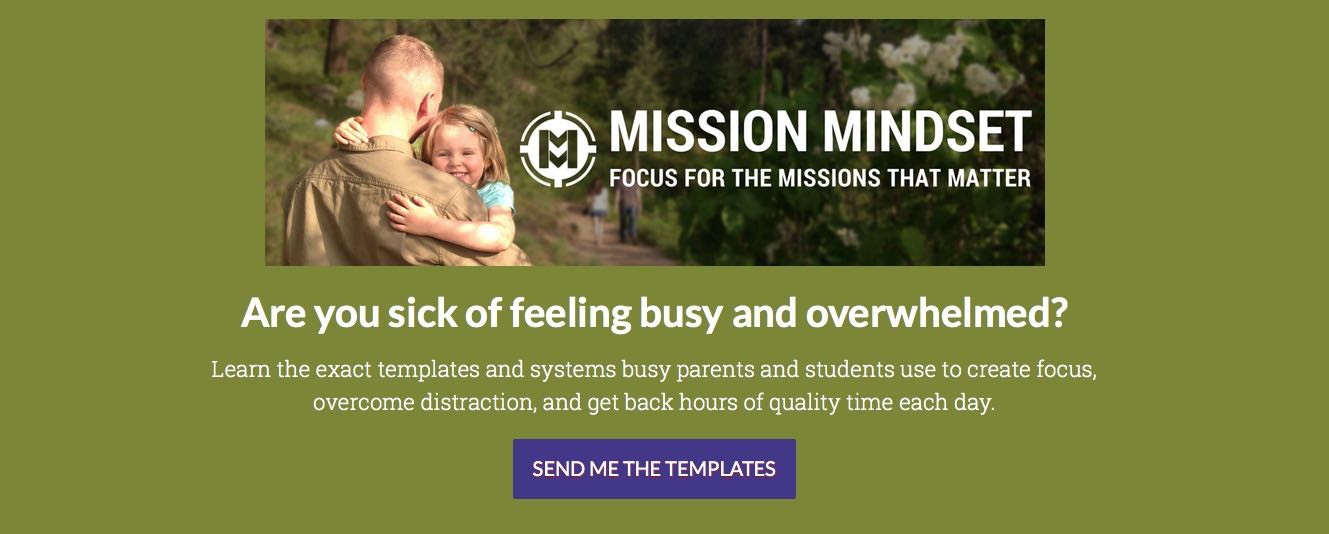 Some time ago, we introduced you one of Nozbe power-users: Jeff Sanders. Today, we would like you to meet another fantastic member of Nozbe community: Robby Miles.
About Robby - a busy guy from North Idaho :-)
Robby is a husband, a dad of four, a college prep teacher, a freelance writer, and an Officer in the Army National Guard. After hours, he runs a Mission Mindset project to help people like himself stay on top of things.
He says:
I'm from North Idaho. Up here productivity means getting the right things accomplished. And this can only be done through simplicity and focus.
Robby's goals
Robby is convinced that only by using practical systems you can create focus for the missions that matter (putting your priorites first)… And he helps you with that by providing you the exact templates and systems busy parents and students may use to create focus, overcome distraction, and get back hours of quality time each day.
What makes Robby's Mission Mindset different?
Here is what the author says:
"I've tried countless productivity tricks and systems by the "experts." But most of them simply weren't practical for a busy, married, father of four. They are designed for single people who only have to worry about their job, their social life, and maybe their cat.
The systems ended up being some lofty ideal instead of something doable. I had to go back to the fundamentals, build habits, and take small steps each day. In the end, productivity needs to be so simple we don't even think about it.
The Mission Mindset is different. It's simple. It's focused. It's actionable. It can be boiled down to 4 steps:
Define your mission
Develop a plan
Take action
Review and Assess
And guess what? Robby uses Nozbe to get his tasks done!
Robby's Nozbe.HOW tempaltes
Now… when you join Robby's project, he takes you through a time-tested process to streamline your day-to-day activities and create focus for the missions that matter.
Each week he will email out practical strategies you can use right away to accomplish your missions.
And guess what… he uses Nozbe.HOW templates for some of his systems :-) Here are the first of them:
How Robby uses Nozbe otherwise?
Here's what he says:
"It takes a lot to balance all the different areas of my life. Between family life, working as a teacher, military duties, and starting an online business, I have many projects. This is where Nozbe comes in.
Like most Nozbe users, projects are the backbone of my system. I create a new project any time a task requires more than 5 steps. The biggest parts of my Nozbe system are labels and colors. I use labels to sort my projects by area of life and each label gets it's own color. For example:
All family projects are labeled "Home" and are red

All teaching projects are labeled "Teaching" and are pink

All militaray projects are labeled "Military" and are army green :-)

All online business projects are labeled "Platform" and are blue
Labels let me sort projects and easily focus on individual areas of life. Colors help me keep my projects sorted visually when I look at my entire project list or complete my weekly review.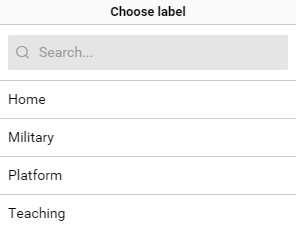 This is just one of the ways I use Nozbe. There are so many more tricks, but that would take a whole book. Nozbe beats all other task managers because of its focus on accomplishing the right tasks instead of just making lists. It's so functional and makes productivity simple!
You can alos use templates to share your strategies and help others
Post your templates on Twitter or Facebook with #NozbeHOW hashtag – we'll include the best ones in our Nozbe.HOW template directory :-) The authors of the best ones will have their Nozbe PRO accounts extended by 1-6 months!
Learn more about Nozbe.HOW project templates and start creating your own!