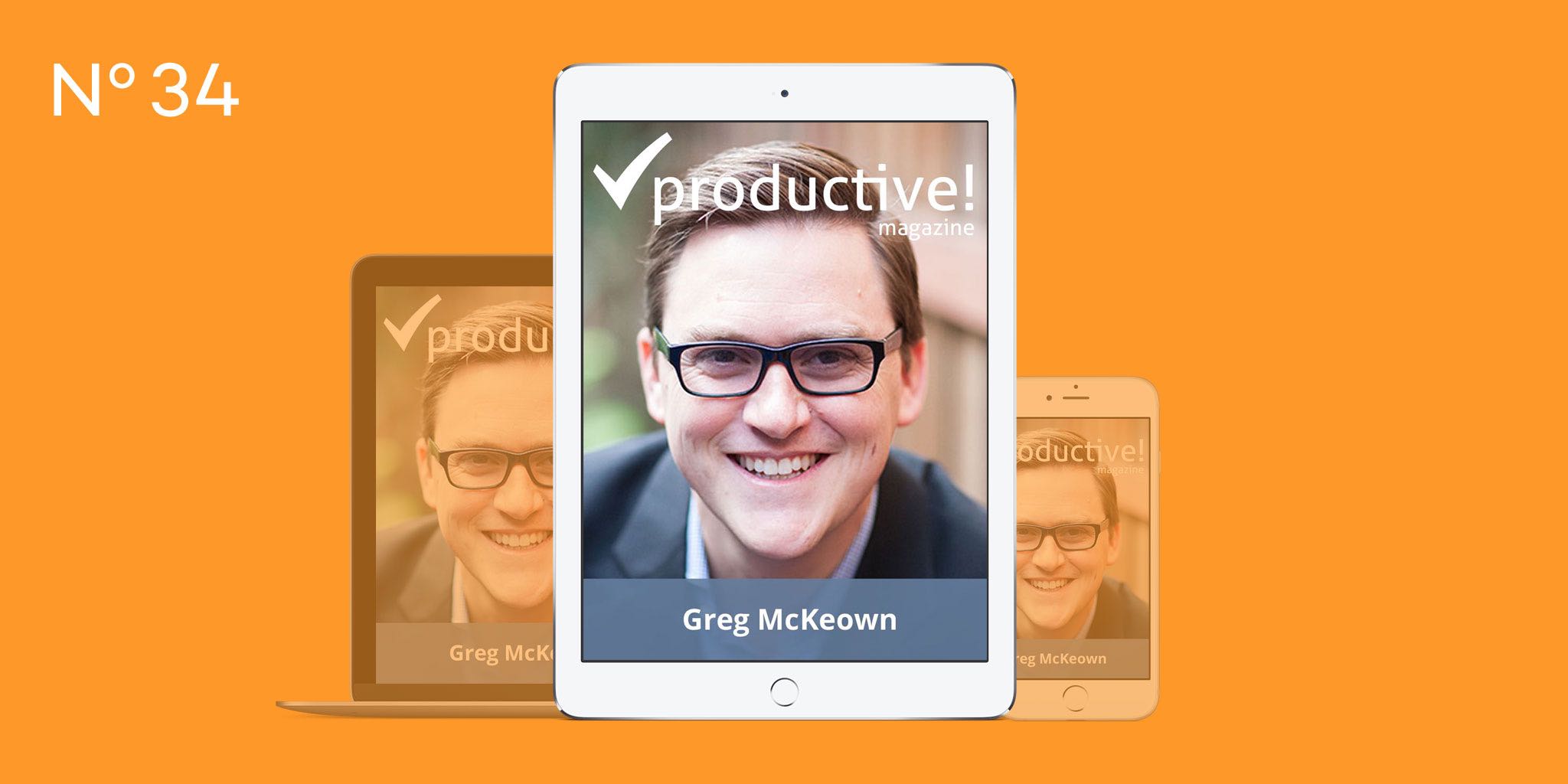 Here comes Productive! Magazine no.34 - the latest and the last issue of our periodical.
The reason we stop working on our magazine (that have been on-line for more than 8 years) is… essentialism :-) Michael, our Editor in Chief, explains his decision in details in his article that you will find inside this edition.
Interview with Greg McKeown
The special guest of issue no.34 is none other than Greg McKeown, the author of the New York Times bestseller, "Essentialism: The Disciplined Pursuit of Less".
In the interview, he talks with Michael about the essence of essentialism. He reveals some things not covered in the book and shows how to be successful and not get caught in the vicious circle of the curse of capability. Greg explains the difference between "essentialism" and "selfishism" as well as the way success can become a catalyst for failure. Michael and Greg also speak about the instantaneous way of living that robs us of a sense of future planning and perspective.
It's not what somebody else thinks is essential and it's not what society says is essential. It's not what we selfishly think is essential either – and that's a distinction I wish to make. Because I didn't write a book called "Selfishism" or "No-ism." It's not about just doing more of what I want for my life.
Articles
In the Editor's note Michael Sliwinski presents the idea of "essentialism" - read it if you want to get a sense of the "less but better" way of thinking.
(…)you have to be painfully honest with yourself. Otherwise you will never be able to select the crucial goals and projects. Because you can't have your cake and eat it too. Trade-offs cost you some trouble but they are inevitable.
In Shift Happens. Get yours. Andrew Hill shows how mindfulness and sleeping can help you perform better.
The foundations of brain health are still adequate sleep and nutrition. There is no substitute in both acute and long term performance.
Robby Miles asks about your default settings. Sometimes you need to reset them in order to move forward. Check out what its all about.
(…)like computers, we do tend to follow a certain set of routines, habits, and actions. In other words, we usually work from our default settings.
Are you and your team trying to adopt a culture of speed and flexibility? Laura Stack explains how not to stay behind living through the Hurry Up Epoch.
Unless you like the taste of dust, you'd best be leading the pack. That's always been good advice, but it applies now more than ever. But speed won't suffice…
Ian William Vollbracht, a husband, a dad of three and a European Commission officer gets you some hints and tips that can help professional couples (with children) to chill out a little and have more fun, while still making progress in their careers.
All professionals know in their hearts whether a piece of work is good, bad or just good enough: they don't need "Mummy" or "Daddy" to tell them! Likewise, once you free yourself from the need for daily praise from your managers, then you can focus more on doing a good job and using the other hours in the day as best you see fit!
As it is still not to late to plan well and make 2017 fantastic, Annie Sisk reveals what is the only resolution you really need this year.
Most of us fail to change not because we don't want to bad enough, or aren't capable of change – but because we forget.
If you want the declutter habit to stick, you need to follow a specific blueprint for building it. There are just 8 steps and S.J. Scott tells you what they are.
Ego depletion impacts our ability to form new habits because our supply of willpower is spread out among all the areas of our lives.
Finally, Michael Sliwinski writes about the two books that have changed his life for good. Read about essentialism and the one thing you should do to achieve success!
Success opens new doors and we think that we have to pass through all of them, and that we can do it without affecting the source of our initial success.
No worries!
This is the last issue of Productive! Magazine but that's not the end :-)
We will obviously keep all the issues of the magazine online so that you can always get back to the articles you might find useful.
We also encourage you to visit this blog regularly. We plan to share more of the timeless entries on productivity and self-development over here from now on. We will be more than happy to publish your articles or tips, too! If you want to share some advice with Nozbe community just drop us a line at questions@nozbe.com.
Thank you to all Productive! Magazine readers and followers. We hope the information and the guidelines we published have been useful and helped you get the most out of life.