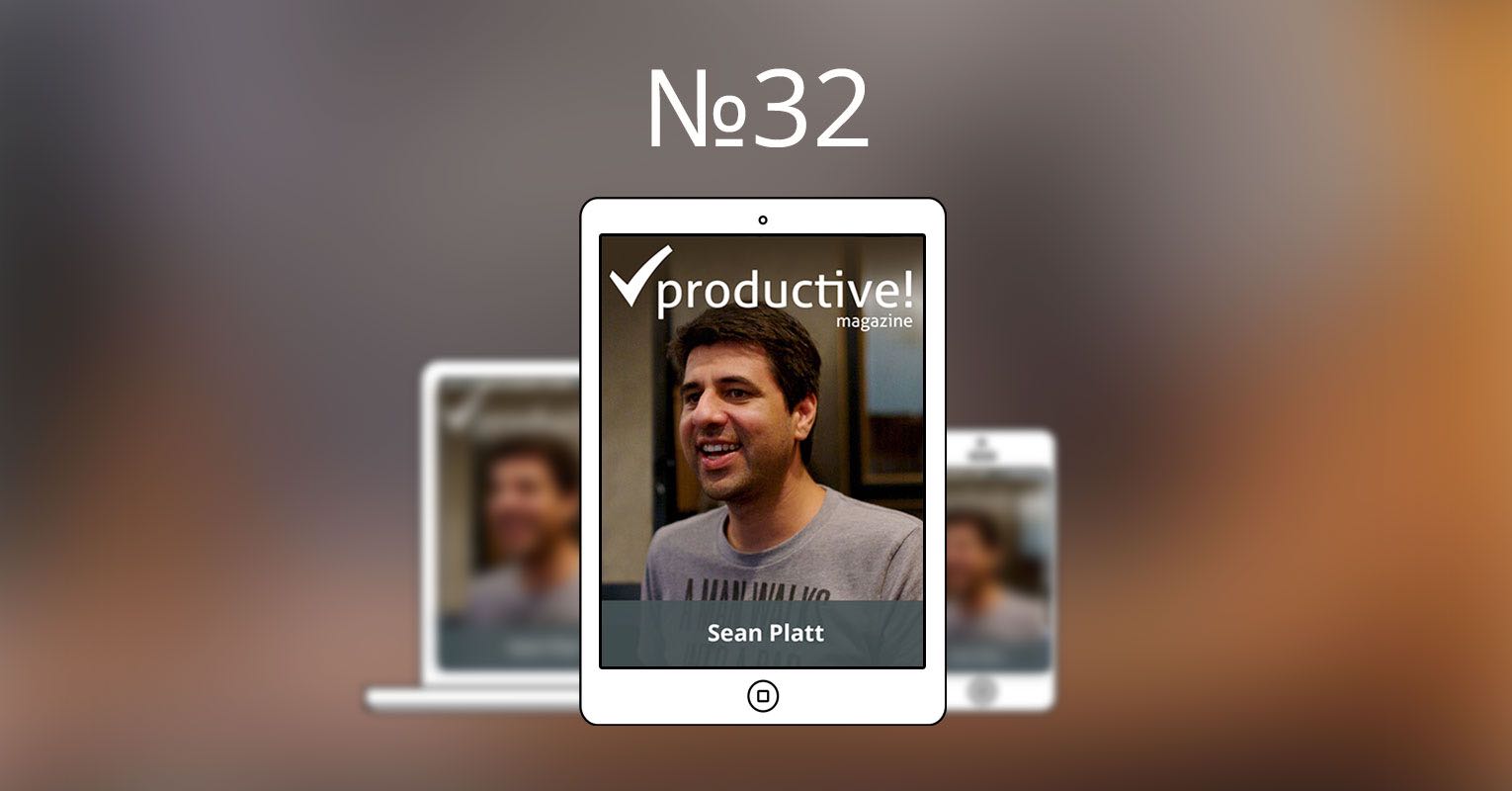 The new issue of Productive! Magazine is here. This edition features remarkable articles that will help you change the way you see and do thing. Your efficiency is about to rocket!
Inside No.32: interview with Sean Platt, probably the most prolific author in the world :-) and articles on focus ritual, anti-procrastination habits, broken windows, "just this once" syndrome and increasing your writing productivity.
The interview with the super-fast writer
No.32 comes with a great interview with Sean Platt - speaker, published author, and founder of the Sterling & Stone Story Studio, and most importantly - DAD.
He talks about the way he learned to write really fast as well as about getting into a flow and looking for excuses. He also offers some advice for aspiring authors and tells how his usual writing day looks like.
"Writing is just articulation on the page. And when you speak really fast, it's because you're excited about what you're saying and ideas are really fluid. And writing is exactly the same. The faster you write, the closer you come to your most natural voice."
Tested methods for boosting your efficiency and eliminating counter-productive habits
In the Editor's note you will learn the 5 simple steps to regaining your focus - the sine qua non condition for getting thing done.
"Develop a simple ritual that will help you focus on the task and complete it within one attempt. Such a ritual will let you prepare both your workspace and your mind for a strenuous effort. Like every other routine it will save you some decision-making time and make psychological space for creativity."
Robby Miles, the author of a great productivity blog and resources offers you a exclusive guide to choosing the best and most practical software.
"It's common for productivity junkies to try every new app that comes to market in the hope that it will help do more in less time. This way of thinking actually limits productivity because you're constantly searching for something better. Really you're just wasting time."
In his article, S.J. Scott of Develop Good Habits explains why "broken windows" cause you to feel overwhelmed and out of control and then reveals how to fix them.
"Broken window habits may be small, but the cumulative power of changing the small can be quite dramatic. By identifying these limiting actions, you'll be on the path to feeling in complete control of your life."
Then, Michael Sliwinski, Nozbe CEO and a devoted #NoOffice approach evangelist, proves how "No Office" makes us… better. Better leaders, team-mates and productivity ninjas :-)
"Thanks to the "no office" environment you can become a better communicator, because instead of chatting you learn to communicate through tasks."
Annie Sisk - the face behind Pajama Productivity, wrote about the "Just This Once" syndrome that can easily ruin your productivity.
"JTOS thinking is some sneaky stuff, people. It slips up on you, quiet like a ninja, and before you know it, it's sliced and diced your excellent efforts and pristine intentions into confetti. And you're left sitting there with buttercream frosting all over your face, sincerely wondering 'what just happened here?'."
Check out the accompanying Nozbe.how template.

Amy Harrop shows how to massively increase your writing productivity thanks to speech recognition software.
Laura Stack gets you 5 proven methods for reducing the information intake.
"The only way to overcome "infobesity" is to triage mercilessly, reducing the amount you take in forever. Keep these tips in mind as you work toward stemming the info-tide."
Finally, you will find out what are 8 best ways to deal with procrastination by employing some good habits and routines.
"The proven method for eliminating procrastination, then, is to use its own weapons against it. Instead of "fighting it", simply replace it with good routines that will lead you to achieving your goals."
Check out the accompanying Nozbe.how template.

Please, help us grow
Which article do you like most? Surely one of them has made you think, analyze, revise your attitude or habits. Why don't you share it with your friends and colleagues — it might help them get more productive, less stressed and simply happier! You can also follow us on Twitter and like Productive! on Facebook.
Thank you!
P.S. The proud sponsor of the Productive! Magazine is Nozbe.