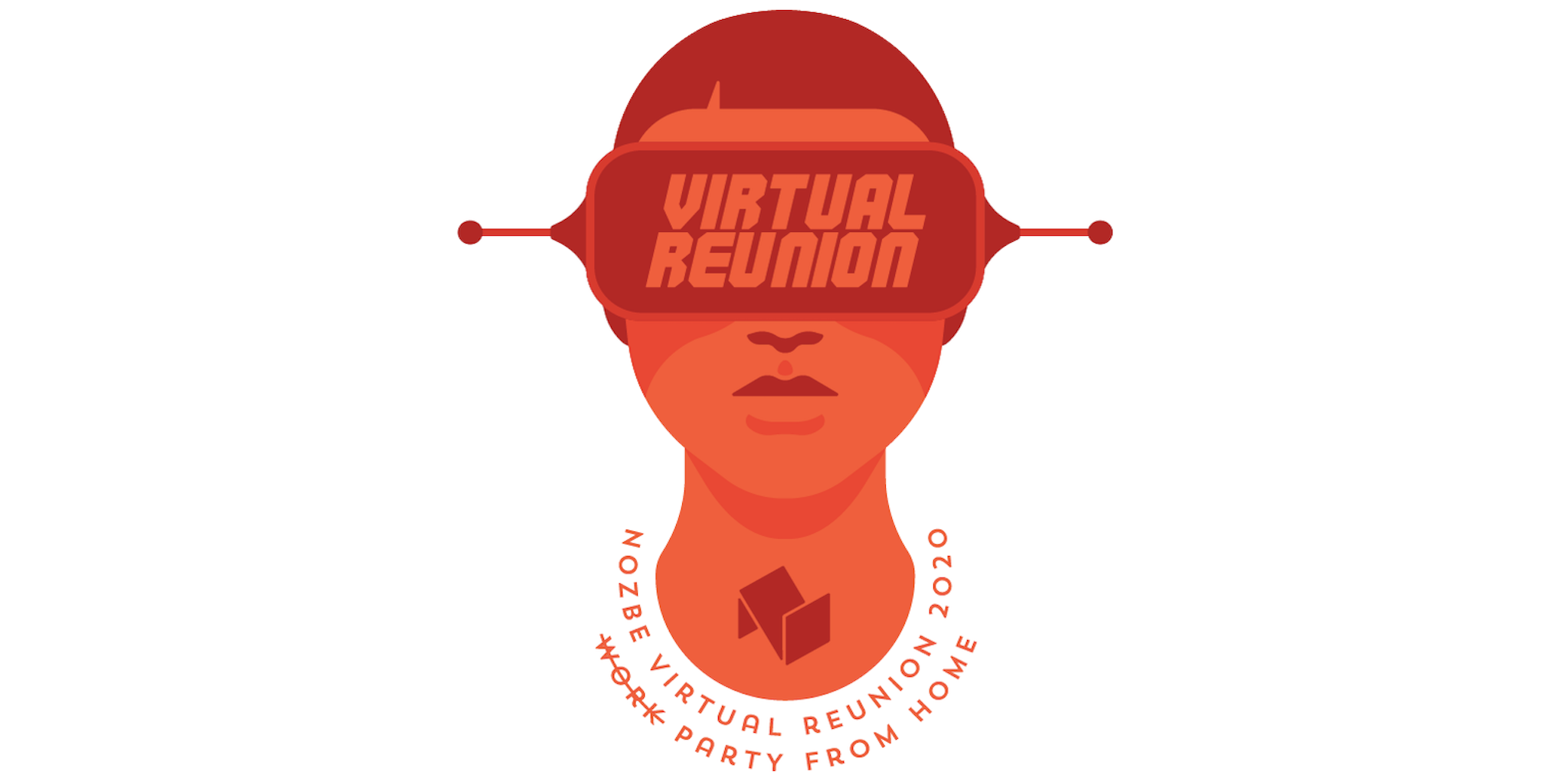 We've just returned from our Nozbe reunion – a virtual one. It was the first time we had our company-wide meeting online and it felt… not as lame as it may sound, in fact.
Read on to learn about our virtual team bonding during COVID-19. See why, how and what exactly we were doing during our first ever virtual Nozbe reunion.
🤷🏼‍♀️ Why we decided to organize a virtual team-building meeting
I think I'm now typing this phrase for the 19,459,340th time, but here it is: As you may know, we've all worked remotely at Nozbe ever since the company was founded. And because we're a dispersed team and don't see each other in the office, we organize Nozbe retreats every six months to make sure we regularly meet in-person and bond as a team.
In fact, we had a hotel booked for April 2020, but due to the rapid spread of the coronavirus, we moved the retreat to September… Unfortunately, those dates didn't work out either. Michael, our CEO, didn't want anyone to risk exposure to the virus any further than if they remained at home and carried on with their regular, pandemic life. Besides, we don't all live in the same country, and the flight schedules haven't been very reliable lately due to COVID-19. We couldn't risk anyone missing the meeting because their country of residence closed the borders or flights were cancelled. That wouldn't be fair.
And so, quite spontaneously, we decided to hold a virtual meeting – we didn't want to miss the opportunity to develop the trusting and cooperative relationships we usually gain from in-person retreats and team-building activities.
⚙️ How we organized our remote team-bonding retreat
The idea came from the board of directors. They decided our team needed to meet up despite the circumstances. A virtual reunion kept our meeting fresh and full of surprises. The board created a project in our Nozbe Teams app and restricted the access so only directors could see it. After they listed their ideas and suggestions, they involved two additional people to help out with the arrangements.
Surprises were key and time was flying. We needed to order a ton of items online and have them delivered to every Nozbe employee's door. I'll provide additional details further in the article.
The agenda was very general and simple, as we did not want to add on too many constraints or push too many activities. We kicked off on Monday and finished on Friday.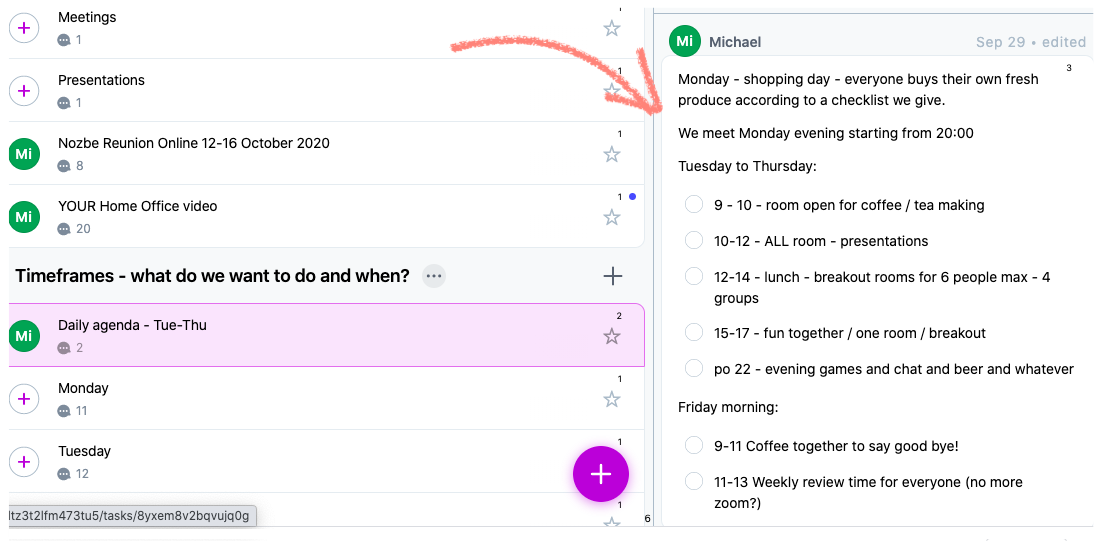 Are you curious as to whether that simple agenda was a good thing? Read on.
🎳 The remote team-building activities we used
For the virtual retreat, we aimed to maintain many activities we usually do during the in-person retreats. We wanted to:
chat together,
play together,
eat together,
drink together,
learn something new together,
share our knowledge/viewpoints, and
spend some quality time together.
Remember, this was our first time organizing a virtual reunion. We didn't really know what to expect, what would work and what would turn into a spectacular failure. In the end, we came up with several ideas for remote team-building activities. Here they are.
☕️ Morning coffee online with your remote teammates
Every day at 9:00 am, we met for a morning coffee or any other beverage that gets us going. We chatted, caught up, told stories, etc.
💻 Online presentations – ideal for a distributed team
At 10:00 am, anyone who volunteered could give a presentation. On Tuesday, we had a keynote by Michael and a discussion about the "state of the union" of our company and products.
On Thursday, Ola organized a fantastic workshop for all of us. The goal was to prove that brainstorming might work in some cases and that it doesn't always have to be counterproductive. She started with a story of her wondering who buys a Mercedes station wagon and moved on to asking us three questions that evoked a long discussion, lots of ideas, fun and conclusions.
Cooking on Zoom together – a COVID-safe activity for remote teams
After Ola's workshop, we prepared sushi together. Everyone had to cook their rice beforehand and be ready to start rolling at noon. Sushi is part and parcel of every Nozbe retreat. We either have sushi workshops or we just go out to eat it in a restaurant located around the hotel we're staying at. This time, we had to cope by ourselves – and believe me, our sushi rolls were impressive and damn tasty.
A cooking workshop with Natalia
Wednesday was all about cooking together. Everyone had the ingredients ready, and Natalia, a former Nozbe team member, ran a top-chef-level workshop. We prepared noodles with baked broccoli and a peanut butter sauce. Although everyone stayed in their own kitchen, we had so much fun and felt like we were really attending a group cooking lesson live.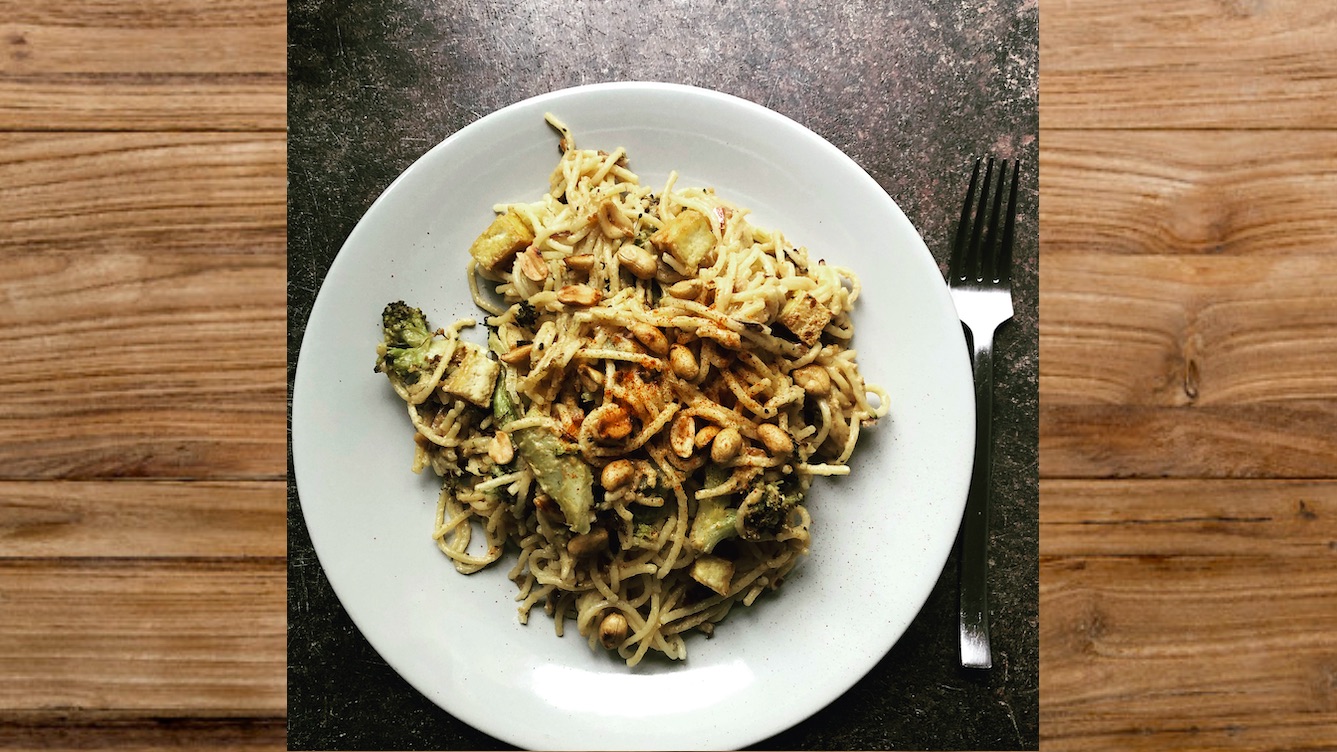 Online games – even for those who don't play computer games at all
The top games were AmongUs and a simple word guessing game where people draw words or phrases and the rest of the team has to guess. It was pretty hilarious. Look at this impressive "kangaroo" drawing.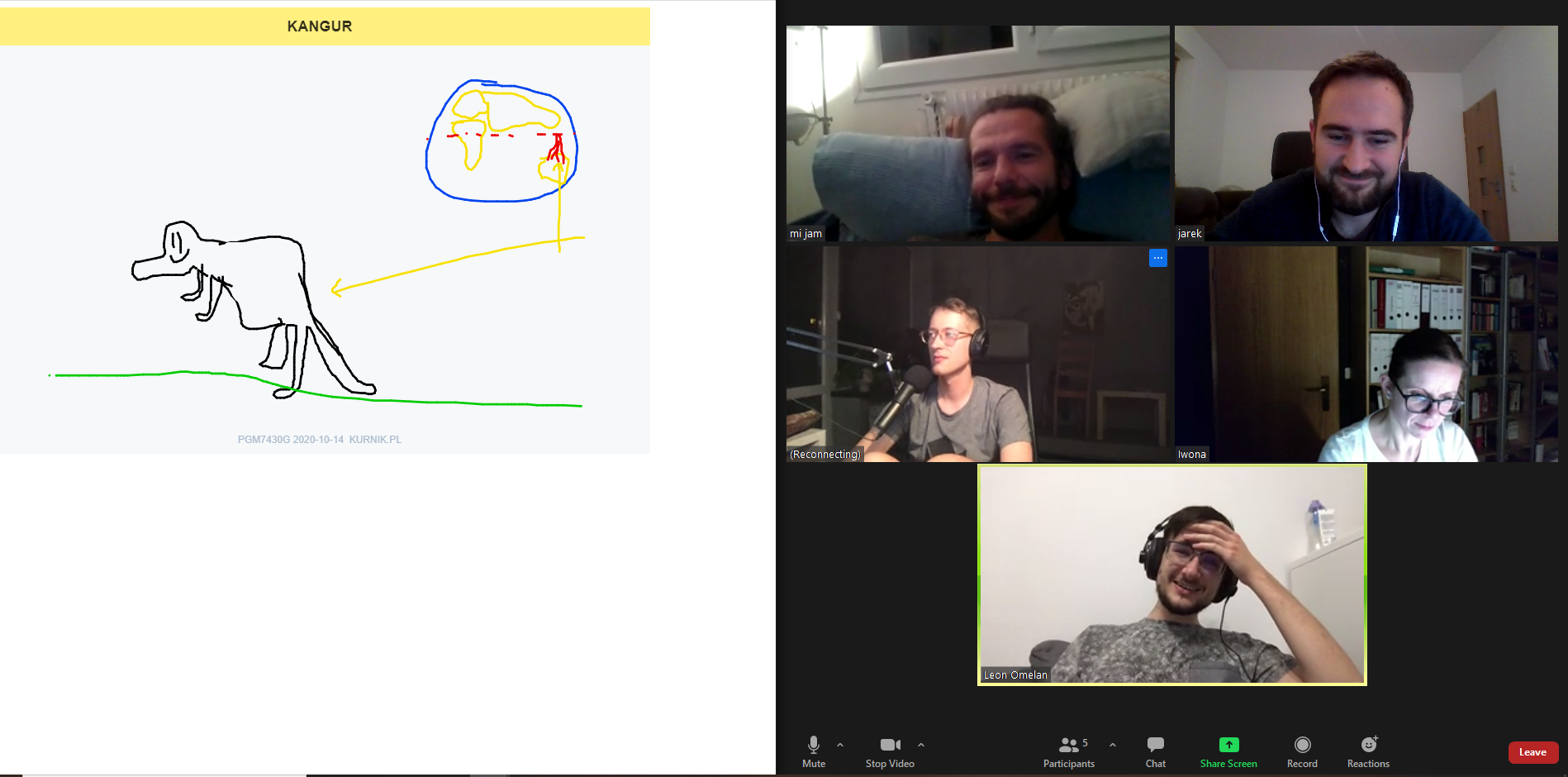 Drinks – non-alcoholic or alcoholic, whatever your preference
Before the virtual reunion started, everyone got several packages (more about it below) – one of the boxes contained a drink-preparation set with basic ingredients for making three different, original cocktails. We bought it from the Drink Syndikat company based in Berlin. That was fun. Not many of us had professional shakers, so we used honey jars and improvised in many other ways, but the drinks were tasty.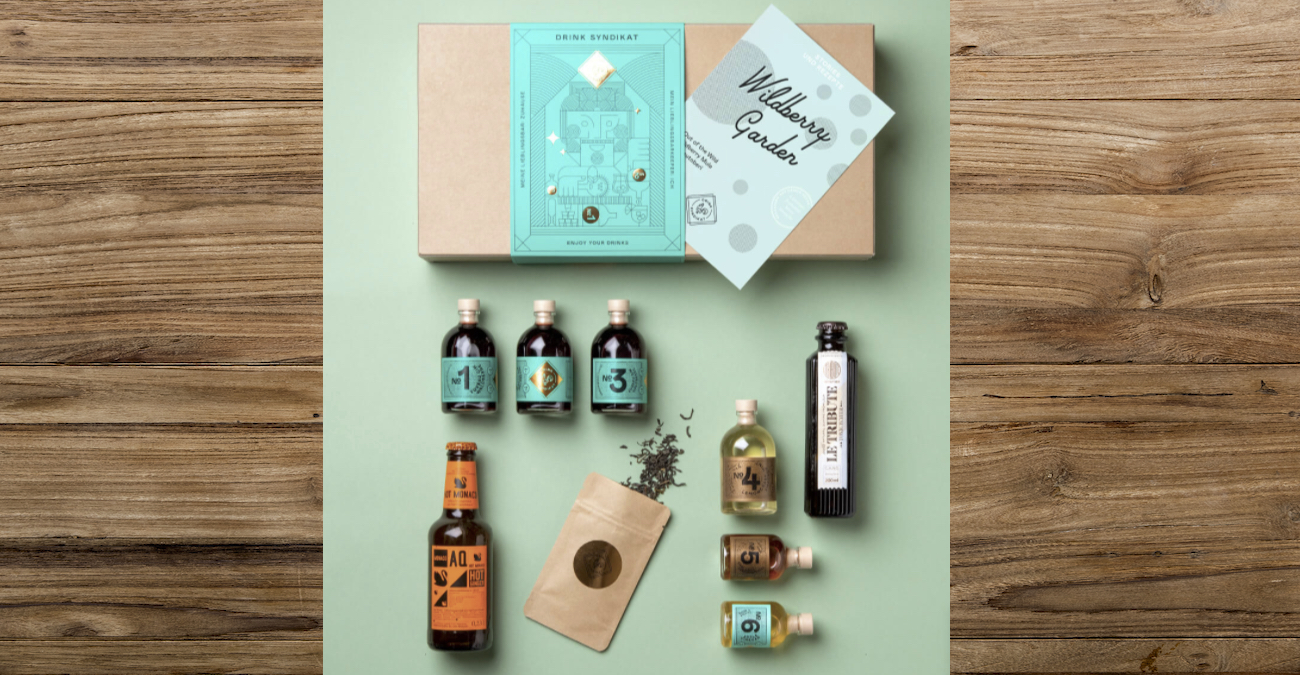 Each of us also got a box with craft beer and some bio snacks to go with it.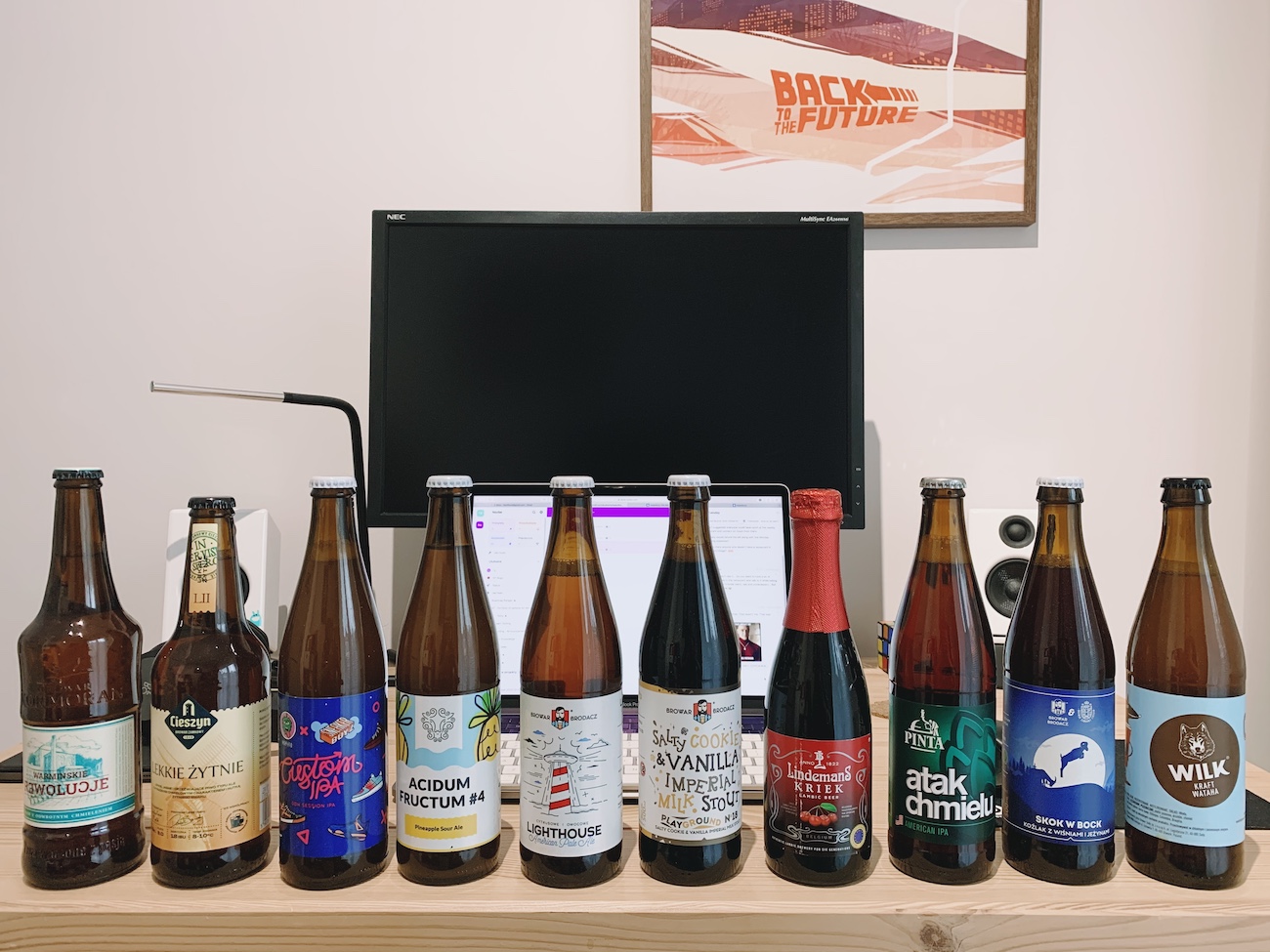 Apple keynote
On Tuesday, those who were interested watched the Apple keynote together.
The usual thing – Nozbe gadgets
As I mentioned at the beginning – everyone got some gifts from the company. Apart from snacks, drinks and craft beer, every team member received something…
…comfy – warm, purple Nozbe Teams socks
…for activity – a sport t-shirt with a cool Nozbe Virtual Reunion imprint
…painfully practical – a black mask with Nozbe Teams logo
…sweet – some fudge wrapped in Nozbe Teams branded papers
…long-lasting – a t-shirt made of ecological cotton – the same as what was given at the last retreat but black and with the Nozbe Virtual Reunion imprint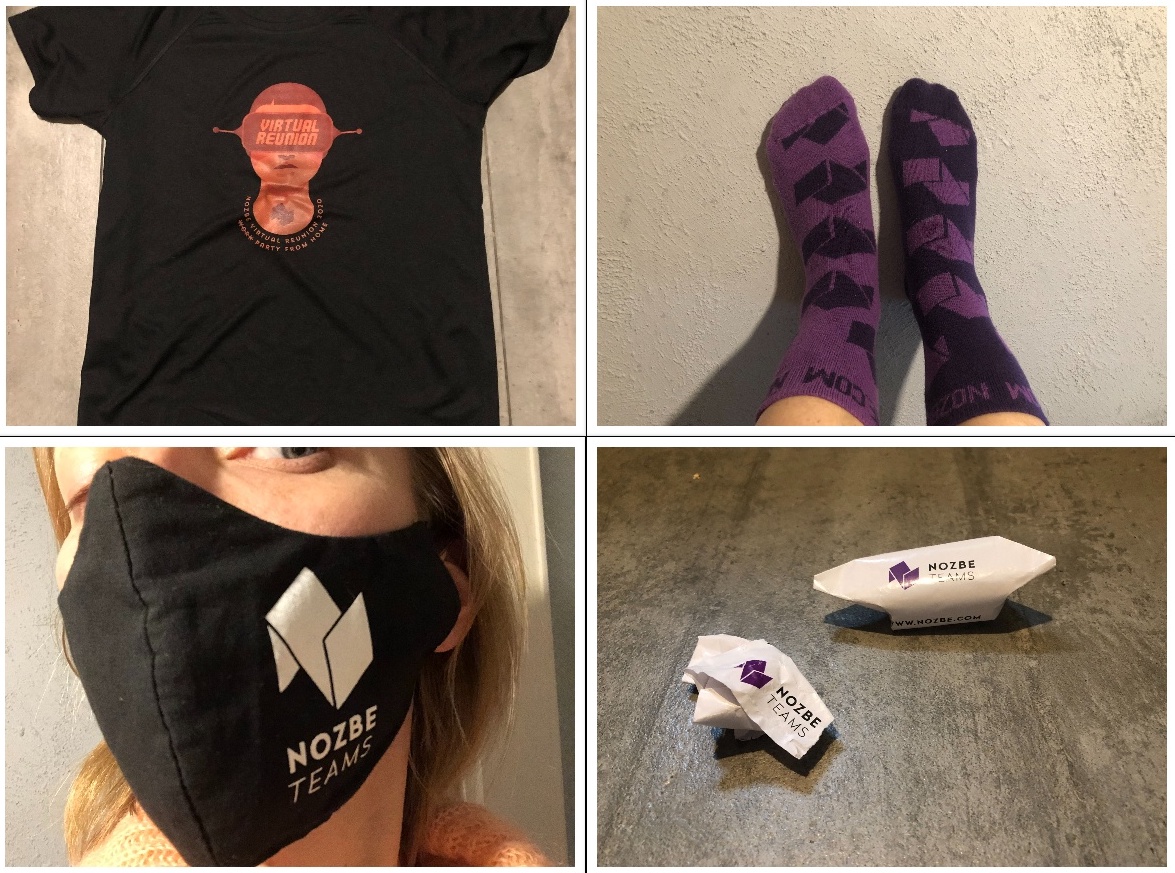 Extra goodies
Along with these treats, couriers also delivered to us:
a coloring book and crayons to use in stressful moments
tea to drink in the gloomy evenings
delicious, freshly roasted coffee in a Nozbe-branded package
a bottle of craft, apple-flavored cold brew
Lessons learned
On Friday, we met on Zoom for a final time and listed everything that worked well, anything that could have been improved in case we're forced to hold a virtual retreat again (which is quite possible) and all the things that didn't work out. This is a ritual we have at the end of every meeting and that we follow in order to have more diverse and better organized company reunions.
We agreed the agenda could be more precise in timing and could include more planned activities. We all agreed we should have begun the preparations sooner to ensure we have everything ready without the stress. Everyone loved unboxing the packages with gadgets and other stuff, as well as our cooking activities and online games. The cool thing was also that we didn't speak about work whatsoever. Apparently, everyone needed a small break from Nozbe issues and urgent topics :)
Although we could feel the community spirit, many of us felt that the virtual meeting wasn't as effective in promoting team bonding in comparison to in-person retreats. It's much harder to start a one-on-one conversation with someone or come to the forefront in a discussion. Introverts had a hard time actively participating and interacting with others.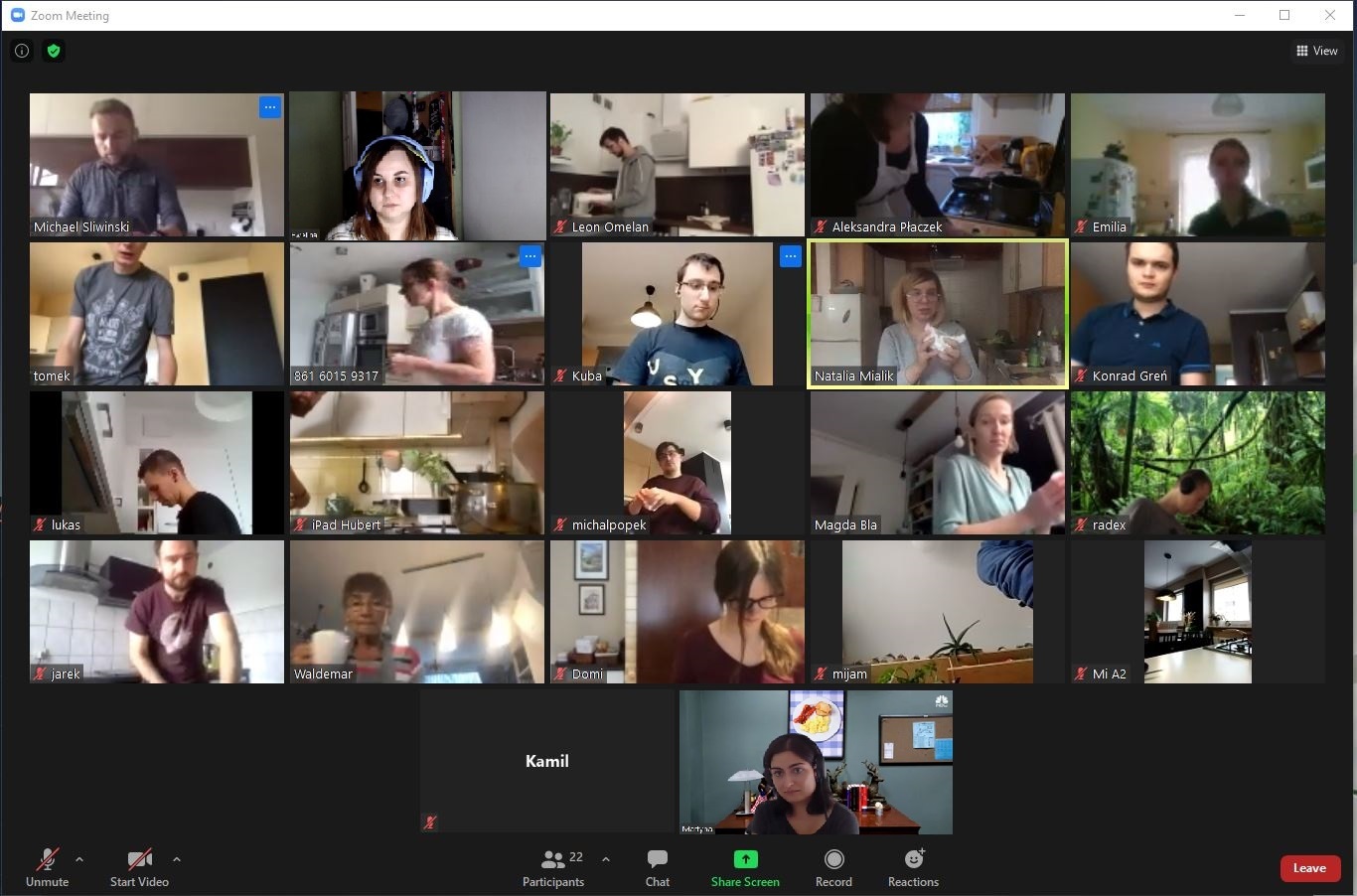 The Nozbe Virtual Reunion was an important event for us. We couldn't meet in person in the spring, and as a fully remote team, we felt we needed a get-together in whatever form possible. This meeting, although not perfectly planned, let us close physical gaps through virtual solutions and brought our team together during such a critical time.