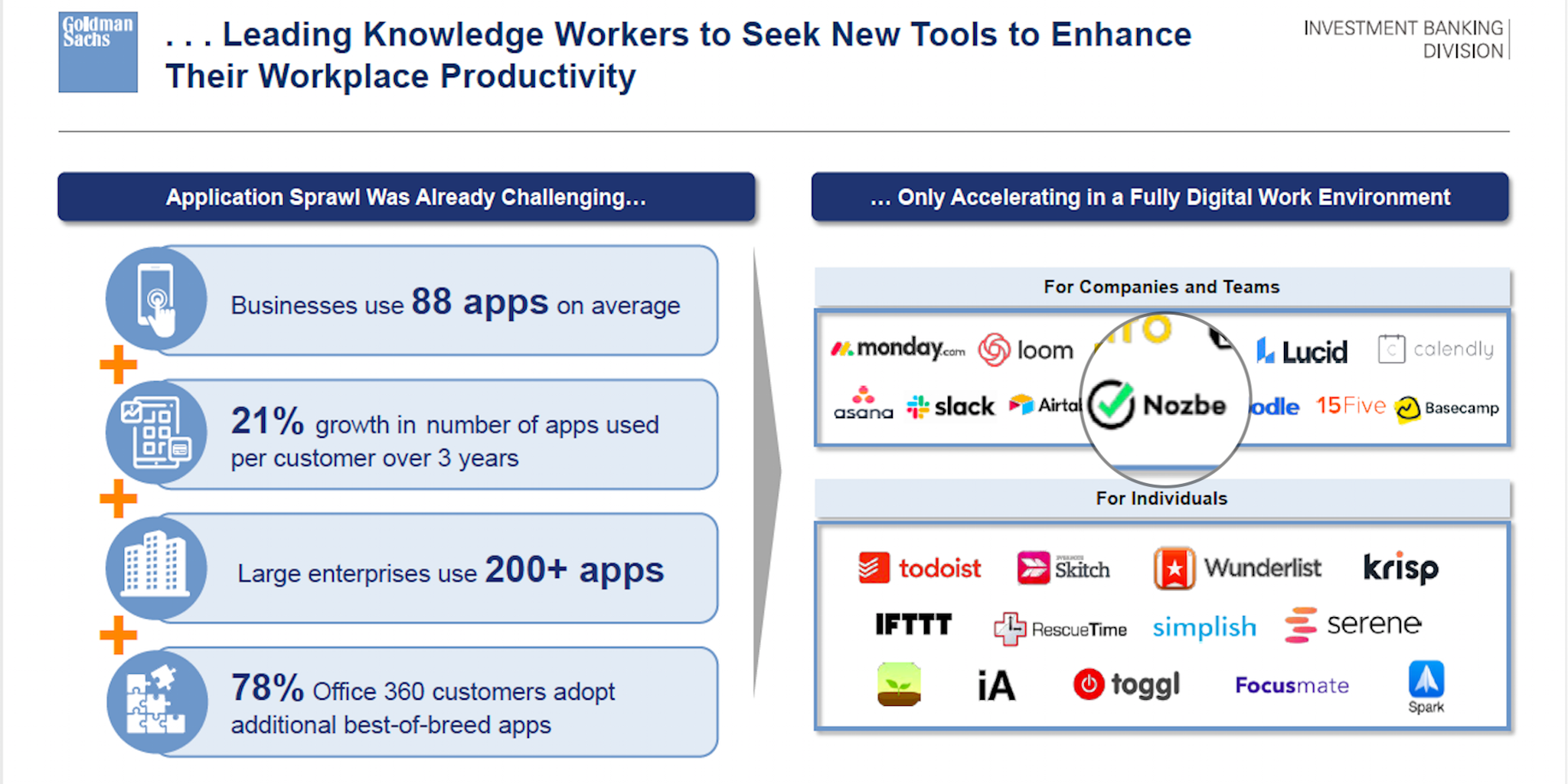 Our app was listed as a solution for companies and teams that are moving to remote work and utilizing more digital tools.
The Goldman Sachs report, "The Future of Work," emphasizes that seamlessly connecting all data, processes, and apps presents a serious problem for today's companies. There is too much of everything. People have various habits, teams within the same company use different tools, and chaos arises.
Remote work has massively accelerated the shift to digital communication and workflow – and that's fantastic. We're living in the 21st century, and it would be silly not to take advantage of new technologies that are handed to us on a silver platter. Using modern software, however, requires a lot of change within structures and workflows. There are 1.25B+ knowledge workers who need to change their individual habits, too!
So what needs to change in the way we work?
The report rightly acknowledges that physical workflows and fragmented tools are the core issues affecting how we work.
Teams need to choose apps that work for them and try to sync them together to create a coherent system. Apart from productivity and communication tools, managers need to work on improving meeting policies, enable knowledge sharing and process automations, and make sure paper-based work is moving to a digital format.
It's also crucial to embed the changes and new processes in the whole team so that there are no bottlenecks and that no team or person is left aside.
Teams should switch to asynchronous communication to ensure teammates respect each other's time and focus – no shoulder-taping or quick phone calls that distract and waste time.
"The Future of Work" report lists additional institutional and global phases that help bring to life the vision of the future of work in a digitalized environment:
Driving end-to-end digital work experiences by eliminating functional silos, ubiquitous API connectivity, and embedding collaboration in every work stream.
Then: capturing and measuring more data, making projects and work streams intelligent and collaborative knowledge sharing, and delivering rich insights when work happens.
And finally: super charging and empowering the knowledge worker through intelligent meetings and scheduling, democratizing software development, automating tasks and work, and conversational AI for everyone.
How can collaborative software and the right approach help?
Let me use our company as an example to illustrate this point.
Apps like Nozbe and Nozbe Teams are hubs for communication, storing reference materials needed to complete tasks, and managing responsibility. At Nozbe, we use our apps to get projects done and that's enough. We don't require any further tools for task management and collaboration. Everyone on the team uses the same app and follows our internal communication rules, which increases our efficiency.
Of course, we still have separate apps for documentation, code, and direct messages, but they are all connected with each other in a way, with Nozbe Teams being the main control center.
Almost every project we share in Nozbe Teams is accessible for everyone on the team to maximize transparency. We share our insights and constantly improve our workflows by looking for space for automation and improvements.
We also have a strict meetings policy where meetings are regular, optional, and well-prepared.
Going fully remote? A project management app is the solution!
When switching to remote work, managers and business owners often worry about preserving transparency within day-to-day tasks, maintaining the information flow, improving communication processes, etc.
That is exactly where a good project management app comes in. Wisely implemented software will help teams increase productivity and avoid miscommunications. Work within the app is organized into specific projects. Projects are divided into tasks where all the necessary information and files stay under one roof – accessible, searchable, and in the right context. Additionally, in Nozbe and Nozbe Teams, a task can be assigned to only one person to avoid the problem of many hands that can arise when different people are involved in a job and there's difficulty identifying who should be leading.
Working remotely speeds up the process of digitalizing and implementing new technologies. Managers and business owners should be careful not to exaggerate and generate chaos though by moving too quickly, trying out too many tools, and clinging to bad habits developed for years within a paper-, office- and meeting-based work culture.