Comments in Nozbe are your main communication tool. You give feedback via comments. You attach files, images and documents as comments. Checklists and task status updates are comments too. Learn how to use this powerful collaboration tool.
Types of comments in Nozbe - your project management app?
When you use Nozbe as your collaboration tool, you obviously organize your work into shared projects. Then you break work into manageable pieces for you and your team by adding tasks. Tasks can be assigned, scheduled, tagged and more… . Now, you need to communicate with you colleagues, break work into even smaller steps thanks to cheklists, provide feedback, report on your progress and attach files. That all is possible thanks to task comments:
text comments
lists (bullets or numbered)
checklists
attachments: text files, photos, graphics, .pdf-s, videos and anything you need
@Mentions
Task links – link a related task in a comment to create a shortcut and point out their correlation.
Thanks to comments we don't use emails for team collaboration and hardly ever discuss things via Slack or other chats in our company! Nozbe synchronizes seamlesly, so as soon as you add your comment it will be visible in the task and your teammate will be able to react - with their comment or a reaction: 👍, ❤️ or 👎.
Smooth asynchronous communication in tasks comments
Use comments to put task-based communication into practice and ditch chaos, emails, phone calls and chats in your team.
Step 1.
Organize your work into shared projects. Anyone on your team can create one! People can choose which projects they want to follow closely and receive updates about them in Activity.
Step 2.
In each project, add tasks, delegate them and set deadlines.
Step 3.
Add comments and attachments to clarify what needs to be done. When needed, iron out the details in the comments. Each team member can join the discussion and send their feedback. Checklists, files and mentions make work as easy as interacting on social media.
Text formatting in comments
To make your comments easier to read and more complex, use text formatting to coordinate teamwork - use bold, italics, headings and lines, etc. You will easily do it with Markdown formatting:
use ** for **bold**
#, ## for headings
strikethrough ~~strikethrough~~
code (backquotes)
horizontal rules (***, ___, — or * * *)
You can use Markdown syntax to add clickable links in your comments: [text goes here](link goes here)
So, if you want to add a link to Nozbe, you can add:
I really like to use Nozbe
The comment will look like this: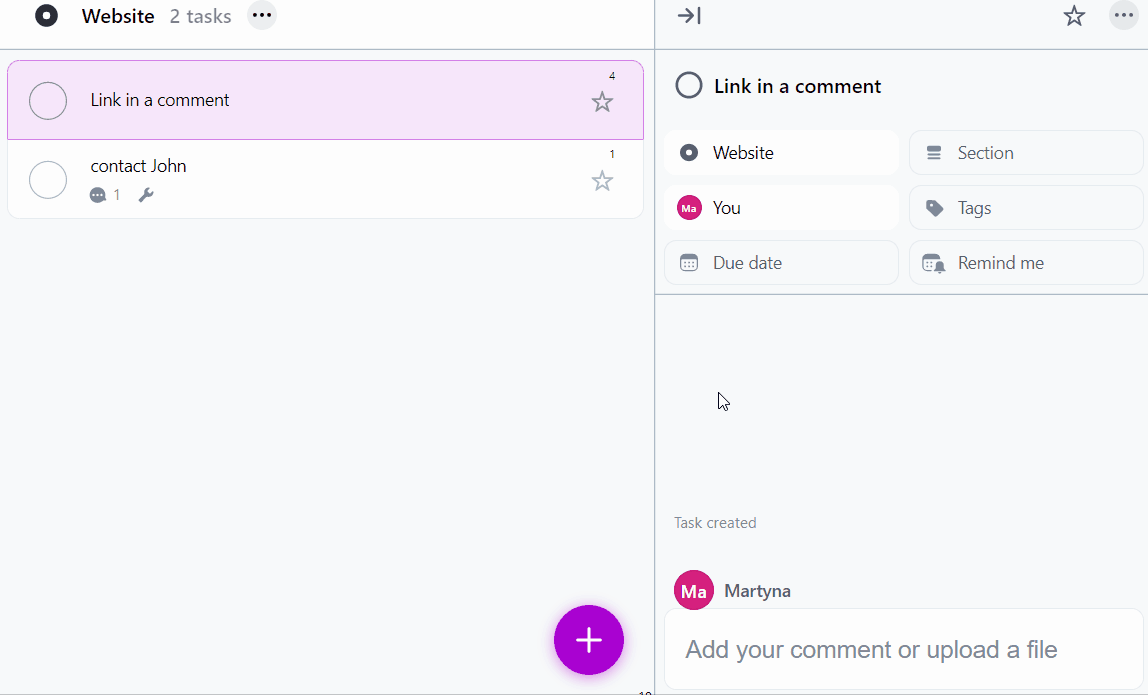 👍🏻 Reactions as a additional team collaboration tool
In Nozbe, you don't always have to write a reply to your team member's comment. Sometimes, you can just add a reaction to it! These are useful when your team mates ask for simple votes or inform about something and want to make sure you got that.
To add a reaction, click on the three dots and choose one of the three available reactions: 👍🏻, ❤️ or 👎🏻.
Once you added a reaction, you can always remove it by clicking on its icon.
You can also check who added reactions. To do so, hover the mouse over the reaction icon, and you will see the usernames. Reactions let you save time and improve your team's productivity.
Was this article helpful?
I hope that if you haven't used our widgets so far you will now :) If you find it complicated or have problems, please, email our Customer Support at support@nozbe.com, and they will be happy to help.