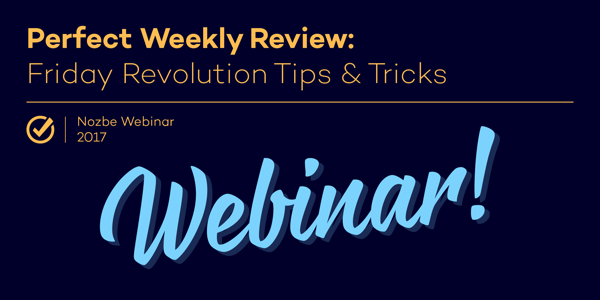 Here is a gift we have for you this Christmas: a free recording of a fantastic webinar dedicated to weekly reviews and making Fridays really special.
On Tuesday, November 21st, Michael shared his best tips when it comes to running a weekly review. We believe that if your review process is efficient, it will save you a week's worth of stress. Watch the video and find out how to start performing a weekly review - and how to do it right!
You will also learn about our special transformation around Fridays. You will find out how Fridays unfold at Nozbe and hopefully get inspired to begin your own Friday revolution. :)
Watch the recording and see how to employ a weekly review that works.
Please note, that the webinar was conducted in English
Past webinars
If you liked this webinar you might also want to watch our previous sessions. Each one is a fantastic source of productivity-related advice. The guidelines we provide are not just useless theory - each webinar is full of practical tips & tricks based on our own experience.
Upcoming webinars
Please stay tuned - we organize webinars regularly! Follow the Nozbe blog, Twitter and Facebook to get notified and be able to sign up for future sessions.