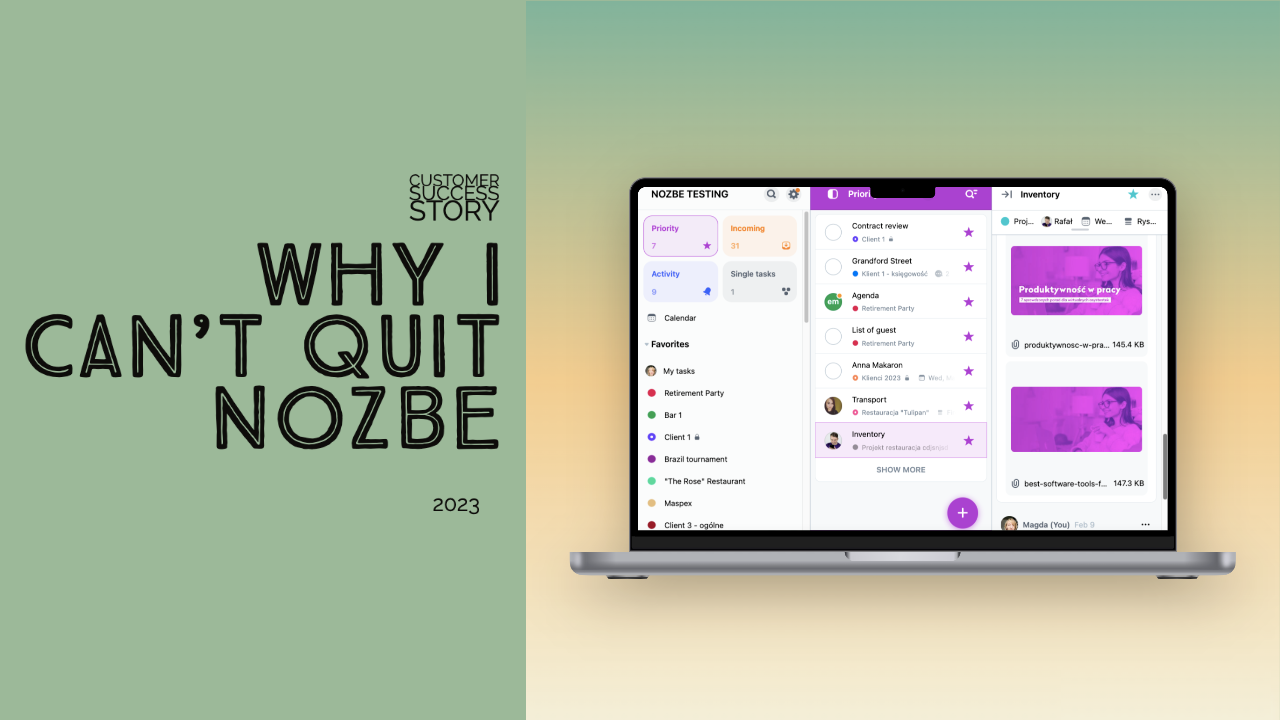 There are many good task and project management apps out there. See, why so many users all over the world choose Nozbe to manage their private and professional life, and what makes them stick to our productivity app.
Why I chose Nozbe to manage my tasks and projects
The year was 2017. I was deeply immersed in the GTD methodology, and I was searching for a task management tool that works on the premise of GTD.
As a type one personality, AKA the Perfectionist, I was looking for the best task and project management solution on the planet. I searched through the geekiest productivity blogs, materials and software reviews.
Nozbe quickly went under my radar, and after a trial period, I've been a paying user since.
I prefer to use the best, niched-down tools for specific purposes over all-in-one solutions. Because truly all-in-one tools simply don't exist. That's why I use Nozbe as my task and project management app together with a note-taking tool and a mind mapping tool.
In this post, I'm going to show you why I still can't quit Nozbe in 2023 and why I think Nozbe is still one of the best (if not the best) task management tools for individuals and small teams.
Before we dive in, however, look at Nozbe's history and mission.
History & mission of Nozbe
As a productivity nerd, I always look behind the board before I engage with a productivity application. As a doer myself, I easily identify with Nozbe's message to the world.
Nozbe's mission is getting things done instead of managing things. Michael Sliwinski, CEO has articulated it more firmly:
Folks who use Nozbe know my firm stand (a strong no-no) on "sub-projects", "sub-tasks", or "prioritization". They know that I'm all for flat hierarchy (the flatter the better) and prioritizing by dragging and dropping stuff to the top or bottom of the list (instead of popular 1-3 priority system) – Michael Sliwinski, CEO
Nozbe was launched back in 2007 (!) way before ClickUp or other newbies. And since the beginning, it had a very loyal user base who simply trust the brand and keep using the app.
Why?
Because it simply works.
One of the main things I like about Nozbe is that they don't have an exit strategy. The CEO has stated multiple times that he doesn't want to sell the software or shut it down.
We have every evidence to say that Nozbe will be with us for the next 15 years.
Let's see why and how Nozbe outperforms its competitors.
What elevates Nozbe from other productivity apps?
Unique anatomy
Nozbe has a rather unique anatomy that sets it apart from the competition. What I particularly like in Nozbe that nearly all task management tools miss is the side panel that allows seeing your task list along with the comments in a single view (and with easy navigation via shortcut keys). You can easily jump between sections on the user interface with shortcut keys. Also, you can collapse most of the sections to create an aesthetic view.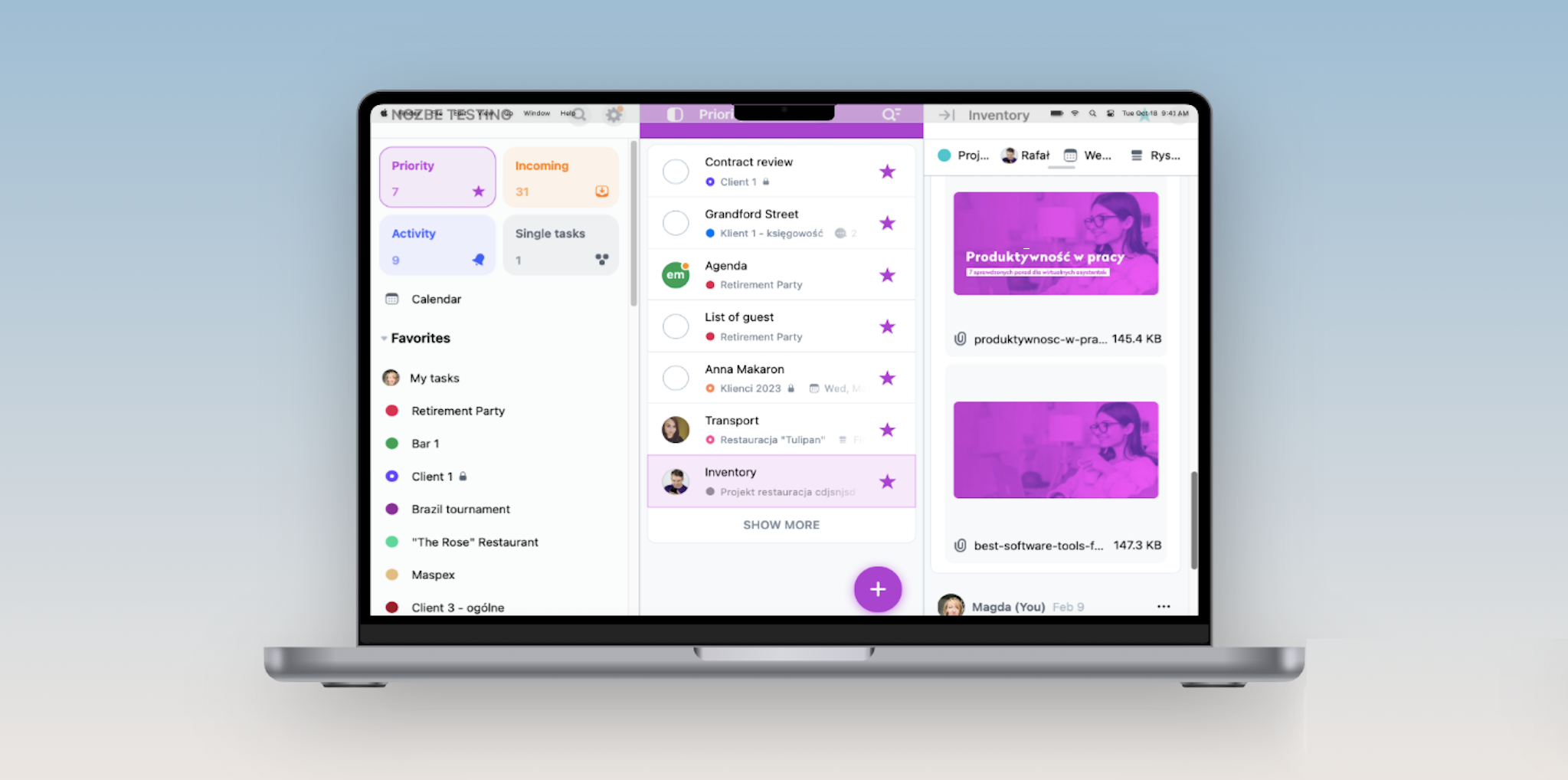 Ease of use
One of the main tenets of successful task management is the ability to capture tasks easily and organize them downstream. Nozbe excels in both.
You can use a global shortcut key to quickly capture your tasks and assign all metadata to them (project, tag, due date, priority, etc.). The cool thing is that it works on all platforms, even with your email. More on that later.
Truly cross-platform functionality
While most productivity apps out there claim they are cross-platform, the user experience is often non-coherent or even nerve-racking, particularly on mobile devices.
This is not the case with Nozbe. It's truly cross-platform and the user experience is superior and coherent across platforms. (That's not surprising, given that Nozbe CEO Michael Sliwinski has been an iPad-only guy since day one.) Importantly, Nozbe works offline too, which is another major advantage over the competition.
Emailing tasks with advanced support
Email is an integral part of my daily workflow, and I identify Nozbe as the best task manager in that sense. You can email tasks to Nozbe by using your unique Nozbe email address. And this is where the fun begins.
You can use hashtags to send your tasks to the appropriate project with tags, due dates, priorities, assignees, and reminders.
You can leverage natural language support to specify due dates and reminders, e.g. tomorrow or Monday will work. You can even send comments to a specific task.
While many task manager applications offer emailing tasks, not many (if any) allow you to specify task parameters upfront in your email client.
Wildly dedicated support team
I've been using Nozbe for 6 years every single day, and I can only recall maybe two or three downtimes when synching stopped working. And they only lasted a few hours while I still could use Nozbe offline.
If I have a question or problem, Nozbe's dedicated support team always gets back to me with a friendly answer within hours. And they don't hesitate to say Thank you for my Thank you emails. :-)
Strict data protection
Security has always been central to Nozbe. Protecting customer data is transparent; you have evidence that your data are in good hands and encrypted. And you always know who has access to what. (Basically, nobody sees your personal data and attached files, that's why lawyers prefer to use Nozbe.) Nozbe implemented the GDPR to protect your personal data even when you're outside of Europe.
Longevity
We've seen so many productivity tools (even the most elite ones) undergoing recessions, shutdowns, or acquisitions.
As I mentioned in the intro, we have every evidence that Nozbe will be with us for the next 15 years. They don't have the plan to exit or get acquired. They're proudly serving their loyal customers with personalized solutions.
My confessions
As a productivity nerd, I like to experiment with shiny new productivity tools, but I always gravitate back to Nozbe. I must admit that I tried to leave Nozbe a couple of times over the years, but I never left the application for a single day.
Why?
Because simply I've not found such a simple yet versatile task management tool as Nozbe. Or maybe I'm so deeply nurtured by Nozbe that I simply can't detach myself from the Nozbe breast. Who knows?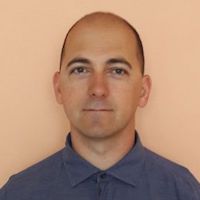 Csaba Vadadi-Fulop
Csaba Vadadi-Fulop is a biologist PhD & productivity blogger running his life on Nozbe since 2017. He blogs at
Productivity95.com
about productivity apps, habits, mindset, and more. When he is not at his desk or hanging out with his family, you'll catch him riding his bike on the riverside or listening to classic boom bap hip-hop.