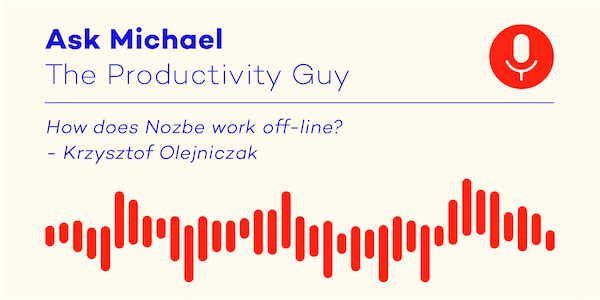 With Nozbe, you're not dependent on Wi-Fi. Your tasks are always with you, as long as you have a device with some charge. Does this feature really matter? Oh, yes, it does!
Even in the 21st century, it is surprising how often you can lose internet connection. And we're not talking about while in the middle of a rainforest, but in metropolies of developed countries! It's an even worse situation if you rely heavily on Wi-Fi.
In Poland, our homeland, we are quite lucky. The vast area of Poland is covered by LTE – a fast cellular internet connection – and we've got Wi-Fi available in many public areas. But when a coffeeshop router goes down or when you're on a flight – boom, you're cut off…
But not from Nozbe. We know that you can survive without updated news, social media stories or even your favourite music for some time. Your projects and tasks, however, are too important to not be available offline.
So we've taken care of this. Our apps keep your latest-synced version of all active tasks, including any added comments (but not attachments – there must be some limits).
Watch the episode to learn how Michael performed his weekly review while completely offline:
➡ In what other cases might you require Nozbe while offline? Leave a comment below!
Related resources:
🔔 Please subscribe to our YouTube channel or podcast feed to be notified of new episodes.
---
"Ask Michael - The Productivity Guy" is a weekly series of short videos with Michael. We gather dozens of questions from users, then we choose the best of them. Now Michael is answering them every Monday.