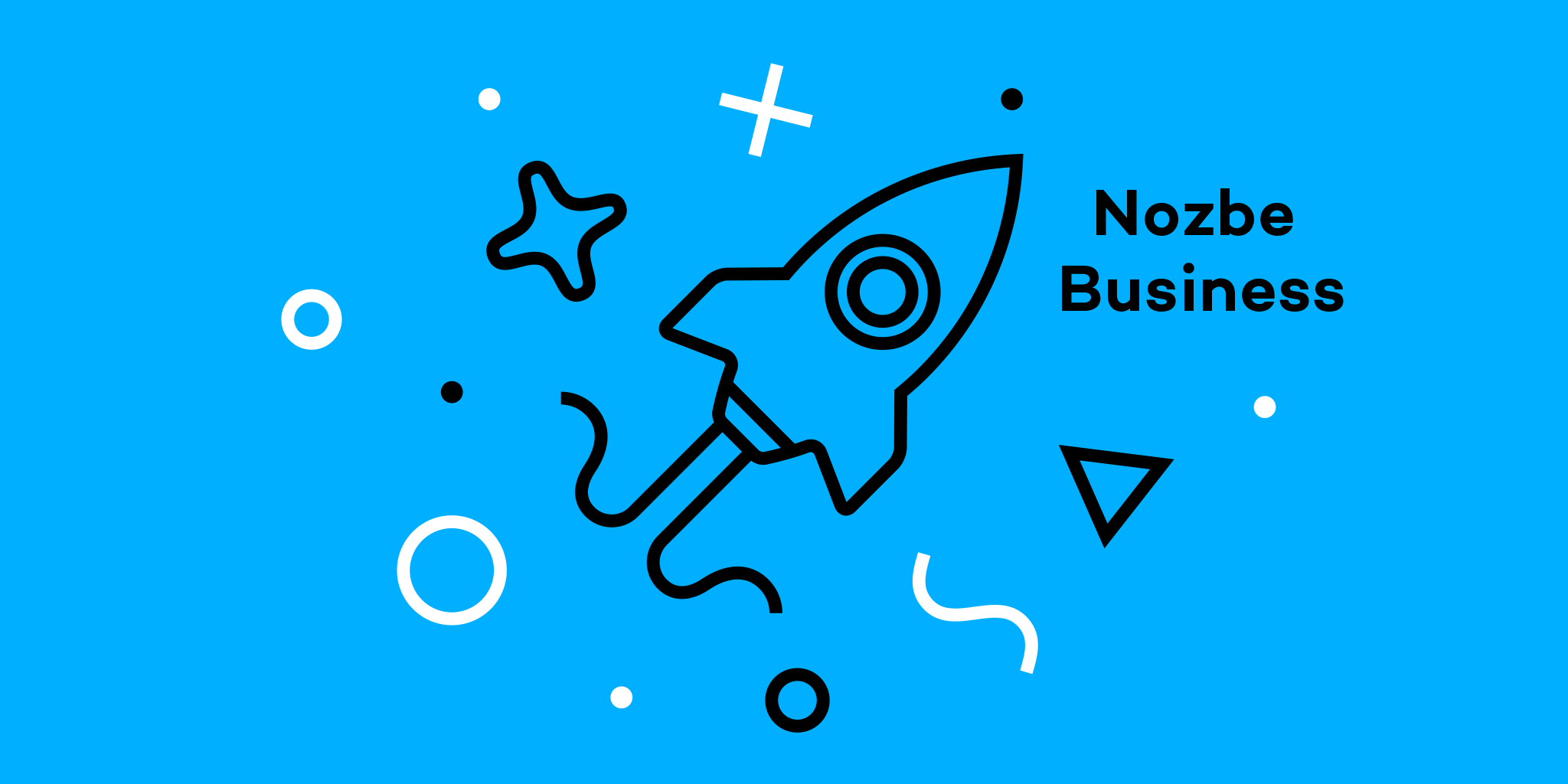 Nozbe's birthday celebrations continue. We hope you like all the gifts we've prepared for you so far :-)
Nozbe will help you grow your business!
Today, we would like to talk a little bit about the productivity of your team. See, what we can do together to help your business grow.
Nozbe matures - from personal productivity to effective cooperation in teams
9 years ago, back in 2007, Nozbe started as a GTD-based personal productivity tool designed to meet mostly our CEO's needs ;)
Over the years, listening to your feedback, we added the project sharing feature. Then, multi-personal accounts were introduced. The team collaboration flow and communicating through tasks soon became one of our priorities and strengths.
Today, we are taking Nozbe to a whole new level by creating special Business accounts dedicated to companies and teams willing to boost their productivity!
Nozbe 3.0 Business Plans - see how you can maximize your team's efficiency
We believe that essential factors affecting team productivity are:
the right use of technology,
instant access to the workplace information,
effective and well-managed communication,
planning and setting "S.M.A.R.T." goals,
analyzing progress and reviewing objectives…
…and Nozbe works great in each of these fields.
Check it out yourself
Works online and off-line
The new technologies help you be productive anywhere and on any device - and so does our app! It functions on the most of available devices and can be used off-line to synchronize with the cloud as soon as the Internet connection is on again. This way, your team doesn't lose precious time and can get things done from any place they want. You also have access to your workplace information stored in Nozbe exactly when you need it. No more down-times or lost documents.
Actionable communication
Our tool is designed to facilitate team collaboration. The key point here is communication through tasks. Well defined assignments delegated to the right people in Nozbe let you avoid the chaos and misunderstandings. No more e-mails, CC, BCC or SPAM.
Productivity tutorials and training
Moreover, we provide all the users with free tutorials and other useful materials to encourage everybody to build their own, trusted productivity system. It lets you plan, manage and review your goals easily and get them done efficiently. And it's proven by over 300,000 people and teams that Nozbe works great as such system's keystone :-)
Nozbe Business Account - this is what you get:
If you cooperate with more than 10 people on a daily basis, Nozbe Business is meant for you! The basic formula comes with 10 accounts and you can get more to match your team size anytime you need.
You will get Nozbe with all the features that have been available so far as well as new productivity-boosting goodies coming along with Nozbe 3.0, like:
wider task details section for better experience,
new buttons for switching to next/previous task,
iPhone keyboard assistant,
and most of all: new roles in shared projects! And more:
Roles in shared projects: Admin, User and Guest
Up until now when you shared a project with more people, there was only a project owner and project users. Simple. By limiting.
With Nozbe 3.0 we are introducing three different roles:
Admin is a person who created the project. He or she can complete it and invite others to work on it. And they can also appoint more admins to the same project. In Nozbe Pro there can be max 2 admins per project. In Nozbe Business unlimited admins per project
User who can fully participate in the project by adding tasks, modifying them, adding comments, etc. Just like it used to be in Nozbe.
Guest - a person who can only see tasks but cannot modify them or add any new ones… however they can comment and complete the tasks that are assigned to them. Isn't that great!? In Nozbe Pro there can be only 1 guest per project. In Nozbe Business unlimited guests per project. We believe this is a perfect feature for contractors or studios working with external clients. Simply, invite them to your projects, let them comment or even create some tasks for them. This way, they can participate in your project in a "limited way" and you don't have to send emails to each other!
With Nozbe Business account you get the unlimited number of admins and guests per project and unlimited admins per team, people groups (coming soon!) plus reporting and team analytics (coming soon as well).
One more amazing advantage: a dedicated VIP support. By getting a Business account you have an account manager assigned to your team. Be sure, it will be the most experienced and the kindest :-) person from Nozbe Customer Happiness Department. They can help you introduce Nozbe to your team, schedule a Skype call with you and help you get your team started with Nozbe.
Why don't you try Nozbe Business in your company?
If you're serious about your team productivity and want your company to start communicating through tasks effectively instead of drowning in the flood of e-mails and meetings, don't hesitate! You have nothing to lose. We offer every new customer a no-question-asked 30-day money back guarantee! Sign-up and a dedicated account manager will help you integrate Nozbe and take your business productivity to a whole new level.