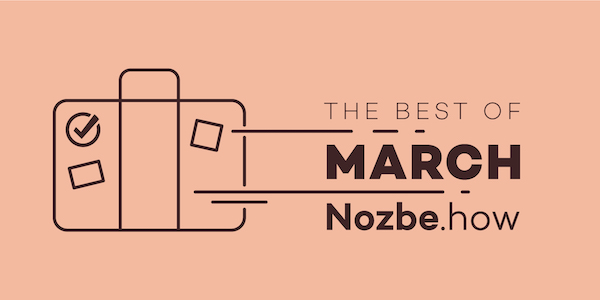 When you are faced with dozens of things to do in a day, optimizing and streamlining become essential. Following routines and creating processes that can be easily implemented and reused is key. That's why Nozbe comes with a super-handy feature: project templates… that can be published and shared with others whenever you want. Nozbe.how templates let you show your friends and followers the way you plan, get organized and get things done.
See what project templates Nozbe community members have created lately.
Take care of your data safety
Do you worry about data and information security? Want to do something about it? Here is a checklist to determine the privacy and safety of your data.

Communicate with your colleagues
Communication within an organization is a powerful productivity-boosting tool. It guarantees that each person knows his or her role in achieving common, company-specific goals, and acts skillfully to get them done. Check out our template that can be used as a guide for creating a foundation for your team's internal communication culture. You can also send this template to your colleagues or new people in your team.

Choose the right apps to get more done
If you're a productivity junky it's very possible that you try every new app that comes to market in the hope that it will help you do more in less time. But really you're just wasting time. The steps outlined by Robby Miles will help you determine the right apps to use to make sure you complete the tasks that matter.

Share your experience too!
As a Nozbe Trial/Free/PRO or Business user you can create fantastic project templates and share them with others. Optimize your productivity, help your friends and show us how you use Nozbe by sharing your template with a #NozbeHOW tag on social media or on your website. We will be happy to feature it on our blog!