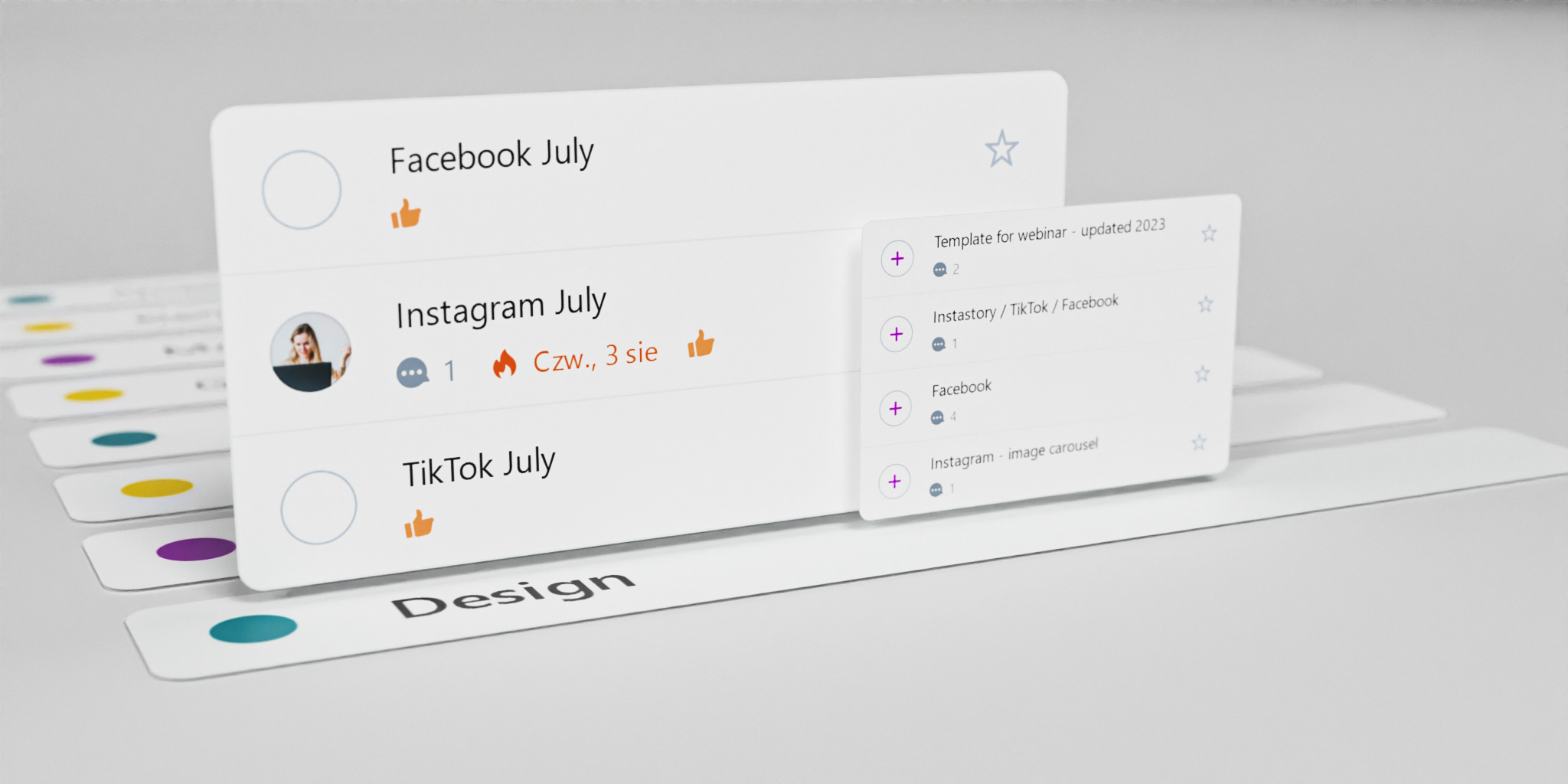 You've just decided to move your work to a project&task management app but you are not sure, how to start? See what are projects and how you can break down your work into tasks and projects! Further down, you'll also find practical examples of projects you might want to set up in your work management tool.
What exactly is a project?
"Not everyone works on projects," you might think. "We have clients / cases / appartments / patients / orders… not projects!"
However, whatever you call it, a project is anything: an undertaking or goal whose implementation requires more than a few steps. A step is, of course, a task or activity.
Thus, a project is a series of steps/activities to be performed that are intended to lead you to a specific result, goal OR that concern a similar field or topic.
In a project management app, a project comes as a task / to-do list.
Do All Projects Need To Be Completed?
In Nozbe, we understand that there are two main types of projects that you can run in your tasks and project management tool:
ongoing / organization-aligned projects
Marketing,
Finance,
HR,
Sales,
Product Maintenance
11/2023 clients
outcome-aligned projects
Cost reduction,
Black Friday Campaign,
New Employee Onboarding,
Divorce Case
Client XYZ
Appartment Renovation
Projects are simply lists of tasks, and it's up to you to decide which are going to be goal-oriented and which are going to be ongoing.
Organization-aligned / Ongoing Projects to Help You Get Organized
While goal-oriented projects have a concrete goal and once they are achieved, the project is finished, ongoing projects are never finished because they are a list of tasks or activities concerning a specific aspect of a professional or personal life. For instance, we have a project entitled "PR & Marketing" in which we put all loose tasks that have to do with this area, like an interview invitation from a journalist, an idea for a future campaign, email onboarding review, or a strategy for the next year.
Another common example of an ongoing project is the one called "Personal Affairs" that can be filled with all the tasks to be done after work that aren't connected to any goal-oriented project.
Outcome-aligned / Goal-oriented Projects to Help You Achieve Goals
So, what's the nitty-gritty definition of a outcome-oriented project? It's a bit like following a recipe. You've got your ingredients (that's your resources), your instructions (your plan), and the goal (the tasty dish). Similarly, a project involves a series of planned activities designed to achieve a particular outcome. You break down your work into tasks that will get you to achieving your goal. Whether you're:
building a bridge,
launching a marketing campaign,
or organizing a community event…
if it has a defined purpose, timeframe, and a set of tasks to accomplish, congratulations, you're dealing with a project.
What to Remember When Starting a Goal-Aligned Project
These projects have distinct features that set them apart from everyday tasks. First off, they're unique. Even if you've built ten houses before, the eleventh one will have its quirks and challenges. Goal-oriented projects are also temporary; they have a clear beginning and end date. Plus, they require resources – manpower, time, money, you name it. Projects of this sort are all about creating something new or bringing about change.
Navigating Scope, Time, and Cost: These boundaries are like the fence around your garden – they define what's inside and what's outside. In the project realm, we're talking about three critical constraints: scope, time, and cost.
1. Scope: The scope is essentially the project's to-do list. It outlines all the tasks, goals, features, and functionalities that the project aims to accomplish. Just like a new car model might include navigation systems and leather seats, project scope specifies what's included and what's not. If it's in the scope, it's part of the project; if not, it's beyond the boundary.
2. Time: Usually, goal-oriented project has a deadline, a specific timeframe within which it must be completed. Whether it's building a website or constructing a building, time constraints ensure that the project progresses at a steady pace, preventing it from stretching on endlessly.
3. Cost: Every project operates within a budget. This budget includes everything – from materials and labor to software licenses and consultation fees. Cost constraints ensure that the project doesn't overspend, keeping the finances in check and preventing any nasty surprises down the road.
Imagine you're building a house. The scope includes the number of rooms, the type of flooring, and the design of the kitchen. The time constraint ensures the house is built within, say, six months. And the cost constraint makes sure you don't end up with a gold-plated bathtub you can't afford.
Single and Repeating/Recurring Projects
Some of your projects might be just one-time endeavors. But there are some projects that you want to save (or create a template for) in order to be able to follow the same procedure in the future. You break down your work toward a goal once, and you have a procedure saved for future instances. Recurring project can be:
Planning a Community Event
Onboarding a New Employee
Recording a New Podcast Episode
Implementing a new Product Feature,
Etc.
Examples of Projects You Can Have in Nozbe: The Best Project Management App
In Nozbe we have a simple structure and interface: You have projects and tasks, inside a project you can create project sections to group tasks by stage or type. And then you exchange comments in specific tasks to get them done together with your team.
🚀 Marketing & PR
In which you can put all loose tasks that have to do with this area:
Section: 1. Media appearances + invitations
Guest post in Productive Newyorker magazine
Invitation to The Digital Entrepreneur podcast
Interview for an article in Forbes about 4-day workweek
Section 2. Regular Tasks
Agenda for the next marketing team meeting
Check website stats (GA) (recurring task)
Check your conversion level (recurring task)
Stats of the company's social profiles (recurring task)
Section 3. Next Month's Strategy and Tasks
Updating e-mail onboarding of new application users
Ideas for future campaigns
New Year promotion - design
Section 4. Materials and Links
Interesting articles to read on Mighty Friday
Michael Hyatt's course: "Free to Focus"
Brandbook, logo, promotional materials
📆 Days Off & Holidays
You can ask every employee to create a task in this project whenever they want to take days off. This way, everyone will know when the person will be absent. In Nozbe, Michael would create a task [Michael] 23-29 October (5 working days off) and in the comment he would write some details and would delegate a task to our HR manager and mention people who work closely with him so that they get notified.
🎙 Recording a new podcast episode
Here you can have tasks grouped in several sections:
Planning and Preparation
Outline the episode,
Formulate the topic,
Prepare a script,
Guest coordination,
etc.
Setting Up Space and Recording the Episode
Check equipment,
Turn off your phone and computer notifications,
Create a new project in a recording software,
Go to the toilet,
Prepare water,
Turn on local recording,
Save the recording on Dropbox,
etc.
Editing, Exporting & Publishing
Import the recorded audio,
Edit out mistakes, long pauses, irrelevant content,
Add intro & outro,
Ensure consistent volume levels throughout the episode,
UPload the episode to your platform of choice,
etc.
Promotion & Engaging with Audience
Post on Facebook,
Write a blog post about the new episode,
Post on Linkedin
etc.
🙋 New client
In such a project, you can list your tasks to write down the entire procedure for acquiring and servicing a new customer. This will be your template for the future - in Nozbe you can save it and generate a new project from the template every time there is a new client or it's time to get new leads.
Section: 1. Acquisition
Note the customer's contact details
Send the first - cold mailing
Send a second email
Get in touch via Linkedin
Make an appointment for a call
Otherwise:
Send a quote request to Nozbe via email
Analyze the request
Call the customer to clarify the details
Section: 2. Offer, presentation
Create an offer that meets the customer's needs
Send your offer (+ update status HERE)
Make an appointment to present the offer
Section: 3. Agreements and Payments
Prepare the contract
Send the contract for signature
Save the contract in the appropriate folder
Prepare a proforma invoice
Confirm the payment with your accountant
Send an invoice to the customer
Section: 4. Cooperation / order fulfillment
Create orders for production
Purchase materials
Execution of the contract
Prepare shipment
Send shipment
Inform the customer about the shipment
History of correspondence with the client in case of problems
🏠 Property XYZ - a ready to go project template for real estate agents
If you are in a real estate business you can have a project corresponding with the houses or flats you work on. Your tasks couldbe as follows:
Make an appointment with the owner
Prepare the contract
Sign a contract with the owner
Schedule a photo session
Set up the space and take photos
Send photos for editing
Write an advertisement
Publish an ad on platform A
Publish an ad on the B service
Publish an ad on the C service
Once people start contacting you about buying or renting, you can create tasks for each of them:
Client 4858/2023 Maria Radish
Client 4859/2023 Adam Onion
Customer 4860/2023 Ronald Carrot
Sign the preliminary contract
Make an appointment with a notary
Meet with the owner
Sign the final contract
Documents and payments
⏰ Morning shift in a coffee shop
Some people create projects (usually recurring projects generated out of the templates they earlier created) that are a to-do list for an employee working on a certain shift on a certain day, let's say 09/10/2023 6:00 am - 2 pm shift. It could be a coffee shop, barbeshop, medical clinic or a warehouse:
Block security system
Turn on coffee machines
Turn on the oven
Check inventory and note stuff to be restocked
Clean and sanitize all surfaces
Prepare Cash Register and Terminal
Turn on the music
Check and arrange display
Prepare the first batches of coffee
Organize and refill condiment station
Check Wi-Fi and POS Systems
Review Specials and Promo of a Day
Open the door
Remember to greet customers
Monitor supplies
End-of-shift report
🙋 New Employee Onboarding Project Example - Full Template
Section 1. Welcome and Orientation:
Send a welcome message
Introduce to the team
Organize an office tour
Section 2. Paperwork and Documentation:
Review and sign the employment contract
Complete necessary tax & financial forms
Benefits to enroll
Conduct a probationary review meeting
Schedule first performance review
Section 3. Company Policies and Procedures:
Provide a copy of the employee handbook
Explain the company's code of conduct and values
Review safety procedures and emergency protocols
Section 4. Access and Login Details
Nozbe - a project management app for small teams
Dropbox - to work on documents
GitHub - to work on code
Company Email
Company Chat
Team's Calendar
Section 5. Training and Skill Development
Provide specific job-related training
Identify areas where the employee might need additional training
Software and Tools Training
Section 6. Integration and Support
Organize team-building welcome activity
Assign a mentor or buddy to help out
Invite the new employee to company social events or gatherings
Schedule first check-in meeting
Summary
As you can see anything you and your team are working on can be a project. You just need to think of how to divide your workload and workflow into projects and tasks that need to be done. If you find it hard, you can sign up for a demo with us and together with Nozbe productivity advisor list projects for your team.
Questions?
We hope that this short entry exhausts the topic. If you have doubts or additional questions, write them in the comment below or in a message to the customer service team: support@nozbe.com.