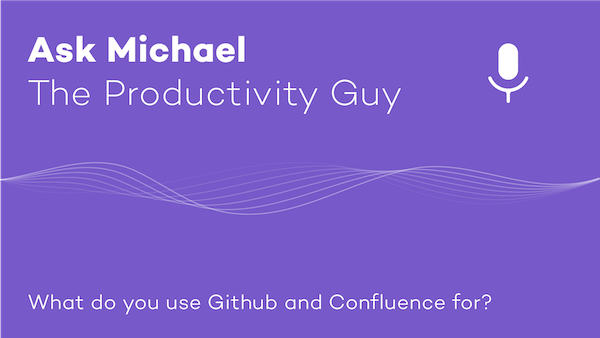 Michael comments on two popular apps that we use in our work: GitHub and Confluence.
We are a software company, so we know exactly what it feels like to design a tool and be challenged by meeting users' needs. And we're users that want to use the best available apps.
So we know that our job isn't an easy-peasy kind of thing.
Today's question is about two services we use a lot: GitHub and Confluence. Michael explains why they are crucial for our team productivity, what is the role of company documentation and why we are always open to alternatives to the software we already use.
In fact, after recording the episode and before publishing this article we definitely decided to leave Confluence for Dropbox Paper. 🙂 Why? Watch the video!
➡ What are your favorite tools for collaboration on code and documentation? Leave a comment below!
🔔 Please subscribe to our YouTube channel or podcast feed to be notified about new episodes.
Related resources:
"Ask Michael - the Productivity Guy" is a weekly series of short videos with Michael. We gathered dozens of questions from users, then we chose the best of them. Now Michael is answering them every Monday.