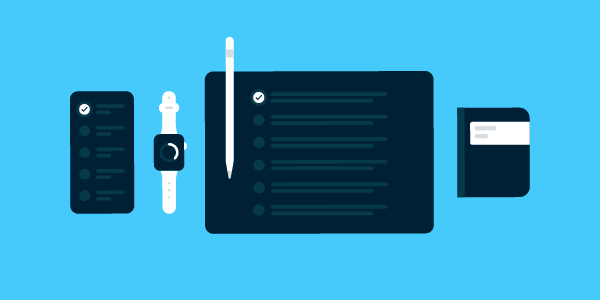 I've been running my company and the Nozbe app for over 11 years without a physical office, just an official address. I've hired 25 employees and 12 regular contractors. I've been promoting the #NoOffice concept because this is how I live and work myself… and I know it works. In this article, I'd like to delve a little deeper into the #NoOffice working style by outlining some of the reasons for operating without an office and present how this system works from an insider's perspective.
What are the key features of the #NoOffice work model?
Going #NoOffice isn't just about closing offices. For me, #NoOffice is a fundamental change in the way we perceive the office. According to the traditional point of view, having an office is an absolute necessity to run a "serious" company. But the fact is that even if the office is a necessity, it's only a tool – like a computer, a cell phone, etc. To quote one of my university professors: "the office is something optional, not mandatory."
Working in the #NoOffice model is, above all, a "redefinition of work":
Work is not a place to go, but a thing you do!
In other words, in the #NoOffice model, it really doesn't matter where you work – what matters is that you do your job well. That, however, requires designing communication, tasks, tools and processes within the team in such a way as to make it possible to work from anywhere and to achieve good productivity without an office.
Why go #NoOffice?
There are many advantages of operating without an office, and they don't just boil down to saving money on office rent. To me, the benefits of this work model are much greater.
1. Avoiding stress on the way to work.
It rarely happens, but whenever I'm in a big city and get stuck in a traffic jam on my way to a meeting, I'm amazed by how many people have to commute to work like this every day. Sitting in traffic jams… Riding on a crowded subway… Edging through street crowds… How stressful is that!
My office is located in the attic, right above the bedroom. Only one staircase leads there. I usually get there at 9:00 a.m., after driving my kids to school. No traffic, no stress.
2. Freedom in choosing the lifestyle that suits you.
Working #NoOffice means you can live anywhere you want – any place you desire! You don't have to come to the office every day, which means you don't need to live in a metropolis. As a result, the place you live in becomes a matter of choice, a choice that's independent of where you work.
Back when I hired my assistant Magda, she was living in Warsaw. After six months of "not going" to work, she asked me if she could move to France because it's always been her dream.
I asked her, "Do they have the Internet in France?"" She assured me they do, and she moved to France. :-)
3. The possibility to look for talent from all over the world.
When recruiting people, we focus on one thing – namely, that the person we're hiring is the best specialist we can find in a given field. It doesn't matter where he or she lives. At Nozbe, we have many stories about how we found an incredibly talented person we had to compete for with larger companies, yet he or she chose to work with us due to not wanting to relocate to a bigger/different city. By working with us, he or she can have an ambitious and well-paid job, regardless of the location.
4. Flexible working hours.
#NoOffice is not just a matter of the working place, but also of the working time – it's not just limited to office hours. Employees are allowed to work at whatever time is convenient for them. What really matters is that they get the job done and fulfill the 40-hour work week.
It's particularly important during winter months, when "normal" employees head out to work when it's still dark and return home after dusk. At Nozbe, we can take a mid-day break and, for instance, go for a walk, enjoy the sun, head out for a run, go to the post office or pick up the kids from school. The #NoOffice model enables full flexibility in that respect.
5. More time for focused work.
And last but not least, the final benefit of #NoOffice work: when you're working on a task that requires complete focus, you can simply turn off the chat, phone, notifications, or even completely switch off the Internet. In a normal office, you can't "switch off the office" – someone may approach or bother you, talk loudly on the phone, or abruptly interrupt your work at any given time.
I sat down to write this text just before recording the next episode of "ThePodcast.fm". I stopped writing, recorded the episode I had scheduled with Radek and I could immediately go back to writing. I ended the video call, switched to my iPad, and continued writing the text. At my home office, I'm all alone, so no one bothers me. One of the greatest benefits of #NoOffice is that it allows changing the "context" in a smooth and hassle-free way, and the time required to achieve full concentration is reduced to a minimum.
What about control? How do I know my remote staff is actually working?
I've written a great deal in praise of the #NoOffice work model, so now you're probably wondering how I control my employees. After all, the saying "trust is good, but control is better" didn't come from nowhere.
In a traditional office, what we're dealing with is just an illusion of control. Does the mere fact that a person is sitting in front of his/her computer mean that he or she is fully productive and working intensively? How can anyone be sure about that? He or she might as well be using Facebook, writing a private message or "liking" posts on Instagram. The superior has no choice but to trust the employee.
The question therefore is: who do you prefer to work with? Someone you trust or someone you need to control?
In the #NoOffice work model, results speak louder than the number of hours spent in the office. That's why I believe that the proportions must be reversed once and for all:
Control is good, but trust is better.
Sounds better, doesn't it?
But HOW can you work effectively in the #NoOffice model?
As I've already mentioned in one of my previous articles, I have yet a book to write about HOW to work in this model. I'm slowly gearing up for this task, so please let me know if you have any questions regarding #NoOffice, what you think are the biggest challenges, risks and problems associated with it, etc.
Although this has been our way of working for the past 11 years, I'd love to hear experiences from other industries as well. If there's anything you want to share, please let me know in the comments below!