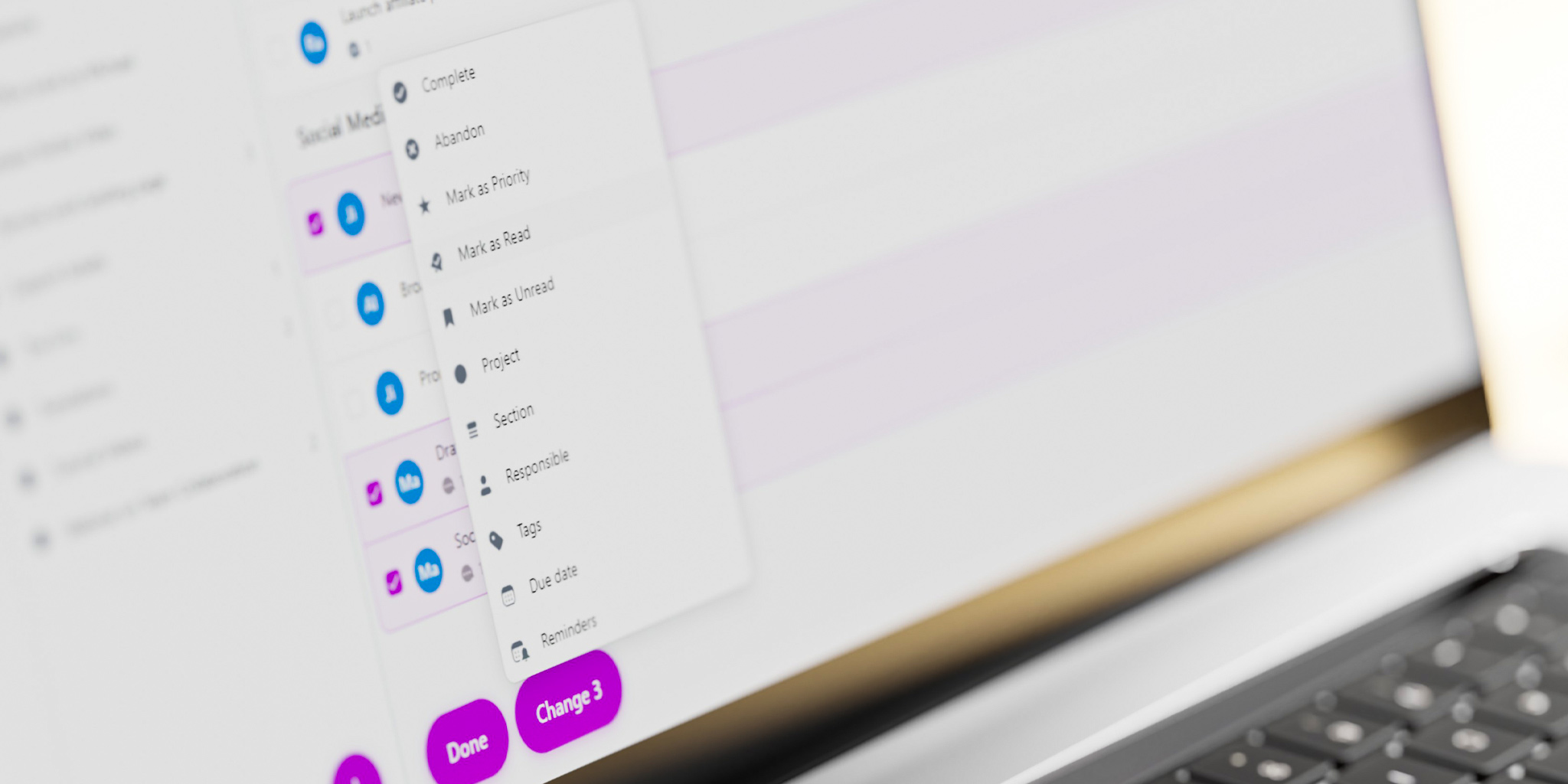 Here is a feature that is a great productivty booster and everyone waited for it eagerly. Bulk edit mode! Use this option and edit numerous tasks at the same time. For automation and optimization are key for personal and team productivity…
When you can use this feature?
When you need to delegate several tasks to the same person
When you want to clean up your projects and group some tasks with a tag
When you run your weekly review and you want to move several tasks to a newly created project
When you want to abandon a number of tasks
When you plan your week and you wish to mark more than one task as your Priority
When you've been super-productive and you want to mark several tasks as completed 💪
Watch how the bulk edit mode works
How to enter the Bulk edit mode
To be able to edit and manage multiple tasks at the same time, enter the task list menu by using the 3 dots icon (…) at the top of the view. There, choose "Select tasks" option and here you are!
Now, select the tasks you want to modify and press the "Change" button at the bottom of the view. The number on the button will indicate how many tasks you've selected. Now, you will see your options. In the Bulk edit mode you can:
Complete tasks
Abandon tasks
Mark them as Priority
Mark them as Unread
Move them to a chosen Project
Move them to a chosen Section
Delegate tasks to a given person
Add a tag
Add one Due date to several tasks at a time
Add a Reminder to selected tasks
Some tips and tricks to use in the Bulk edit mode
When in Bulk Edit Mode, you can to select all the tasks from a given section - just use the "Select all" option to save some time.
You don't have to enter the Bulk edit mode through the main menu in order to select several tasks and edit them. Use the keyboard shortcuts! Choose a task, press the Shift key and all the tasks from the top, down to the chosen task will be marked. Once marked, you can do what you need with them. Control/Command key will work in a similar way - it will help you mark chosen tasks from various sections.